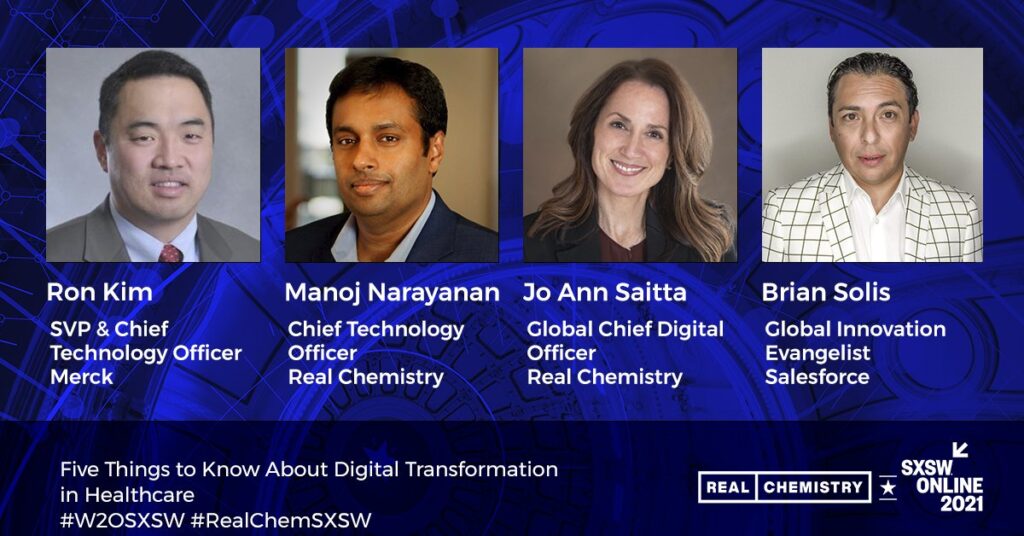 SXSW was one of the first industry conferences cancelled in 2020 due to the COVID-19 global pandemic. My friends at Real Chemistry were among the first to support SXSW's virtual come back. Real Chemistry hosted a unique Healthcare Media Lounge, a two-day virtual event that featured industry experts who explored the future of digital health innovation.
I was invited to join an amazing panel to speak about "Five Things to About Digital Transformation in Healthcare."
My colleagues on the panel included, Ron Kim, Merck, Manoj Narayanan, Real Chemistry, and Jo Ann Saitta, Real Chemistry.
If you work in healthcare and are working toward innovation in patient care, patient/doctor relationships, digital health or health IT, or patient/customer experience., please take a moment to watch this insightful conversation.
Five Things to Know About Digital Transformation in Healthcare
You can also skim the highlights of the panel here.
Following the conversation at SXSW 2021, Real Chemistry published important research (and an infographic), to spotlight, "5 Things to Know About the Rapid Acceleration of Digital Health."
I published my take here.
[simple-author-box