Stumbled across this unfinished post, sitting in my draft folder for years. Figured, I'd blow the dust off of it and share it with you today.
When X: The Experience When Business Meets Design was released in October 2015, it was ahead of its time. Executives didn't yet understand that the world was becoming more and more digital, and with it, digital Darwinism would reshape the nature of human dynamics and market evolution. It would ultimately take a global pandemic to accelerate this transformation.
The book and its "X" framework explored how to create relevant and aspirational digital, physical, and hybrid experiences that built upon the most enchanting and immersive stories and journeys in the world.
It was the beginning of the experience design movement for a digital-first mindset. This movement is more important today than it was then. The pandemic accelerated between five-and-ten years of digital transformation in a matter of months. I feel inspired to relaunch this to help…
Little Gems about X
X was my fourth book in a row with Wiley and my editor (and BFF) Shannon Vargo.
When the book initially went to press, the amount of color saturation on each page initially jammed the process. Everything was re-calibrated to work but not without delaying the release. Because of the intention to make the book feel like an app (see below), there was no other option.
X Broke the Shackles of Mediocrity
X is the first book, following my initial three with Wiley, to feature a cover without a chain. The chain visually represented complacency and the status quo. X broke the shackles of legacy and mediocrity to design for experiences and relationships in a digital-first economy.
The research, writing and design of this book took every weekend and many weeknights that lasted ~three years.
The Development of X Led to the Creation of WTF, Delaying Its Release by Two Years
I took a break from X to publish WTF (What's the Future of Business) based on my editor's advice. In fact, WTF was never on the roadmap. Initially, it was to launch as an ebook to create a bridge between The End of Business as Usual and X.
The thinking went like this…
The reader would have a difficult time making the mental leap between ending business as usual and jumping straight into experience design. So, WTF, told the story of exactly how digital-first customers were evolving, what they valued, and how they made decisions online and IRL to better set the stage for X.
What a wonderful detour!
X Marks the Spot of Multiple Trends and Was Intended as a Series!
The original manuscript for X totaled 150,000 words and was later revised down to ~40k. There was talk about releasing an uncut version, released in a special box set.
The name "X" comes from the common denominator of many important, parallel business transformation trends including, CX, UX, BX (Brand Experiences), SX (Service Experience), EX (Employee Experience), et al. X = Experience.
This is why the framework for experience architecture introduced in the book was designed to form the letter "X."
The Design of X (and WTF) Reimagined Analog Design to Enhance the Print Experience for Digital-first Readers
WTF and X were designed in partnership with Mekanism. This was and is a big deal still. Why would an award-winning advertising and interactive agency take time out of reinventing the world of marketing to collaborate on the experience of reading a book?
Our working relationship and our real life friendship goes back 15 years to when we first collaborated on the launch of EA's Spore (from the creator of the SIMs).
Mekanism and I had a bigger idea in mind than just creating a beautiful business book that could enhance any cocktail table.
I wondered, here I am writing a book about how to create an immersive, engaging, and unforgettable experience for customers, why would I not challenge myself to reimagine the traditional print book concept for today's digital-first consumer?
That's when we decided to take a different approach to book design.
The work was premised on mobile apps that were changing how people navigated not only their screens, but also the real world.
We set out to design an analog app.
The inspiration was to design a book that a high school teenager would feel was intuitive if they were to use it as a textbook in high school. After all, they're a mobile-first generation. To read a traditional book, page by page, chapter by chapter, linearly, didn't seem natural for a digital brain.
After much study, I learned, among many things, that brains are rewired for the dynamism and speed of digital because of a very specific and effective practice of mobile user interface and experience design techniques. I would also later learn about persuasive design and how UI/UX can drive behavior changes that benefit the app, but not necessarily the user. That research would later lead to LifeSCALE.
The point is that after using mobile and digital devices, games, apps, social networks, etc., we rewire how are brains fire and the chemical makeup of our bodies, which become a new normal. This happens over time and cannot be easily undone. To then expect someone to embrace analog first methodologies in this state is incredibly difficult. Essentially, analog materials were created for, wait for it, analog first brains. If you borrowed from the most engaging UI/UX methodologies in analog applications, the results are actually astounding.
That's what we did with WTF and more so, X.
For example the shape of the book is modeled after an iPad Air 2.
We learned that we could help readers navigate by "stages." There is no table of contents in the book. It is instead designed to emulate our home screen and how we organize our apps.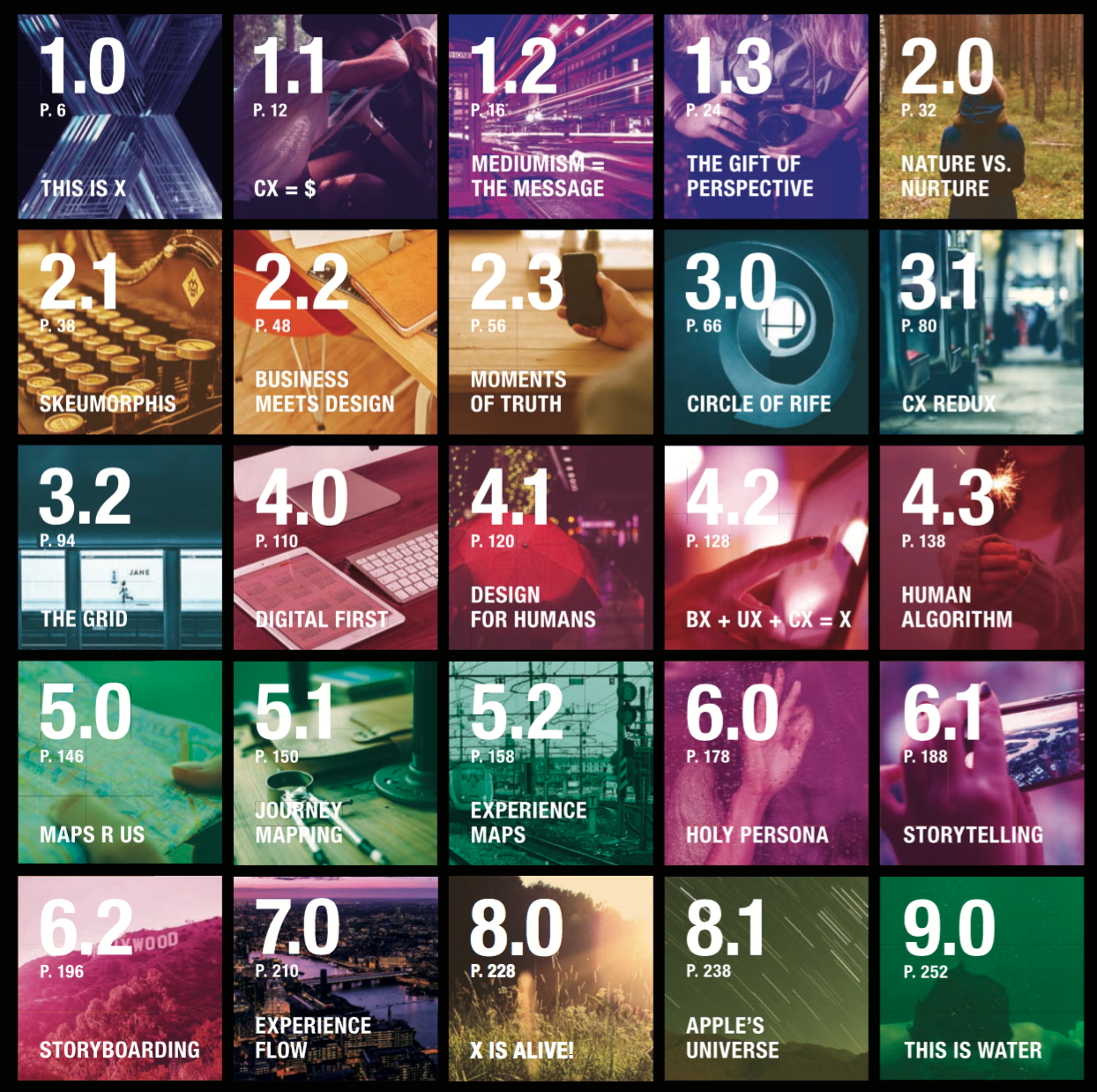 The chapter format is also patterned after software releases, trying themes together rather than traditional numeric progression.
The book features original artwork and frameworks to introduce visual storytelling into the experience. The complex process of ideation and development delayed the book several times.
The cover was originally designed in 2013 and redesigned in 2014. The new cover was was published on Amazon and remained there until a few months prior to official launch when we decided to go back to the original design. This is the alternate cover…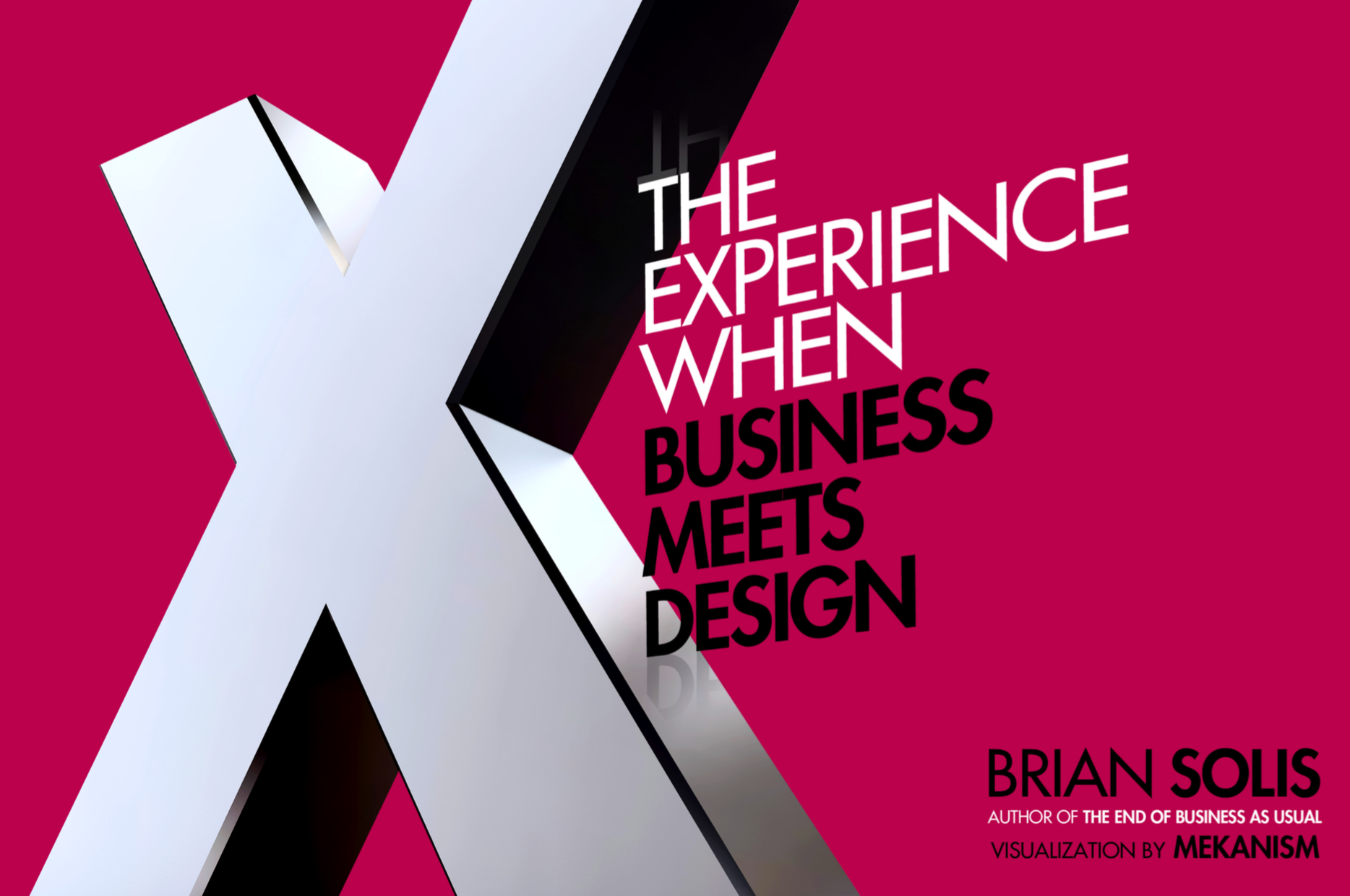 The "X" on the cover is not a product of Photoshop, it's a physically cut and hand-built multi-layer stack of plexiglas with each layer featuring a different texture.
Hey Jason Harris, can I get that model please!?
The lighting is also analog.
To photograph what would be the cover, the X was placed on a flat screen TV set on its back shooting colors through the layers in a dark room.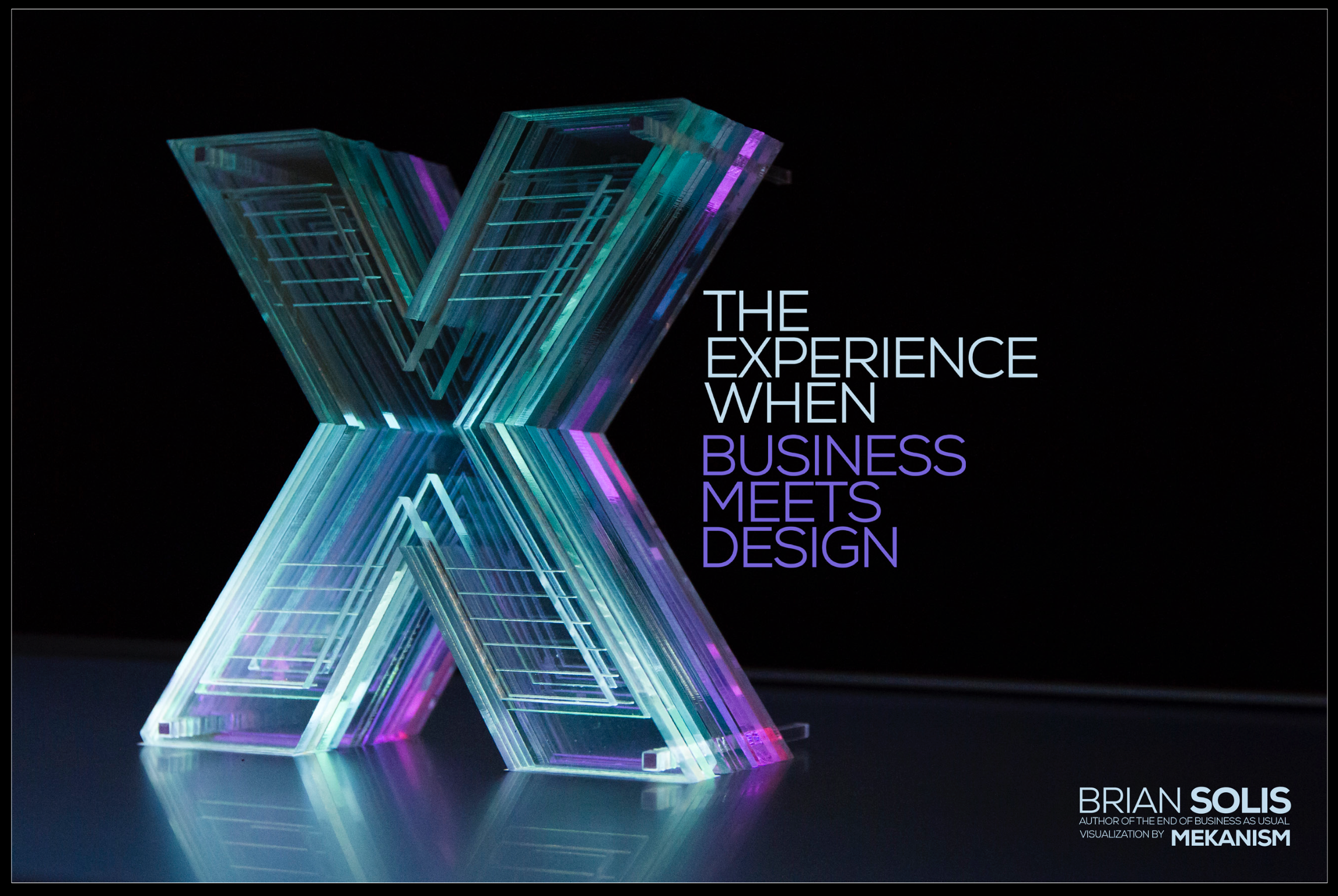 During the shoot, we also captured video to showcase the brilliant spectrum of colors, which would become a teaser video to sell the publisher on the concept of the cover design.
The video was shot in 2013 and not shared publicly until recently.
When I first saw the X model live, I expected to see something that stood several feet tall. Instead, I was surprised to learn that it stands at only 5 inches. It looked so much taller in the movies!
X was Designed Using the Disney/Pixar Storyboarding Process, Also Enhanced by Disney Magic
For those who don't know, I'm a big Disney geek. I'll spare you the entire life story here, but with X, I wanted to borrow from the pages of Disneyland and Disney World theme park design and Disney movie storyboarding to reimagine experience design for a new and emerging world.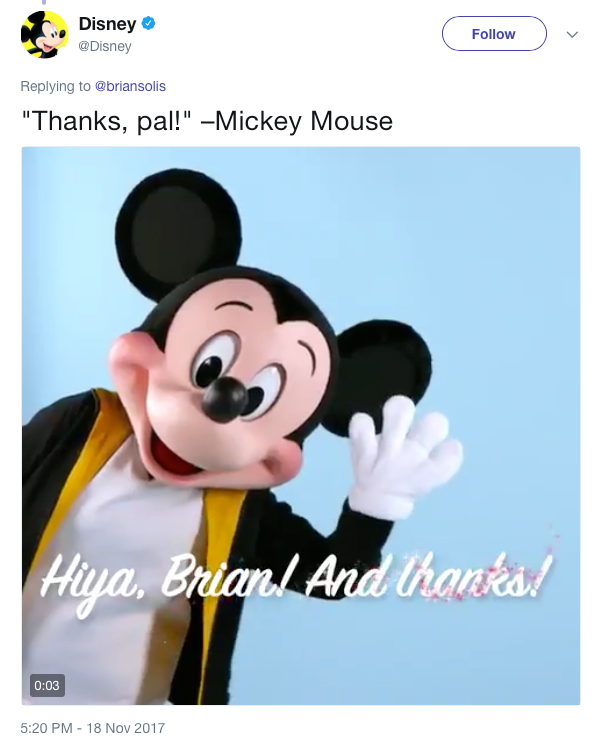 I met Nick Sung, former Disney/Pixar storyboard artist, following his work with AirBnB. Nick taught me the art and Imagineering of storyboarding and it completely transformed how I approach storytelling. Attempting to understand Disney magic is humbling. After my time with Nick, I had to reimagine the entire book. Nick helped of course. Together, we storyboarded the new premise for X, from the perspective of believable, relatable, and aspiration characters…the change agents who would become tomorrow's experience designers.
Part of the X storyboard, and the story behind it, and the book, is in the book!
X also tells the story of how Disney influenced my work in the development of the experience framework. Disney actually allowed for the inclusion of special artwork that rarely makes it into print. Fun fact…we delayed the printing of the book for those approvals to come through!
The ultimate testament came in the form of the Disney Institute's reference of X in its annual CX conference. Wow.
"#CX is the next battlefield for brands. Those that get it right will create long-lasting relationships and will also earn a significant competitive advantage over those that solely compete on product, price or promotion." via @DisneyInstitute from https://t.co/bY8ZW9XJQ7 pic.twitter.com/iwF7pvbB41

— Brian Solis (@briansolis) February 16, 2020
More soon, including a never-before-released trailer for X. That's a story unto itself! As they say in Hollywood, "coming soon" to a screen near you!