Brian Solis has long studied the promise and performance of digital influence. Over the years, he's also become a popular and notable digital influencer as both a personal brand/creator for B2C markets and also as a thought leader and industry authority in the B2B realm.   Across all of his social media platforms, Brian has cultivated an engaged community of over 700,000 followers.
This page shares some of the more effective ways Brian successfully partners with brands, technology vendors and marketing agencies.  Contact Brian to explore how he can help you.
What makes Brian different, is that he partners with agencies and brands to participate in or help design highly customized influencer campaigns that are mutually beneficial to all stakeholders:
brand/product teams,
ultimate consumers/customers, and
his audience
He understands that beyond promotion, impressions, Likes and reach, there's a real need to demonstrate value to all involved. Whether it's amplifying branded content or adding his perspective, Brian brings a thoughtful and collaborative approach to every influencer campaign. His goal is to make each social media and/or blog post unique, compelling and shareable. He takes the time to understand brand goals/objectives and offers creative insights to help maximize the opportunity.
Beyond engaging content, Brian also offers digital marketing support for his posts and the campaign overall. Brian customizes content for every platform to bring value to each community. Platforms include all social media accounts and blogs. Doing so extends the reach, effectiveness and life of the campaign.
Not everyone understands the importance and promise of influencer engagement. To help, Brian is a big believer in demonstrating ROI. In his work, he tracks meaningful metrics to demonstrate how his work aligns with campaign objectives.
INFLUENCER PROGRAMS
Brian is open to all types of influencer campaigns as long as he can stay true to his promise of adding value to all stakeholders. Below are proven programs that Brian has successfully worked on over the years. Below is a list of the most common programs he's led or contributed to. He's also keen to explore new creative opportunities.
Original Research/Thought Leadership
Brian can lead development of custom research reports or thought leadership papers to move your desired audience. His provocative approach helps move markets, drive lead-gen, spark conversations and earn subject matter authority. Note: Brian can also write forewords, conclusions or articles that support existing research/papers.
RingCentral: Contact Center 2.0 - The Rise of Collaborative Contact Centers: How digital transformation is making contact centers unified, collaborative and intelligent
SAS: The Real-Time and Predictive Commerce Playbook for CMOs - The next generation of winning shopper experiences starts with personalization and predictive engagement
Articles
Over the years, Brian has built and/or earned access to many influential writing platforms. Depending on the subject, Brian can author compelling original articles that amplify or spotlight relevant topics, links or published work. Additionally, Brian can contribute to branded blogs or publishing networks to lend a credible voice, offer value-added perspective and also drive targeted traffic.
Webinars/Webcasts/Master Classes
A tried and true program, online events can help promote any given topic while adding the value of perspective and thought leadership on the subject. These sessions can take many different forms including, remote video or audio only presentations, in studio conversations, live presentations or panels in front of a studio or event audience, or social media live casts.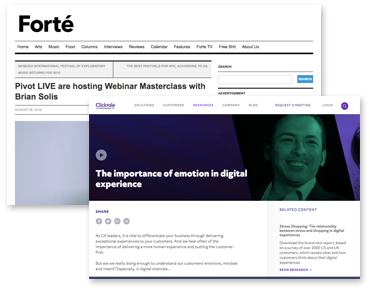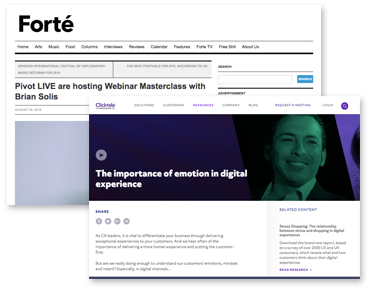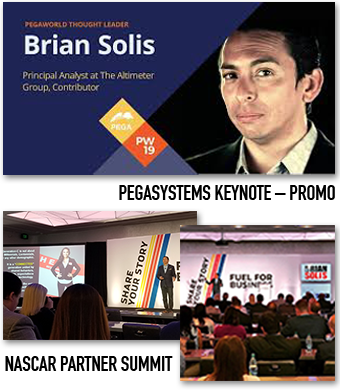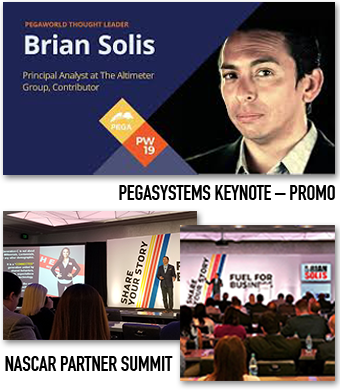 Live Events
Brian is a world-renowned keynote speaker and enjoys delivering custom talks to branded or partner events. Additionally, Brian can host book signings, executive Q&A, VIP one-on-ones, and on-stage interviews. His audiences range from employees to customers to general audiences and he can always adapt his content and style for a unique and motivating experience.
Pegasystems Keynote – Promo
Experian Live Executive Interviews – Event Site
Hitachi Sponsored Indy Car Race – Blog Post
NASCAR Partner Summit
Video/Podcast Series
Brian can lead or participate in a wide variety of branded, co-branded or original video and audio projects. He has interviewed executives, been interviewed by executives or other notable personalities, participated in panels, documentaries and series and also hosted online video events. Whether it's one show/event or a complete season, Brian has done them all.
eBooks
Sometimes a more creative approach is needed to engage a more mainstream audience. Brian has worked on developing new storytelling designs and formats that have led to wildly popular and award-winning campaigns.
Dinner Series
Whether it's part of an event or organized as a one-off or touring series, Brian has hosted thoughtful and engaging dinners for brands around the world. These dinners often bring together top executives, influencers, media and industry experts for a facilitated and captivating conversation around relevant topics.
Adobe National Dinner Tour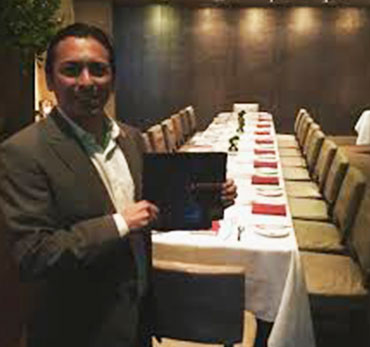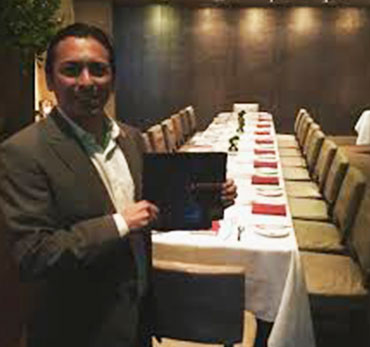 Featured Products
Occasionally, Brian will work with brands to feature products and services that he deems will benefit all stakeholders. These endorsements have come in the form of featured products in action, destinations/locations, commercials, supporting quotes/commentary, among others. They have either been aired on TV, published in online programs or also hosted on Brian's channels.
Darkcasting: Lexus Commercial featuring Whitney Cummings and Brian Solis
Flexon Eyeglasses Blog Post
Dresscode Shirts UK Tweets
Wall Street Journal SXSW Activation