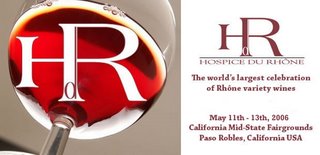 Do you love wine? Are you burnt out on Cabernet, Merlot and Chardonnay? If you're like me, Rhône varietals have become an indulgence. Well, lucky for us, the 14th annual Hospice du Rhône (HdR) will be held May 11-13 in Paso Robles.
HdR is the largest celebration of Rhône wines in the world. The event is a combination of education, fun and fellowship. HdR has been recognized for its serious and playful virtues, as well as its efforts to structure seminars that focus on wine regions, varieties and categories.
The theme for this HdR is "So many Rhônes, so little time…" which is completely TRUE – although, I'm doing my best to drink my way through the process.
The event brings together hundreds of the world's leading Rhône producers with countless wine enthusiasts in attendance (including yours truly).
The 2006 program is highlighted by dynamic and versatile seminars, dinners, and of course, wine tasting.
Keep an eye out for Paso's own Four Vines and join the anarchy that I'm sure they'll incite!!!
Four Vines' ANARCHY is an unconventional Rhone Blend, which replaced Grenache with Old Vine Zinfandel. The blend is based on Syrah for that velvet mouthfeel and rich fruit, Old Vine Zin for spice and that brambly backbone, and Mourvedre provides some anise and makes the whole blend resonate. If you like the Rhone this wine will blow you away.
More info here: