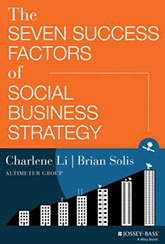 Concise E-book outlines seven powerful factors for designing and supporting an effective social business strategy
Bestselling authors and noted technology analysts Charlene Li and Brian Solis are helping businesses get serious about social media. Their new book, The Seven Success Factors of Social Business Strategy, was written to help readers learn how to better align social media strategies with business objectives to deliver real results and ROI.
The book is available for on Kindle, iTunes, and Nook. At just 100 pages, it was thoughtfully designed to be easy-to-read and packed with actionable best practices, solid examples, and pragmatic recommendations.
Li and Solis spent the better part of a year studying how companies employed social media strategies and how their businesses evolved as a result. Based on interviews with thought leaders, surveys, and extensive research, The Seven Success Factors of Social Business Strategy shows readers how to define a social strategy, create alignment across the organization, and use that strategy to support overall business success.
The book explains seven key success factors for effective social marketing that cover everything from long-term vision and executive support to staffing and technology investment.
"Based on our research and real-world experiences with clients, Charlene and I uncovered seven distinct traits shared by advanced social businesses, including both B2B and B2C companies," said Brian Solis. "We're sharing those seven traits here to help readers learn how to move their social media initiatives from the 'experimental' phase to deliver real results and ROI."
About Brian Solis
Brian Solis is principal at Altimeter Group, a research firm focused on disruptive technology. A digital analyst, sociologist, and futurist, Solis has studied and influenced the effects of emerging technology on business, marketing, and culture. Solis is also globally recognized as one of the most prominent thought leaders and published authors in new media. His new book, What's the Future of Business (WTF), explores the landscape of connected consumerism and how business and customer relationships unfold and flourish in four distinct moments of truth.
His previous book, The End of Business as Usual, explores the emergence of Generation-C, a new generation of customers and employees and how businesses must adapt to reach them. Prior to End of Business, Solis released Engage, which is regarded as the industry reference guide for businesses to market, sell and service in the social web.
About Charlene Li
Charlene Li is founder of the Altimeter Group and the author of The New York Times bestseller Open Leadership. She is also the coauthor of the critically acclaimed, bestselling book Groundswell, which was named one of the best business books in 2008.
She is one of the foremost experts on social media and technologies and a consultant and independent thought leader on leadership, strategy, social technologies, interactive media, and marketing. She was named one of the 100 most creative people in business by Fast Company in 2010 and one of the most influential women in technology 2009.