In one of the best Mashups in vlog history, Rocketboom 2.0 met Tiki Bar TV celebrating its first "Casual Friday" with new host Joanne Colan.
Colan introduced the episode acknowledging that usually RocketBoom would not run its normal Casual Friday episode, because she was "dying" to jump into the news.
While reading the day's top story about some ArchBishop (wasn't really paying attention), Dr. Tiki from TikiBarTV, leans into view, stares into the camera, and states, "It's Friday. And yes, it's supposed to be a casual day."
Brilliant.
A surprised and confused Colan (playful of course) responds, "Excuse me?" "Where's your festivity, your cocktail, it's casual Friday…you need cocktails to relax. I know just the one, a Bloody Mary."
Suddenly we're graced with LaLa's presence and a perfectly in-character Dr. Tiki writing a prescription for his Bloddy Mary….oooh La La.
Colan, (staying to script) tries to get back to the news (after taking a shot of course).
Suddenly LaLa sneaks on set and passes a note.
Colan stops her report and states, "WE have breaking news, I'm now going over to Johnny Johnny."
Classic.
Johnny Johnny takes over and helps us to learn the art of making a good Blood Mary.
It's all in good fun, and Colan's curiosity finally gets the best of her and she appropriately celebrates Casual Friday with the cast of TikiBarTV. Other than the poor sound quality (which was strange), Andrew Baron, Joanne Colan and the rest of the Rocketboom crew truly surprised me with this episode. And, I as a huge fan of TikiBarTV, I felt that highly creative vlog mashup will generate tremendous buzz for all parties. I applaud the first week of Rocketboom 2.0 and look forward to what Baron has up his sleeves for future episodes.
Amanda, I also look forward to your next project. Rumor has it that it's going to be a big deal…for you, your brother and Mario.
Here's to a great week.
Cheers everyone!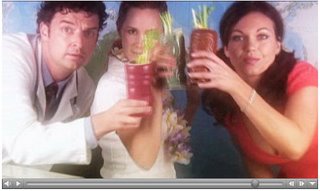 Tags: Rocketboom, TikiBarTV, Joanne Colan, Andrew Baron, Amanda Congdon, Web 2.0, Web2.0, Brian Solis