AP's Gary Gentile ran a story on the market's reaction to HD DVD players, the competing formats, and its reluctance to embrace the new technology.

(AP Photo/Marcio Jose Sanchez) (c)
Story excerpt : "Brian Solis previews the movie "Wall Street" on his home entertainment system in Redwood City, Calif., on Thursday, Sept. 14, 2006. Solis' Oppo Digital DVD player converts the video from standard DVDs to something close to high-definition quality. Solis was scared off by both the cost of players for high-def DVDs and the possibility of betting on the wrong of two competing formats." (c)
My quote was condensed so it didn't capture the true nature of my full views. It's not only about the price, it's the consortium of manufacturer's slight of hand marketing tactics that have me gun shy and a bit bitter. Let's not even mention the lack of content available.
When HD TVs were hitting the market, there was HD-ready and later HD, and far too many consumers purchased HD-ready thinking they were getting true HD resolutions. Nope, HD-ready simply meant they could receive an HD signal with a special tuner. Then there was the whole mess with HD vs ED TV. And last but not least, while current HDTVs are starting to ship with 1080p display resolution, sales people aren't revealing that most do not have a 1080p input. Which means your HD DVD player isn't going to maintain a pure 1080p image from player to display, even though the TV can handle it.
Bad and overly aggressive PR, marketing, and advertising of previous HD products are all to blame for the lukewarm reception of the new HD DVD format.
I did buy an HDTV a while back, but unfortunately, I will, like many other A/V enthusiasts, upgrade again in the near future.
The Denver Post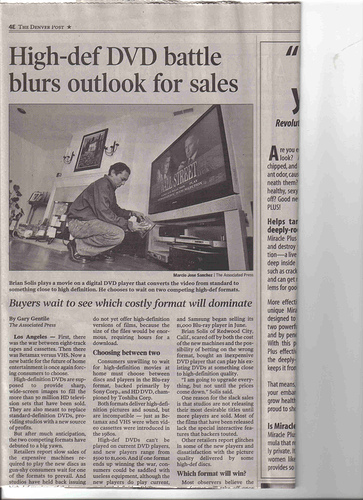 (c) Copyright 2006 Associated Press. All right reserved. This material may not be published, broadcast, rewritten, or redistributed.
Tags: high definition, hd, hddvd dvd, oppo, oppo digital, upconvert, upconverting, briansolis, brian solis,