Photo Credit: Rob Lee
DEMOfall 06 is behind us and DEMO'07 (ha, 007) is just around the corner. I know of two companies already hoping to launch their new products at that event.
Kickoff pictures
Day One pictures
Day Two pictures
There was a last-minute addition to the line-up, which I didn't cover in my last post. Mercora presented to Chris Shipley last week, and she just had to have them close out the event.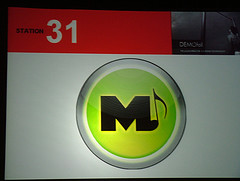 It was an interesting demo to say the least. In fact, they simply streamed high fidelity audio to 3G enabled phones. They opened their presentation with a series of apologies, the first of which, was an apology to Apple's Steve Jobs for beating them to the iPhone. Classic.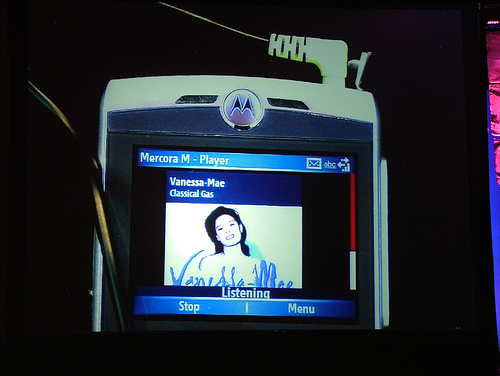 As the music played, they danced on stage and asked the audience to participate. Some actually did.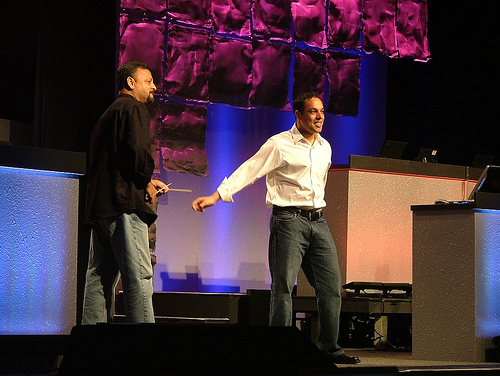 Good job guys, especially for coming in at the last minute.
Back to the DEMO wrap…In summary, there were some truly incredible presentations and a few that were, let's just say, less than impressive. There's so much to take in, that it's difficult to provide my perspective on each of the 67 companies initially. Overall though, it was an effective fusion of web dot oh applications, social networks and tools, along with gadgets, and innovative technology, that, in their own way, will appeal to enterprise customers, small businesses, mobile professionals, and consumers. Some will succeed. Some will get acquired. Others will fade-away, but will most likely set the stage for focused evolution.
By the end of it all, everyone seemed much more relaxed. I think that every presenter was just fundamentally relieved that their 6 minutes was behind them. Now it was up to them to extend the next 15 minutes of fame that DEMOfall had bestowed upon each company. No easy task indeed.
Over the next few months, I will be taking a more in depth look at several companies for review here. I believe most on this short list have a legitimate shot at something big – it's now all about execution.
4INFO, Inc., http://www.4info.net/ , Palo Alto, CA
Be Here Corp., http://www.behere.com/ , Fremont, CA BuzzLogic, Inc., http://www.buzzlogic.com/ , San Francisco, CA
Cozi, http://www.cozi.com/ , Seattle, WA
Dash Navigation, Inc., http://www.dash.net/ , Mountain View, CA
Data Security Systems Solutions, Inc., http://www.datasecurity3.com/ , New York, NY
GrandCentral, http://www.grandcentral.com/ , Fremont, CA
HeyLetsGo, Inc., http://www.heyletsgo.com/ , Boston, MA
iBloks, Inc., http://www.ibloks.com/ , San Francisco, CA
JAJAH, Inc., http://www.jajah.com/ , Mountain View, CA
Moixa Energy Holdings, Ltd., http://www.moixaenergy.com/ , London, U.K.
Mvox Technologies, Inc., http://www.mvox.com/ , Cupertino, CA MyPW, LLC., http://www.mypw.com/ , Mercer Island, WA
Pluggd, Inc., http://www.pluggd.com/ , Seattle, WA
Presto, http://www.presto.com/ , Mountain View, CA
RingCube, Inc., http://www.mojopac.com/ , Mountain View, CA
scanR, http://www.scanr.com/ , Palo Alto, CA
Scrapblog, Inc., http://www.scrapblog.com/ , Coral Gables, FL
SiteKreator, http://www.sitekreator.com/ , Santa Clara, CA
SportStat, LLC., http://www.sportstatz.net/ , Orion , MI
System One, http://www.systemone.at/ , Innsbruck, Austria
Wallop, Inc., http://www.wallop.com/ , San Francisco, CA
Yoriwa, Inc., http://www.yoriwa.com/ , San Jose, CA
Memorable moments:
Was Bono at DEMO?
I called out Paul, instead of Bono, and nothing. I walked up to him and it was darn close. Chatted with him for a few, and it was obvious by his voice…but, all I can say is, that it's gotta be good to be him.
Natiali Del Conte of PC Magazine covered Bono's appearance. Jim Louderback wrote about it here. Daniel Terdiman of CNET also wrote about it.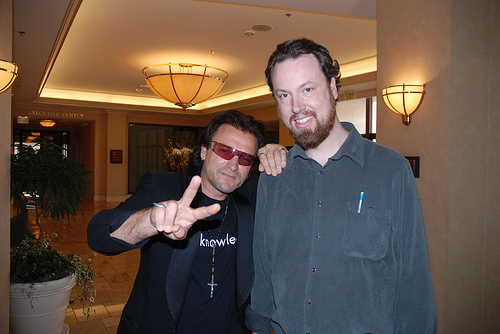 Rob Lee and Bono?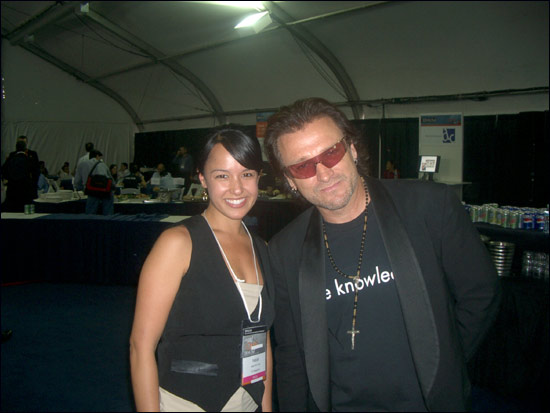 Natali Del Conte of PC Magazine and Bono?
MYSTERY SOLVED….the answer to BONO posted on Louderback's article:
Posted by: victoria schafer
Thursday, September 28, 2006 6:38 PMthat is none other then my good friend Pavel Sfera of San Diego/He has a band called Desire "A U2 tribute".He has been on numerous shows (as) bono, including Chelsea Handler from E!,Carson Daly. He is currently moving to Chicago.
More memorable moments….

Rob Lee and Mvox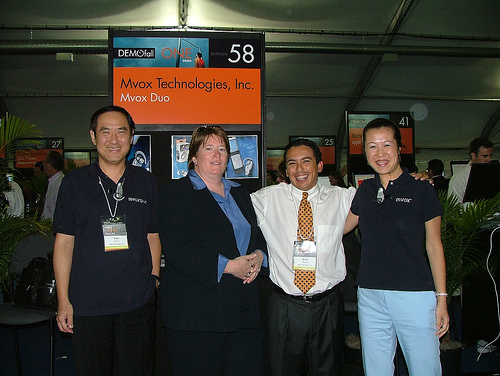 Chris Shipley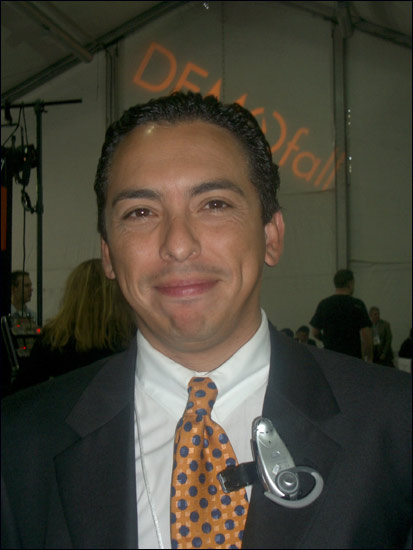 Photo Credit: Rob Lee – The cast and crew of DEMOfall
Tags demofall, demofall2006, demofall06, leaptag, mvox, sitekreator, dash, scanr, usbcell, systemone, scrapblog, buzzlogic, ibloks, cozio, mojopac, briansolis, brian+solis