Yesterday, Todd Defren ran a short, but sweet, post to help PR pros "stop and think" in order to develop more successful SMPRs .
Democratize "Access"
Ensure "Accuracy"
Embrace "Context"
Build "Community"
Be "Findable"
I also added an idea or two, and in my discussion with Tom Foremski , the list is far from complete, but it is off to a great start…so stay tuned for updates.
Write "intelligently"
"Eliminate" hyperbole
Be "informed"
"leave" the spin to the reporter
As discussed yesterday in the NMRCast podcast with Tom, Chris Heuer, and Shel Holtz, Shel highlighted the recent success he had with an SMPR he issued on behalf of SpiralFrog, in additional to distributing a traditional release. His version is well organized and stays true to the principals of social media. (see below)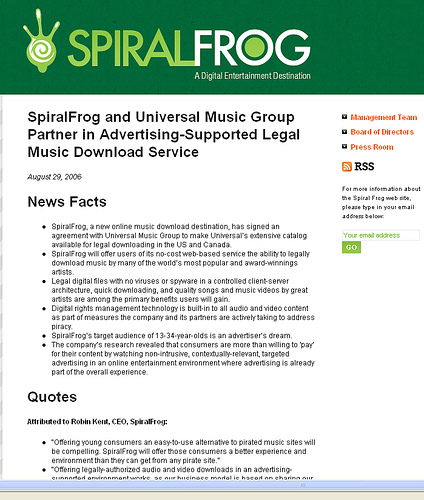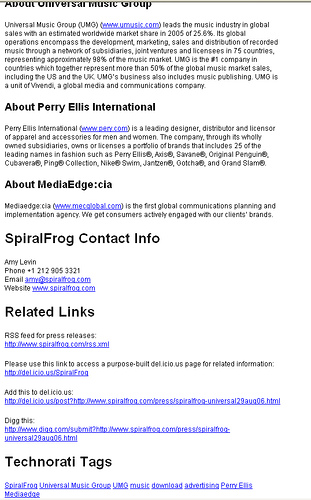 Over time, I've issued quite a few of SMPR variants, in my quest to see what works, what doesn't, etc., and like Shel, I've found that each time, a traditional release is also required. For example, we also recently issued a different style SMPR for SwapThing (and Jessica Hardwick, CEO, is very Social Media-savvy by the way!). Our experience was great, and it also did extremely well from an SEO perspective. (see below)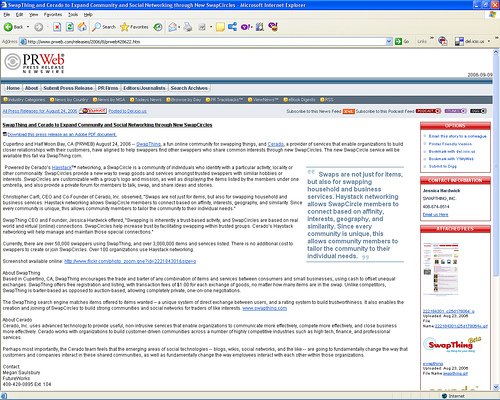 As you can see that we used PRWeb , and one thing I'm investigating is whether or not PRWeb's sevice is truly Technorati-tuned. I'll write a follow up to that point once I learn a bit more.
One thing is for certain, SMPRs, NMRs, and SEO press releases are only getting started, and, traditional releases will also still provide value (however they need to evolve in its current shape and form). My upcoming post, "Bypassing the Press with Press Releases. Writing for the Wire, Search Engines, and Consumers," will be online shortly and will explain more about this concept.
Please vote for this story at NewPR!
Tags: todd defren, smpr, Social Media, social media optimization, Socialmediaclub, smo, seo, pr-squared, public+relations, marketwire, new media, newpr, nmr, press release, pr, pr 2.0, PR2.0, hrelease, spiral frog, futureworks, Tom Foremski,brian solis, briansolis, Silicon Valley Watcher, Chris Heuer, Shel Holtz, fir, ForImmediateRelease, Swapthing, Jessica Hardwick