I missed Trexy at the recent SES show in San Jose. Co-founder Megan Hamilton was persistent, yet extremely polite, so I promised I'd follow through on a post.
Trexy was started by brother and sister team , Nigel and Megan Hamilton. They grew up in Australia and are now living in London. They have been on a mission for the last four years to create the best search engine possible. With only sweat capital to spend, they rolled up their sleeves and created the technology behind Trexy.
Trexy is a unique search technology that allows users to remember and share their searches and the web pages they visit by creating search trails. It was inspired by scientist and visionary, Dr. Vannevar Bush, who in the 1940's shared his vision of creating a collective memory by recording peoples' trails through information. Bush dreamt of a device called a "Memex" – an enhanced supplement to personal and community memory created by trailblazers: "those who find delight in the task of establishing useful trails through the enormous mass of the common record."
What is Trexy?
Trexy.com is a search technology that works as an overlay on top of over 3,000 search engines such as Google and Yahoo! enabling users to create search trails. A search trail starts at a search engine and is the clickpath you create while searching. To use Trexy all you need to do is download the free plugin.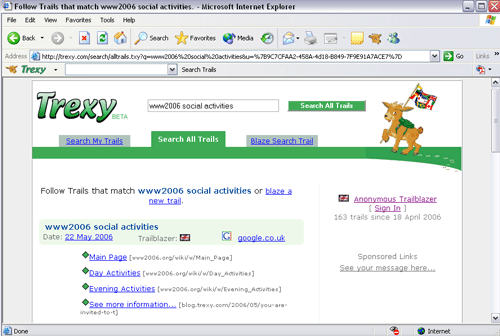 Why should I use Trexy?
Trexy enables you to remember where you have been and what you have looked for and the value of using Trexy is that you never have to ask yourself 'where did I find that again?'
Why should I use this instead of Google?
You don't use Trexy instead of Google. Trexy works with Google and lots of other engines as well. Trexy enables you to keep a track of your own trails and you can follow other trailblazers too.
What is the benefit to creating search trails?
Trexy saves you time and reduces your search effort by allowing you toquickly pinpoint information previously found.
Who does this benefit others?
The great thing about Trexy is that you have the ability to share youruseful trails. You can learn search techniques from other searchers andsee which databases they are searching on.
You can also follow in the footsteps of a searcher on a given day by clicking on the date link.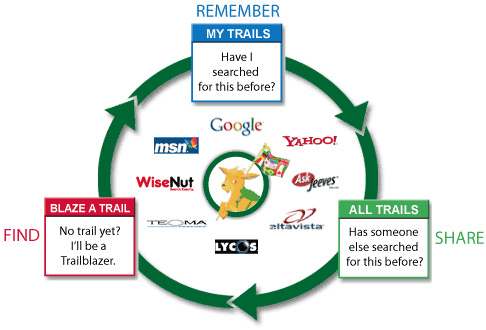 "We've designed Trexy to complement a user's current searching habits. The more engines we can connect to, the more search trail information that can be created across a broader spectrum of online databases helping users to remember and find the most relevant results online," Trexy CEO, Nigel Hamilton.
According to the company, here are the Top 10 Reasons why you should use Trexy.
Tags: Trexy, Search, search engine, searchenginestrategies, sem, seo, ses, google, yahoo,