Organized by Joel Sacks, CNET and Marketing Strategist at BuzzShout, and Myles Weissleder, VP of Communications for Meetup, SF NewTech Meetup celebrated it's six month anniversary or sixth month-versary and a new milestone of 500 members.
Hosted at CNET, SF Newtech attracts startups, service providers, and entrepreneurs to network, forge alliances, and potentially mash up.
This month's event was sponsored by
PR for emerging companies
Wines
Jacobs & Ferraro LLC, a law firm specializing in helping established and start-up tech companies
Before the event started, it was nice to catch up with Rafe Needleman who, like me, had recently returned from DEMOfall in San Diego. He has quite the busy schedule as next week, he will make a return to the stage as the moderator of STIRR. Rafe, is in my opinion, the "Robin Hood" of the new Internet landscape. While he may not love every new application out there, he is obviously passionate about the "web 2.0" landscape and his participation in STIRR and SF Newtech, among other events, speaks volumes. And best of all, he's approachable and a really nice guy.
Since it was raining, the team started a bit late as a way of allowing people to slowly find their way over to the CNET meeting room.
Myles opened up the session with a walk down memory lane, showing off his collection of baseball caps from the dotcom era aka web 1.0, which included siliconalley, infoseek, doubleclick, infobeat, and agency.com.
It drew genuine laughter and applause.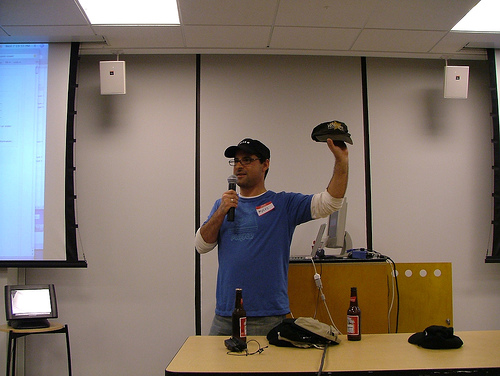 With that, Myles then introduced the first presenter.
Vyew, Christopher Peri and Tim Hon
Vyew also presented at the Silicon Valley Newtech Meetup on Tuesday, so it's cool to see these companies making the circuit for both markets.
Vyew is a browser-based conferencing and always-on collaboration platform that provides instant visual communication without the need for client downloads or installations. They previewed version 2.0 BETA.
Vyew's multimedia workspace lets people share presentations, files, photos, etc. There are also tools for whiteboarding, annotating, text chatting, and phone conferencing.
Vyew's 2.0 release differentiates them further by permitting concurrent group projects or allowing users to create dynamic "scrapbooks" with their social network. This multi-user created content can be published through a Vyew window – even on other websites or blogs. These 'Vyewlets' are fully interactive; enabling users to annotate and draw in them, while the original content gets updated in real-time.
Vyew is a powerful and extensible sharing platform with a growing set of plug-ins, such as Yahoo maps, Google search, diagram tools, notepad, games, photo slideshow, and more.
At the Silicon Valley NewTech Meetup, I called them the "WebEx for the rest of us," but it seems that it doesn't quite capture everything that they do. Definitely impressive.
With 12,000 registered users, they're currently looking for Round A, between $2 – 4 million to spend on marketing and further development of version 3.0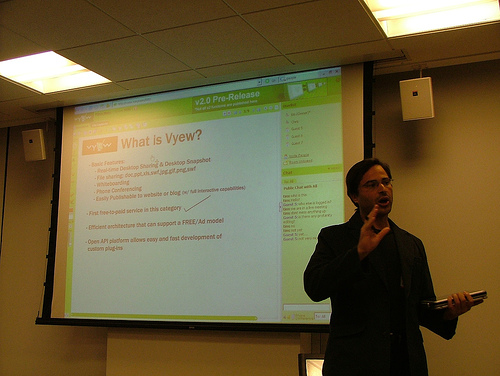 Christopher Peri
Next up…

According to Parker Trewin, director of marketing at Genius.com, "Genius.com is an innovative on-demand personal web analytics solutions that deliver individual web visit data directly to sales and marketing professionals so they can quickly qualify sales leads."
They introduced the Genius Interactive Edition at DEMOfall last week, which according to the company, is the only on-demand solution that allows sales representatives to initiate live chat sessions and deliver personalized offers to their customers through corporate Websites without IT involvement.
It's the enhanced version of its predecessor SalesGenius, which delivered real-time alerts of opened prospect emails and Website visits directly to individual sales representatives.
Genius.com solutions claim to transform corporate Websites into channels for one-to-one selling, empowering sales representatives to instantly identify and engage the best prospects.
There were some good questions about privacy and intrusion, which one could interpret differently depending on which side of the phone line you are. Nonetheless, it seems like an interesting service which may have legs. Rather than providing the visitor with a tool such as Zifftalk, Genius gives the sales team the power to act while something is hot.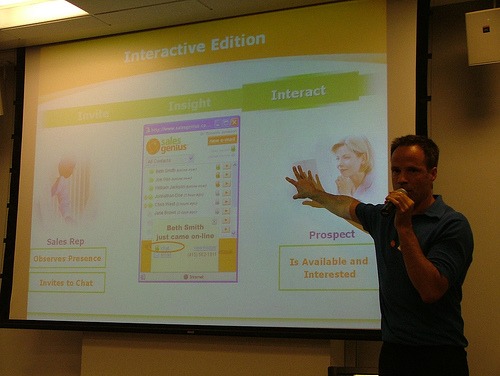 Genius.com, Parker Trewin
Tailrank.com, was a no show. Not sure what happened here, but it's an SF NewTech Meetup first! I'm sure Kevin Burton has a good explanation or alibi 😉
Next up…
Webshots.com

With over 420 million photos, Webshots claims to be the largest photo sharing site you haven't heard of!
According to some interesting history, Excite bought Webshots back in 2000. A couple of years later, the founders bought it back and it now resides under the cnet umbrella.
The presentation opened up with a funny anecdote, "in true Web 2.0 fashion it has a beta logo on the redesigned home page."
Webshots recently unveiled a new look and new functionality that makes it easy for its millions of monthly users to interact with each other around shared interests. The are 10 featured channels based on the site's most popular categories of interest including Entertainment, Family, Good Times, Home and Garden, News, Outdoors, Pets, Rides, Sports and Travel. The redesign also sets the stage for Webshots' upcoming launch of integrated video and photo sharing capabilities that will let users mix the two media types in a single shared album.
The site has the largest editorial team dedicated to organizing photographic (and soon video) content to keep its family appeal And yes, in "true web 2.0 fashion," tagging is also coming.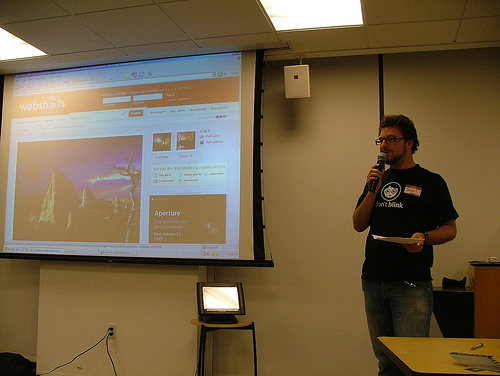 The scene was vibrant, considering how wet it was outside. Attendees ranged from VCs, coders looking for new gigs, founders, bloggers, and Web 2.0 fans. I held some great conversations with the following entrepreneurs:
Joel Sacks of cnet, Buzzshout and SF Newtech
James Yu of Buzzshout
Lawrence Coburn of rateitall.com (who also announced a new blog, sexywidget.com)
Myles Weissleder of Meetup
Bryan Kennedy of likebetter.com
David Miyoshi who's going to launch a new video web service shortly
Ben Wan, Angel Investor
Christian Perry of Zaptix and the host of the monthly SF BETA Web 2.0 event.
Also, I didn't catch his name, but someone created an online "Free Wifi Directory"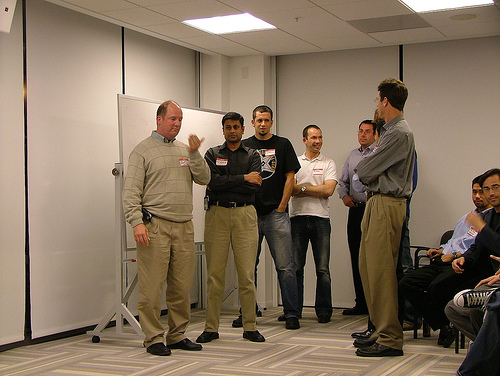 The 60 second spot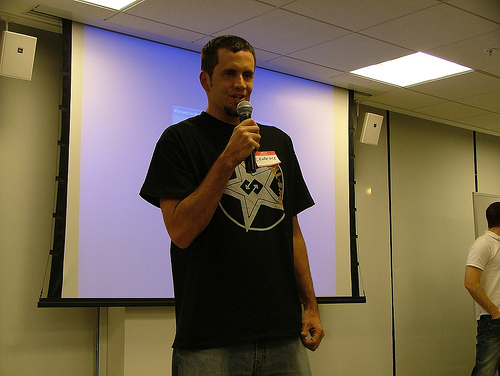 Lawrence Coburn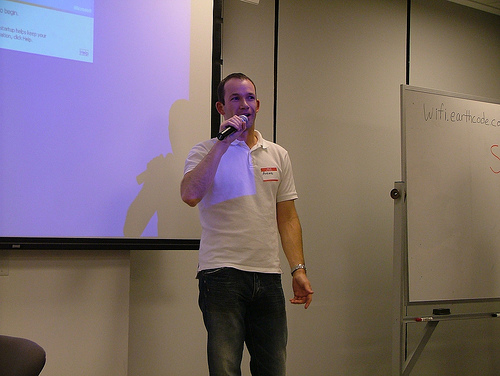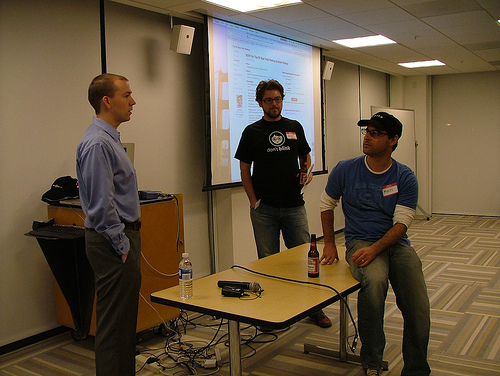 Joel, Jesse, Myles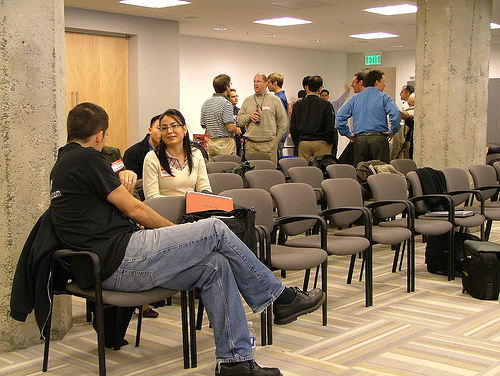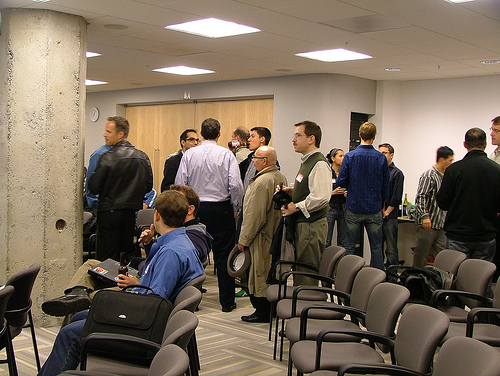 For more photos, jump to the flickr stream.
Tags: genius, genius.com, vyew, webshots, meetup, rafe+needleman, cnet, web2.0, web+2.0, demofall, briansolis