Aside from Google stealing thunder with its announcement of Google docs and spreadsheets, sessions starting at 8 a.m., and the wireless bandwidth, or lack thereof, at the Office 2.0 conference, there were some pretty exciting demonstrations and discussions. Plus, I got to sit next to Steve Gilmor and Vic Podaster for most of the show, and it was pretty cool to have them ask me which companies I preferred.
Demonstration pods adorned the hallways outside of the ballroom. For a list of participants, click here.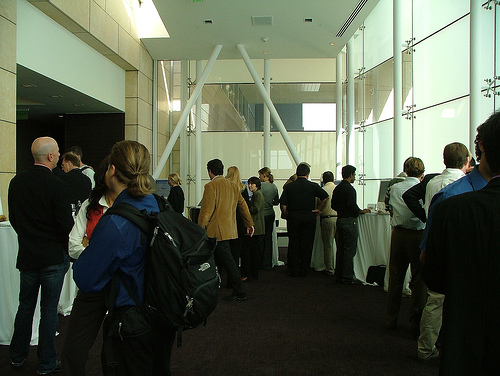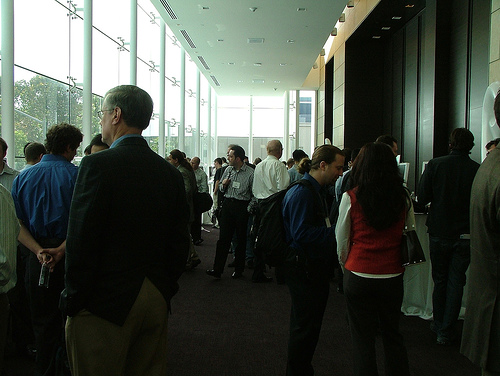 Esther Dyson kicked things off, by creating somewhat of a stir…

Per Esther's own words: "Office 2.0 needs to be more than puttingspreadsheets online so that they can be shared. It needs to supportthe management of activities among people, not the management ofcontent. People think rules are necessarily hierarchical, but Office2.0 is about rules – the rules for peer-to-peer interaction amongworkers and the tools to define and manage the content-transactionsthat constitute office work."
Right. Social networking (not referring to Myspace), standard "office-like" functionality, online collaboration, Wiki's, mashups, geotagging, RSS feeds, etc. all need to be packed into seamless and easy to deploy, utilize and manage product/s for office workers outside of Silicon Valley. It is the brilliance of MS Office and why it has dominated for so long. It is also the reason why MS Project, while a killer project management tool, never got embraced by most departments, well except for engineering, product management, and maybe marketing.
—-
I also sat in on, Office 2.0, Where Are We?
Moderator: Om Malik from GigaOMPanelists: Ismael Ghalimi, Shel Israel, Karen Leavitt, Rajen Sheth, Mark Suster
The interesting dialog from the session was more about trying to define Office2.0, and everyone had a slightly different opinion…
One such idea was that "Office 2.0 follows you around." So does a stray dog…but what I think they meant is that Office two oh applications are PC-independent, so wherever you can access the Web, you can access your business applications and data.
Another definition was, "Office 2.0 is more about collaboration." Online collaboration tools were around in the first bubble and were targeted from SMBs all the way to the enterprise. In the dotcom era, they were packaged as productivity portals, instead of applications.
Someone else offered, "Office 2.0 is about interaction and taking action, not just the transaction. The real promise of office 2.0 is the confluence."
Whoa…very deep, and it made for an incredible sound bite. Let me see if I can translate to all of those who don't live in Silicon Valley. "Office 2.0 brings people together to make things happen around a set of online applications that help them communicate and make decisions along the way."
One last take was, "Office 2.0 is driven by ease of use." Yes, but that's a benefit and not a definition.
Here's my take, Office 2.0 is the notion that PC-based applications will move to the web. People can huddle around content and collaborate to achieve a common goal/s. We can do so collectively, to the immediately benefit a workgroup and an enterprise. New tools that get together to form a mashup will also enhance basic productivity applications to create new tools to help us do more in our day-to-day work. They should be easy to use the and capabilities apparent to the end user without interfering with interaction.
Therefore, Office 2.0 is any online productivity tool that helps you get things done more efficiently with the help from the team.
Daniela Barbosa had a great assessment, "The panel and demo focus was on the 'replacement' of office productivity software (Microsoft Office) with web based applications. In order to make an impact on the enterprise, we need to not only change the business model, but provide added value to the end users."
Excellent assessment Daniela.
Since Office and Outlook are the standard for basic day-to-day workflow for the masses, the new office is about improving, simplifying and expanding not only basic functionality and capabilities, but also enhancing creativity, redefining workflow, and packaging and delivering information and ideas beyond the desktop.
For more images of the Office 2.0 conference, jump over to the flickr stream. Also, check out the Office 2.0 Podcast Jam.
Also, jump over to Business Two Zero for solid commentary by David Terrar on Office2.0.
Add to del.icio.us
Tags: office2.0, office+2.0, web2.0, web+2.0, briansolis, office20conference, office20con, ommalick, gigaom, cnet, estherdyson