twitter is the message heard around the world – so to speak or so to read.
It's an incredible phenomenon that is spreading faster than online parodies of Snakes on a M F Plane…and in my opinion, it has to be the fastest growing social tool out there right now.
It's everywhere, anywhere messaging so that you can stay in touch with friends, fans, stalkers, and associates whether on the Web, instant messaging, or through text messaging. Each update is broadcast simultaneously to your "friends" and "followers" so that the conversation can travel across borders and oceans faster than any blog post.
While the usual tech pundits are all over twitter, there are also some very interesting people that realize the reach of today's social tools. One such user, and definitely no stranger to Social Media, is John Edwards – yes that John Edwards. This is the guy that flew Robert Scoble in just to consult with him on how to integrate SM into his formal campaign launch. Let's just hope that it really is him and not someone from his campaign…that might not resonate well if it was tested and it proved untrue.
Other twitter fans (or maybe fanatics) include Stowe Boyd, Steve Rubel, Scoble, Chris Pirillo, Chris Heuer, Thomas Hawk, Jason Calcanis, Jeff Pulver, Jeremiah Owyang, Brian Oberkirch, Chris Brogan, among many others.
twitter also offers a badge to integrate into a blog post, social networks, or your web site, which displays your most current messages.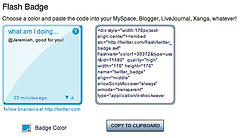 Get online, find your friends, and figure out how it can work for you. So far I've used it for project coordination, travel scheduling, as well as for pure socializing and simply sharing alerts of where I'm at and what I'm doing.
As an interesting experiment, just look at all of the conversations in and around SXSW.
Next time you're on, feel free to twitter me (that sounded a little dirty). Send a shout-out: @briansolis, I'm now on twitter!

Caution, it could be addictive.
Update: Seems that twitter is the top story on Techmeme right now. Here are some great conversations online:
twitter tips the tuna – Ross Mayfield
Much a twitter about nothing – shelbinator.com
twitter as a community tool – Chris Brogan
Can twitter save lives – Andy Carvin
twitter could become compulsive – Neville Hobson
twitter THIS – Karoli
Is SXSW going to be the death of twitter? – Chris Heuer
5 ways to use twitter for good – lifehack.org
twitter, a useful communications tool of SXSW – Jeremiah Owyang
Stowe Boyd on twitter
Is there a twitting point? – Rex Hammock
Why do I twitter? – J. LeRoy
A twitter top 10 – Marshall Kirkpatrick of Splashcast
Also, check out http://twitter.pbwiki.com/ for the 411 on twitter celebrities, politicians, hacks, etc. – Per Chris Messina
Add to: Diggdel.icio.usYahooBlinkListSpurlredditFurl
Stowe+Boyd Steve+Rubel robert+Scoble Chris+Pirillo Chris+Heuer Thomas+Hawk Jason+Calcanis Jeff+Pulver Jeremiah+Owyang Brian+Oberkirch sxsw twitter social media media+2.0 media2.0 2.0 web2.0