There's something to be said for the phenomenon that is amateur video on the Web. After earning Time's Person of the Year, the "you" generation continues to drive the new web with each video and picture posted, tagged, and shared, every blog post and podcast, trackback, link, and comment, through every social bookmark, annotation, and search, all of the twitter casts, and micro and mobile text and IM updates we broadcast. Now, get ready for lifecasting.
Lifecasting is the new "it" term to describe one's use of video to project their life on the Web. Yes, it's been done before, but it didn't have a dedicated market category or a constant user base to support it.
The truth is that Web 1.0 spawned a series of online reality stars who enjoyed more than their allotted "15" minutes of fame. JenniCam, We Live in Public, and even the infamous DotComGuy, all dabbled in early forms of video lifecasting, capturing and streaming Internet video for the world to catch a glimpse of their not-so-sensational lives.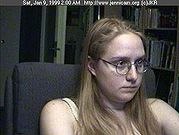 A glimpse of Jenni, January 9, 1999. Source, Wikipedia
It was easy to fail, give up, or retire in the days of 1.0 though, so their limited success was quite the feat considering that most Internet users were connected through 28k, 56k and at best ISDN modems.
Then there was Web 2.0.
Without mentioning how porn truly paved the way for the future of online video (even though it did), video blogging and podcasting helped carry the torch forward for citizen journalists and video on the Net.
iTunes, P2P networks, and most certainly, YouTube, Bittorrent, among other video sites, provided worldwide broadcast channels and an eager, captive audience for anyone with a video camera and an ordinary PC or Mac to become overnight stars – making public access TV programming seem like a crystal ball for the future of user generated content.
The difference now however, is that users are feverishly participating in social media, creating an explosive frenzy which continues to inspire new producers (and new uses) for those video cameras laying around the house. And not to mention, the new web has created an entirely new set of viewers and and the ability to watch content on the go via the latest fashionable mobile accessories such as cellphones, iPods, Macbooks, subnotebooks, Zunes, multimedia players (MMPs), etc., all which have evolved into the next-generation of portable TVs if you will.
This new market has even spawned the first stars, and many more to come, to cross over from the web into mainstream success, including Amanda Congdon, AskaNinja, and most surely Ze Frank. Other online programming such as RocketBoom, TikibarTV, and podcast networks such as Podtech and Podshow are also enjoying success online, producing the stars of tomorrow, whether it's online or on air.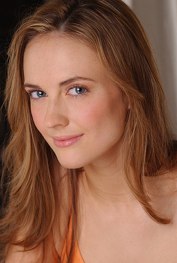 Amanda Congdon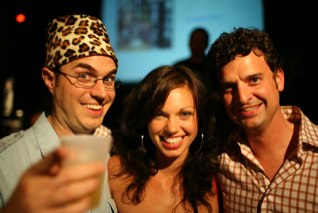 The cast of TikiBarTV, Photo Credit: Scott Beale of Laughing Squid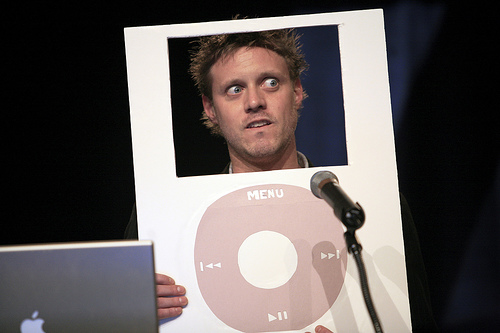 Photo Credit: KK
The short history of online video only continues to set the stage for more creative and viral amateur videos to take the world by storm. And, when combined with pervasive broadband connectivity and the global reach of social media, the world is a ripe stage for you.tv and a fundamental shift in the evolution of online culture and consumer entertainment – well, to be more truthful, all media in general.
Lifecasting reaches an all new level.
Enter 23-year-old Justin Kan and his new project Justin.tv. While lifecasting 1.0 was based on fixed video feeds, usually well-placed webcams, Justin.tv is reality television literally. He wears a camera and through the wonders of modern technology, streams live video and audio feeds 24/7.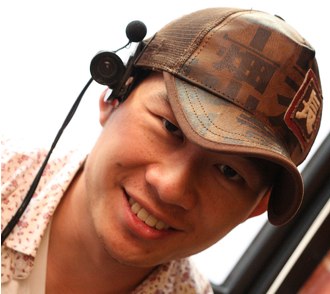 Photo Credit: Brian Solis – More pics here
Any success enjoyed by his team can be directly attributed to the revolutionary work of his predecessors. Justin is a marketer's dream. Online for only 15 days (at the time of this writing), his online reality show has already surpassed 1 million page views and only continues to skyrocket. He already has appeared on local SF Bay Area TV, was splashed on the front page of the SF Chronicle (great story by the way, kudos to Jessica Guynn), featured on the Today Show and MTV, and has Amber Mac, Dateline, and the
Tonight Show scheduled.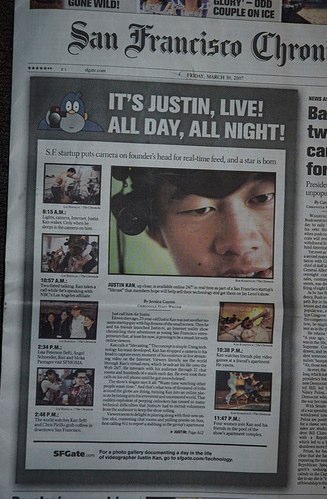 Photo Credit: Brian Caldwell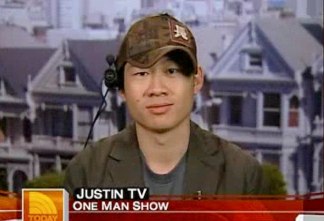 While others gush about his popularity, question what it's like to lose one's privacy, or fixate on the awkwardness of using the lavatory, dating, or having intimate relations online, I'm more fascinated with the the new medium fused with the canned audience this is forging, right before our eyes. It's making online reality TV a "real" reality.
Whether it's mobile or not, it shows that people want to live vicariously through someone else every now and then and secretly watch their adventures (with a guilty grin) , however boring it might be to others. This isn't SecondLife, this is FirstLife – it's just not yours. Fixing cameras in interesting locations monitoring even more intriguing and engaging individuals, broadcasting 24/7 has a real market.
Alison McNeill and I recently had the opportunity to meet with Justin Kan abd we ended up with a very cool video segment which we ran on bub.blicio.us.
Throughout the process I realized that it would only be a matter of weeks until we started to see the effects of new media and traditional media influence as it motivates next-generation You.tv producers. It will immediately amass in the form of Justin.tv wannabes and even more so, set the stage for an entirely new category of reality/new tee vee programming.
It doesn't matter that Justin.tv has a limited lifespan and that it will, as many before, fall victim to our alarmingly shrinking attention span. With every new video, podcast, vlog, and now reality lifecasting, viewers are lining up and shouting for more. They're looking for the next big thing. And if they can't find it. They'll create it.
It's all about You.tv and the new, sophisticated, easy-to-use broadcast infrastructure that supports content creation and the ability to view it anywhere, anytime.
What's the next big thing? Who's the next star? All signs point to You.tv.
Stay tuned.
UPDATE: Business 2.0 agrees, "…here's to Justin.tv for inspiring the rest of us to keep in touch with the world with our own lifecasts."
UPDATE: Justin.tv Guide believes lifecasting is just beginning, "If things go as Justin has described it, there will be an entire network of "lifecasters" featuring different kinds of people in different time zones and different parts of the world."
UPDATE #2: Well, now it's possible for you to lifecast 24/7 or however you see fit. Take a look at Jeremiah Owyang's new post about Chris Yeh's Ustream.tv. Jeremiah's broadcasting here. Robert Scoble is broadcasting here.
Add to: | Digg | del.icio.us | Yahoo | BlinkList | Spurl | reddit | Furl |