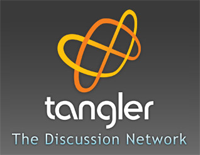 What if the comments section in important blogs or popular discussion forums were portable and accessible from various sites and blogs across the Web, but still synchronized the conversation so that everyone could participate in one global discussion?
Imagine the implications and benefits that such a network could have on any social media strategy and public relations campaign.
Well, Tangler is enabling the idea of portable, global conversations across the web, similar to the way YouTube videos are displayed in blogs and Web sites. Basically, we're talking about one conversation with multiple access points.
This is the dawn of the social aka conversation economy and the ability to expand one conversation globally is the next frontier for PR and conversational marketing.
Tangler's new Integrated Discussion Forums encourages people to increase their interaction with your site/blog and with each other and, I've got to say, it's pretty compelling.
The forums are customizable for seamless integration, which spark conversations, and in turn, make them portable and embeddable in other venues to extend the discussion.
Think about it. We could create a conversation around a client or company story or event and have that forum/conversation embedded in our Web site, blog, and social network, along with posts from other partner and media sites, blogs and communities. This one discussion is then simultaneously published to new readers through various outlets, enabling one gigantic, engaging, and ongoing conversation.
An invite only beta starts in September but they are looking for sites now who are interested. Email them to sign up.
Here are a few, non PR examples:
– Embedded in Typepad
– Embedded in WordPress
– Original in Tangler
Read more at the Tangler blog.