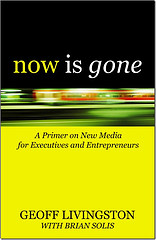 What a surprising and incredible way to end an unbelievably tumultuous week.
Good friend and co-author Geoff Livingston and I were informed that our book, Now is Gone, was awarded Silver in Axiom's 2008 Business Book Awards. We tied Linda VandeVrede's book, Press Releases Are Not a PR Strategy, in the Advertising/Marketing/PR/Event Planning category.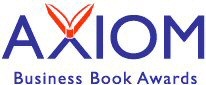 More than 400 books were judged for the awards, and a little more than a 100 won medals. The official awards ceremony is in New York on March 10!
I am grateful and humbled.
Other winners include, Beyond Buzz: The Next Generation of Word-of-Mouth Marketing, by Lois Kelly and Word of Mouth Marketing: How Smart Companies Get People Talking, by Andy Sernovitz tied for Gold. The Science of Spiritual Marketing: Initiation Into Magnetism, by Andrea Adler won Bronze.
Congratulations Geoff! How does it feel to be an award-winning author? Thank you again for this opportunity to work with you! Also thank you to book publisher Jeremy Kay of Bartleby Press.
Now Is Gone helps businesses embrace Social Media realistically, intelligently, and authentically. Readers learn how to participate in social media from how to listen to how to engage. In addition to sharing best practices, the book also features case studies that demonstrate corporate successes.
You can buy it at Amazon.
Connect with me on Twitter, Jaiku, LinkedIn, Pownce, Plaxo, or Facebook.