Every now and again a reporter or blogger decides to shake up the PR industry by showcasing how we FAIL, flop, or simply when we do things wrong. Some do so out of anger, others are genuine in their desire to help, while some are simply tired and do so out of spite.
This time around however, Marshall Kirkpatrick of ReadWriteWeb has started a conversation that proactively helps PR and communications professionals learn how to more effectively work with influential writers for future stories and maybe, just maybe, forge and cultivate ongoing relationships. In his post, "Five Wrong Ways to Pitch RWW and One Great Way," Kirkpatrick gives us a glimpse into his daily routine for receiving and reporting on news and trends.
Wrong #1 – Email the wrong email address
Wrong #2 – Phone Calls
Wrong #3 – Twitter, Especially DM
Wrong #4 – Facebook
Wrong #5 – IM
Great Way #1 – RSS
He summarizes what you should do this way, "PR people, please send us the RSS feeds of your clients' blogs and news release. The full fire-hose of company news and updates for us to pick out what's interesting, someplace outside of our email inboxes, free of dreadful press release rhetoric (skip to the second paragraph where details usually are, then skip past any executive quotes and hope there are readable details somewhere) – that sounds like a dream come true. I know that's where I get most of the stories I write about, not from email pitches. Send both, but company feeds are likely to be looked at more closely."
We'll talk more about whether this is all you need to do to help get your story out there, but at the very least, what Marshall is shouting, is what he wants and how he wants it. He's not alone in his requests to receive information in a specific format and process.
Stowe Boyd, a technology and thought leader who is helping to define the social web, recently created an account on Twitter specifically for PR pitching.
He shared his rationale in a recent post, "I can't believe what a pain in the ass it still is to do something as basic as trying to schedule meetings with startups at a conference. But in order to make things simple for me, I am hereby posting a schedule of the times that I will make available for meetings with companies at the Web 2.0 Expo, and I am not going to accept email-based proposals to meet, only Twitpitches. All companies who would like to have a meeting with me, need to send me a Twittered description of the product. Yes, please Twitter it to me at www.twitter.com/stoweboyd. Yes, one tweet, 140 characters less the eleven used for '@stoweboyd'."
Adam Ostrow of Mashable, a popular blog covering the world of social networks, also shared tips for increasing the chances of getting coverage in their post, "12 Things Not to Do When Pitching a Story to Mashable."
Here's your Top 12:
1. Don't Send an Invite from Your App
2. Don't Reference Your Media Coverage on Mashable Competitors X, Y, and Z
3. Don't Private Message on Social Network
4. Don't Try a Backdoor
5. Don't Contact Pete
6. Don't Make Unsolicited Phone Calls
7. Don't USE ALL CAPS
8. Don't Misspell Their Names
9. Don't Try to Setup a Lunch
10. Include a URL
11. Offer a Preview of Your Private Beta
12. Don't Pitch Old News
In January 2008, Tom Foremski advised PR to leverage Facebook when running story ideas by him, "After some thought I decided that I would like my PR pitches through FaceBook and not through email or phone. I will only look at pitches that come from my FaceBook "friends." I will give those priority over all other communications channels except for face-to-face, which trumps all other channels."
Robert Scoble, last year, reported that he preferred receiving pitches through his Facebook Wall, "PR people pay attention. I don't answer email anymore. Too much of it. But there's one thing that gets passed to my Nokia phone: Facebook wall messages."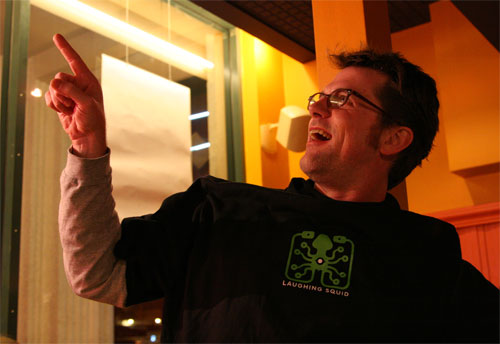 Photo Credit: Scott Beale, Laughing Squid
Merlin Mann, who publishes the popular productivity site 43folders, has made it crystal clear on his stance for PR. Don't
contact him any other way except by suggesting links to him via del.icio.us. Tag = "for:43folders"
Allen Stern, publisher of CenterNetworks, shared his reviews in a recent post, "Your Pitch Title Does Not Matter To Me."
In his post he shares his advice for getting stories not just on his blog, but others as well, "If you are a PR person, you should must ask every blogger you contact how he or she would like to be pitched. By spending a few minutes doing this, you have a MUCH greater chance of being covered by that blog. It's the same as knowing I like milk in my coffee, Arrington takes it black, Ostrow takes 2 sugars, Om would rather have tea and Eric only drinks Pepsi. I don't care that much about the subject and if you use the contact form, the subject is pre-defined. I personally look at every single email we get (about 300-400 a day) and no matter the subject I still scan the email. The key is to capture my attention in the first moments of the email, not in the subject."
—
So, what is everyone saying to you?
Do your homework! They're only helping you.
Listen, I know that it's a huge amount of work to shift from a blast mentality to a one-on-one pitch regiment that requires you first to read before you reach out. But, I think your alternatives may be running dry. Yes, it takes longer. Yes, it requires more work. And, yes, the results, and your reputation, will benefit from the diligence.
Reporters and bloggers are asking you to work with them. So why wouldn't you?
I'm pretty sure the only reason you wouldn't is because you've either been instructed otherwise, or just didn't know. However, neither are defensible any longer. Either way, it's time to change things up. Make the time to invest in relationships with those who can help you tell your story.
Telling Your Story
Let's keep in mind that news is news and stories are stories depending on how and when you tell them. While RSS and OPML feeds are nice, they don't help you secure stories with newsmakers before it's official news. Once you publish your story on your blog, it's OLD NEWS!
Allowing journalists and bloggers adequate time to prepare advance is critical. Determine those reporters and bloggers who should be part of the initial news discussions, meaning, don't hit everyone for the sake of quantity. Just find the people that would be interested in what you're working on as determined by their previous work and coverage.
Writing a press release that doesn't suck is essential. Really, it just needs the important elements up front, what it is, why it's important, where they can get it, and to whom it matters. Making your release relevant and compelling is much different than injecting hyperbole and BS quotes that mean very little to those outside of the company.
Summarize the news with a couple of statements and bullets to quickly showcase why anyone should care. Package the story differently for each person you're hoping to reach and make sure it matches their preference for being contacted. If you're not sure, it doesn't hurt to send a note asking for their direction (before you go live).
Take the time to pull relevant screen shots, create user accounts for each person if necessary, customize video demos and screen casts, and anything else someone may need to write a story instead of making them spend their limited time doing your work for you. Yes, it's time consuming. But this is about relationships and not about broadcasting spam.
Bloggers, Help Us Help You!
It's easy to be sarcastic, snide, or condescending…let's face it, PR as an industry has earned this reputation for a reason. However, you help us, and yourself, by spending a few minutes spelling out explicitly what you're looking for instead of relying on PR to ascertain this information subjectively based on your writing patterns (yes, in a perfect world, we could all do this.)
While many reporters and journalists are sharing their methods of contact, most haven't. You can't complain about PR if you're not going to provide them with a set of instructions on how and when to contact you. Bloggers should (or already do) have a "contact" link and journalists should have readily available online profiles/bios. Add a small section that spells out what you're looking for and how to contact you with that information (packaged however you prefer.) Make it clear and even include it in your email signature and social network profiles.
If the majority of writers could share this detail, we may start to teach PR how to switch from a blast mentality to a one-to-one relationship strategy. If PR still doesn't get it, then they determine their own fate and unfortunately hurt the companies they represent in the long run.
This is about relationships and creating a value cycle from PR to bloggers, journalists and ultimately to the people we want to reach with our news. Relationships are cultivated and should be mutually beneficial because of the extra time we take to personalize our contact. Think about it this way, if someone were to ask a reporter or blogger about you, how would you want them to remember you and what would you want them to say?"
Perception is everything. Do the legwork and the outreach that contributes to the reputation you wish to earn and maintain. Anything less, takes away from it.
Additional Resources on PR 2.0:
– New ebook: The Art and Science of Blogger Relations
– The New Rules for Breaking News
– The New Rules of Breaking News, Beware of Embargoes
– Building Relationships with Bloggers
– Dear Chris Anderson, an Open Letter to Make Things Right
– Robert Scoble Asks, "Is Facebook the New Press Release?"
– PR 2.0 = The Evolution of PR, Nothing Less, Nothing More
Connect with me on Twitter, Jaiku, LinkedIn, Pownce, Plaxo, FriendFeed, or Facebook.