It's inevitable. As Twitter experiences growing pains, new entrants will seize the opportunity to provide a more complete and open experience to communicating with, and at, the people you may or may not know.
Few will succeed, while others force evolution to inspire new features and capabilities in existing services.
The truth is that the Twitterati are frustrated, worn, and undoubtedly impatient. At this point, any and all alternatives are starting to look attractive. When you're starving, all food appears appetizing, including the options that you wouldn't normally consider consuming.
Every now and then however, new applications emerge that offer hope. And with that hope, we also experience confusion, thinning attention, and new communities where interesting conversations transpire between people we know and most likely people we should know – well, and some we shouldn't.
The latest micromedia/microblogging network to launch is indenti.ca, introduced to us by Marshall Kirkpatrick at ReadWriteWeb.
I'm here: http://identi.ca/briansolisEvan Prodromou, creator of WikiTravellaunched Indenti.ca via the CreativeCommons blog and supports CC licenses for the content that flows through the stream.Identi.ca is built using an Open Source, CreativeCommons framework for a distributed network of federated microblogging services according to Kirkpatrick. And this is its most interesting and promising opportunity…It's not so much its Twitter-like functionality that I find fascinating, it's the opportunity to create a white label network specific to any internal or external application. For example, imagine creating a public Twitter-like forum for your brand to openly discuss features, issues, share interesting stories, and have questions answered, etc.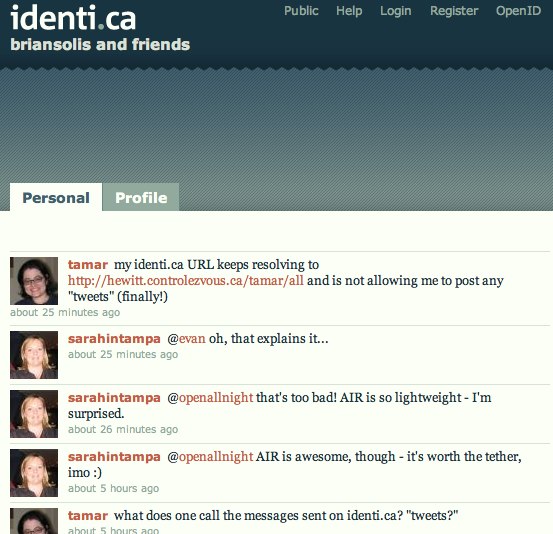 Like Twitter, it supports Jabber, except on Identi.ca, it works today. It also provides OpenID support which is a feature every social network should support.
However, the list of things it doesn't support, even the most basic features such as replies and direct messages, is long and potentially dissuading.
The most important story surrounding Identi.ca, is that the platform for which its hosted is open, meaning that we could place the Laconi.ca software on our server to host a dedicated community of our own.
While Identi.ca is extremely promising, the conversation continues to further fragment, which thins our attention and ultimately impacts the girth of any one community – which isn't always a bad thing.
With every new service that appears, unless of course, you're already on FriendFeed, our attention is further segmented and distributed. Since Identi.ca feeds can export into FriendFeed, then we contribute to the aggregation and concentration of focus and activity. FriendFeed though, can resemble a firehouse and depending on who you follow, can overwhelm many – especially those seeking conversations in bursts of 140 characters.
If adoption is any indication, Identi.ca is then incredibly promising. But at the very least, it demonstrates that communities are only as loyal as hosts who support them. And more importantly, as an Open Source service, it can be customized and deployed to suit specific applications dedicated to focused conversations.
Connect with me on Twitter, Jaiku, LinkedIn, Tumblr, Pownce, Plaxo, FriendFeed, or Facebook.