Source
What happens in the real world can usually end up on the Web for all to discover, share, and assess with or without your knowledge.
According to The Mail, even Sir Bono, lead singer of U2, couldn't escape the global distribution and network effect of Facebook.
The rock star, humanitarian, and family man inadvertently shared a portion of his St. Tropez holiday, courtesy of a 19-year old and her Facebook profile.
Jane Smith (name changed for purposes of this article), an America fashion student who's currently studying in Paris, vacationed in St. Tropez with her friend Hannah Emerson.
Harmless.
But, when she shared updates and pictures on Facebook, the world noticed.
The first update set the stage, "So Bono and Simon called me yesterday and they arrived in Cannes today, so looks like we'll have a plan! :)"
Smith also uploaded a few pictures to Facebook, which depending on how you interpret them, either lay to rest any inappropriate thoughts and unsubstantiated speculation or they sent your imagination running rampant.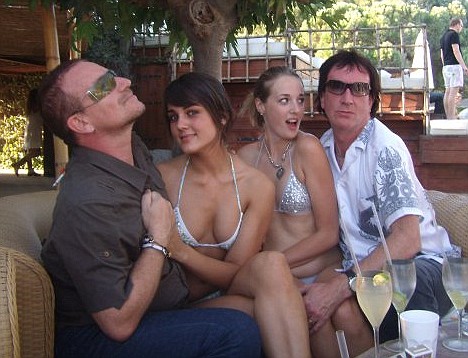 Bono, Jane Smith, Hanna Emerson, Simon Carmody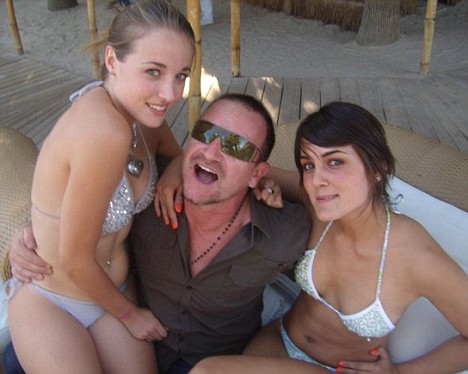 Hanna Emerson, Bono, Jane Smith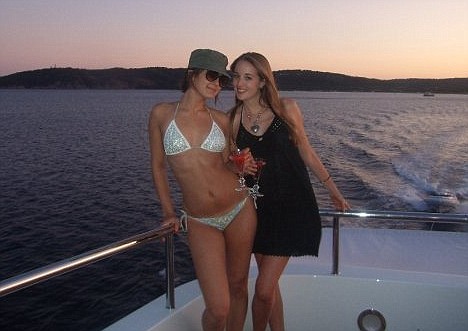 Aboard the yacht owned by bandmate The Edge, Jane wears Bono's trademark cap
In all fairness, Smith contacted The Mail to clarify the circumstances of their brief adventure. According to her statement, she has known Bono for a few years (going back to when she was 15 or 16?) but stressed that their friendship is purely innocent.
But that's the point of all of this. Everything is open to interpretation. And when you publicly share information, you unwittingly invite everyone to dissect your actions, content, thoughts, and words.
What you share online lends to the perception of you, your intentions, and your persona. Nowadays, your reputation indeed precedes you.
Bono, who is usually meticulous in how he manages his personal brand, strategically shrouding it with selflessness, passion, vision, mystery, and a bigger-than-life conviction for positive global change, potentially underestimated or simply didn't understand how Social Media has re-architected the rapid distribution of information and content.
Perhaps in Jane's case, this public story and the residual online beacons that fueled it, will only boost her social capital – however, they will remain on the Web for years to come.
In Bono's case, I have to believe that this doesn't lend well to his philanthropic efforts. In the Rock and Roll world, however, this may have a very different effect.
But, Bono shouldn't be surprised at the swift distribution, reach and resonating volume of the Social Web. While at one of his homes, he was playing (or blasting) four tracks from U2's forthcoming album, "No Line on the Horizon." Supposedly the tunes were played a bit too loudly, as a passerby was able to record the four songs, albeit in low quality, and release what was believed to be "Sexy Boots," "Moment Of Surrender," and "For Your Love" on YouTube.
While the tracks were removed, it demonstrates the need to rethink our actions in the real world as they can have unpredictable, or highly calculated, online implications.
Social Media will only continue to fuse and interlace our online and real world presences. The effect is profound.
According to Kevin Donline of The Star Tribune Minneapolis, "Seventy-seven percent of recruiters report using search engines to find background data on candidates. Of that number, 35 percent eliminated a candidate because of what they found online."
To further demonstrate how your online presence contributes to how people perceive you, education company Kaplan, a unit of Washington Post Co.,surveyed 500 top colleges. The study found that 10% of admissions officers acknowledged researching social network profiles to evaluate applicants. 38% of the colleges that factor information gathered from the social web revealed that their findings "negatively affected" their views of the applicant, with several admissions officers rejecting students because of the publicly shared content.
Your personal brand is yours to define, cultivate, nurture, and craft. Ignorance is not bliss. Everything you post and share on the web collectively contributes to an online persona that is readily discoverable through search engines and in turn, open to interpretation.
It's the curation of all of our disparate pieces (social objects) online that collectively paint a picture of who we are, what we represent, as well as our strengths and weaknesses.
Perception is reality.
For a deeper look at the Social Web and its impact on your online persona, please read:
The Socialization of Your Personal Brand- Part I
The Socialization of Your Personal Brand- Part II
The Socialization of Your Personal Brand- Part III
—
Crisis Communications 2.0 Series:
– Nike, Just Do It: When a Local Story Runs Away on the Web
– Apple and the iPhone Price Bomb
– The Skype is Falling
– Microsoft PR Sparks a Blogstorm
—
Connect with me on:
Twitter, FriendFeed, LinkedIn, Tumblr, Pownce, Plaxo, Plurk, Identi.ca, BackType, Jaiku or Facebook