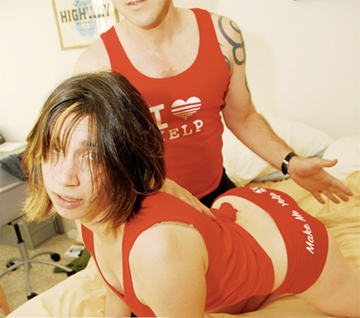 Source
This post highlights the nuances associated with crisis communications and not the merit of either case.
In the era of socialized media, brands and businesses are now vulnerable to a new era of influencers – their customers.
But what happens when the community that championed consumer experiences is accused of exploiting them to extort advertising dollars from the businesses affected by the reviews?
User generated reviews aren't necessarily a brand new concept, epinions, Amazon, among any others have provided dedicated outlets for customers to share their experiences over the years so that other consumers could heed the words of their peers before making a purchase. The ability to integrate reviews at the point of purchase empowered consumers to contribute content as well as help them make more informed decisions – before the purchase.
Enter Yelp.com.
Yelp is an Amazon reviews fused with the Yellow Pages of local services and businesses. It empowered patrons and consumers alike to share experiences and sentiment associated with businesses, by locale, with other yelpers. Yahoo, City Guide, Trip Advisor, and other online properties have offered similar capabilities for a while, but Yelp connected people and experiences and built a dedicated community around them – whereas the other services organized experiences tied to somewhat isolated and explicit search results. Yelp connected people based on interests while giving them a voice that collectively could, in theory, influence a business to grow, adapt, participate, and learn.
Initially, businesses gasped at the popularity of Yelp. Most weren't quite sure how to react – and still don't to this day. Was it a threat? Was it wrong to empower customers to share negative and positive reviews together? Many businesses under estimated the socialization and amplification of experiences, and attempted to suppress them rather than address them. Others assumed the role of patrons and raved about their own services hoping to balance negative experiences or influence future contributions instead of simply embracing and responding to individuals, and/or evolving because of the interaction.
The same platform that can provide small businesses with visibility, a collaborative community, and new revenue opportunities can also affect their bottom line through negative commentary.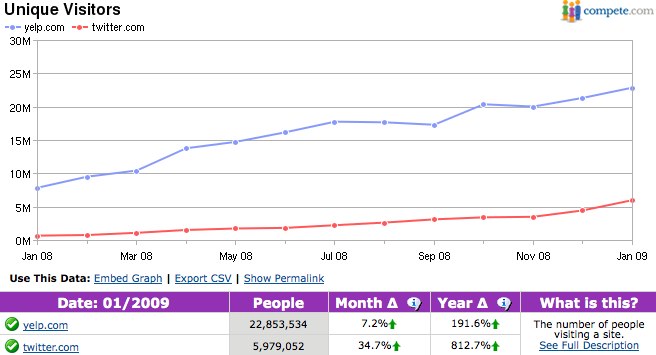 Now approaching 23 million unique visitors every month, it continues to change everything.
This week, the tables were turned, when Yelp found itself the victim of a bad review. The East Bay Express published what actually could be considered an exposé of the company, practically accusing certain salespersons of practicing what the piece dramatically referred to as "Extortion 2.0." Essentially, the author, Kathleen Richards, interviewed several local businesses that claimed Yelp applied strong-arm sales tactics to exchange the promotion of good reviews and the elimination of negative commentary for advertising dollars to the tune of $300 per month.
As a practitioner of total transparency and just good business, Jeremy Stoppelman, CEO of Yelp, responded with an impressive blog post.
If the story ended there, we'd have a textbook case of what to do when confronted with bad PR.
However, The East Bay Express' detailed six page article didn't just accuse a highly popular company of unethical behavior, it humanized the alleged victims through their fearful narration of Yelp's purported blackmail attempts over time. It engendered empathy.
And, Jeremy didn't just write a blog post in defense of his company, he also fired back with a defense worthy of a legal drama, at one point, insinuating that Kathleen's use of anonymous sources was beneath the standards of journalism and therefore less credible.
So let's back up a bit and analyze this scenario from a communications and crisis response viewpoint.
Whether or not you agree with the practice of referencing anonymous sources is moot. The East Bay Express still published a piece that references several businesses who came forward, but chose to remain anonymous as they were literally afraid of any potential acts of retribution from Yelp.com. For the record, citing anonymous sources is a long-standing and respected practice in journalism and is protected by law in order to uncover the truth behind many stories
The article states, "During interviews with dozens of business owners over a span of several months, six people told this newspaper that Yelp sales representatives promised to move or remove negative reviews if their business would advertise. In another six instances, positive reviews disappeared — or negative ones appeared — after owners declined to advertise."
The case was reinforced with a condemning statement, "Several business owners likened Yelp to the Mafia, and one said she feared its retaliation. "
The themes are reiterated throughout the verbose feature and actually serve as the foundation for Yelp to develop a strategic and meaningful response.
– Many business owners believe Yelp employees use such reviews as sales leads.
– Several suspect Yelp employees of writing them.
– Yelp does pay some employees to write reviews of businesses that are solicited for advertising. In fact, the publication uncovered one documented instance where a business owner who refused to advertise received a negative review from a Yelp employee.
Whether these accusations are right or wrong, they're incredibly defamatory. And, if the reporter indeed interviewed dozens of fearful companies who shared this sentiment, perhaps there's credence in the experiences. Either way, there's a perception that certain Yelp salespersons are crossing the line. And, in the world of online social influence, perception can be reality.
It's what you say about you, what they hear, how they share that story, and how you weave that insight into future conversations that underscore meaningful community-driven efforts. And, everything starts with listening and observing in order to maintain relevance to the very communities we wish to reach, learn from, and inspire.
In Yelp's response, Jeremy cited an everyday local business to deconstruct Kathleen's case, "As you can see while the first review is positive (and very clearly marked up) the reviews below are neutral and yes even negative. This is quite normal and if you look around the site and click on some ads you'll find plenty of advertisers with reviews that look like… well, everybody else. We showed this evidence to Kathleen, but it didn't find prominent placement in her story."
He continued by sharing three additional supporting points that he hoped would discount the article.
1 – Kathleen relied on five anonymous sources and only three non-anonymous sources. Use of anonymous sources is fraught with hazards and is strongly discouraged by most editors, as explained by the American Journalism Review.
2 – Sadly at least one of the named sources is affiliated with a business that has spent a considerable amount of time and energy trying to mislead customers like you with fake reviews. Below is a sample of some of the many reviews we've removed from Sofa Outlet's page…
3 – The accusatory thrust of article is essentially overturned at the very end.
But, what if those dozens of companies, irrespective of anonymity, actually experienced a fraction of their claims? After all, the COO of Yelp conceded in the article that there may be a miscommunication depending on the conversational skills of the individual sales rep. The pitch can be open to interpretation, "Do I think that sales reps call are saying, 'We'll move your bad reviews?' No. But I think it could be true — when you get to pick your favorite review and put it to the top, if I said it a little different way, it might sound a little nefarious."
This is the social web and not only is perception reality; it's highly influential when not proactively engaged and steered.
Remember, the Motrin Mom controversy? Whether or not the Motrin Mom's were justified in their reaction, it still reached a boiling point fueled by the absence of a corporate response or acknowledgment.
In every negative discussion there exists an opportunity to change perception and also learn and improve the communications and service infrastructure – winning customer support along the way.
I weighed in: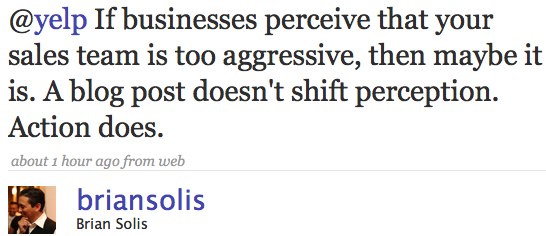 The Twitter community responded:
effbentley: their blog post was a pretty weak response imho
RunningRebel: it's not just the sales tactics that bothered me. Crazier is that they pay people to seed reviews! Is anything legit there?
erikbratt: Think the Yelp response is effective, changing initial opinion. Interesting how cos. can now respond directly to neg. news
leslysimmons: re: yelp… sounds like they have some credibility work to do, and this is coming from an Elite Yelper!
kfleisher: I think that Yelp's blog post was a great way to address the issue. transparent and informative.
Mjausson: Seems that EBE's coverage of Yelp has had the desired effect. Time will tell if they return to their old ways.
Serena: I'm surprised. Is it true? Is it not? Do I still use yelp? I'm actually torn
slazarus: I like the fact a senior person responded directly to the article. Most companies ignore bad PR hoping is would go away
journalistics: they get points in my book for addressing the issue head on – "we don't do this" and trying to provide proof via pictures
KPfefferle: Strange response, not sure Yelp really addressed the issue. The counterattacks alone make me think they're hiding something.
However, this exchange published in the Wall Street Journal between Susan Mernit, Jeremy Stoppelman, and Schlomo Rabinowitz paints a very different picture…
Susan Mernit: Do Yelp sales reps sell bad review removal to local biz? East Bay Express says mebbe, yes
Stoppelman: @susanmernit We don't: http://tinyurl.com/bbuvfa
Schlomo Rabinowitz: @susanmernit Yes, Yelp has offered me monthly plans where I can bury negative reviews for @houseofshields They are scummy; CitySearch2.0
Stoppelman: @Schlomo We have no such program, never have, never will.
The best defense is not being "defensive," nor is it simply powered by going on the offensive. Bottom line, there's always room for improvement. Communicate that message and watch the tone and flow of the conversations shift to your favor.
It's the process of not only using the same tools that your community is using to share their opinions and emotions across the social web, it's the ability to breathe it in and demonstrate acknowledgment – regardless of frequency.
Yes, the blog post was an excellent start. Yes stating, "You don't do that" was reaffirming. But obviously, there are those that attest to the likelihood of miscommunication. Perhaps an opportunity exists in extending the COO's acceptance that, "Yelp could do a better job of training our sales team to be crystal clear about what you get and don't get."
– Simply say that you're looking into it or ensuring that training eliminates any likelihood of miscommunication
– Promote an official support network within Yelp
– Solicit anonymous feedback, but ask for specifics under a proactive immunity program
– Communicate information and status regularly
– Recruit and deploy a special service-focused community team (perhaps the Yelp Elite) and document the tonality and frequency of related conversations and impressions in a Conversation Index before direct engagement
– Then, participate in those conversations through genuine, helpful, and non-confrontational dialog. Document the results and effects of the team's outreach as compared to the original index
– Monitor blog posts and blog comments, spark new dialog to demonstrate that you're listening and learning
Participation is a powerful catalyst for positive reform and also garnering additional insight and support. Maybe it's simply relegated to one salesperson or team. Maybe it's a miscommunication from sales training to direct sales calls. Either way, the brand reputation was called into question and in all reality; it won't be the last time. It's the actions of the individuals representing the brand that define brand character measured ultimately by the trust and relationships that forge, break, or strain customer and influencer relationships.
In the court of public opinion, you're guilty until proven innocent.
What would you do differently?
UPDATE: Stowe Boyd discusses the extortion claims and the potential fallout that possibly looms ahead of the popular reviews site. Yelp attempts to dispel the myths and also claims that the EBE story is unraveling. Yelp, this is bigger than your current defensive strategy. A simple, "We're looking into this as your trust is paramount to our success. This is not anything we endorse or support. If someone is indeed communicating or reinforcing this inaccurate perception, we find it and stop it immediately."
As Stowe says, "Even more important, reality can be reality. If Yelp is in fact — directly or indirectly — using strongarm tactics they should deal with the consequences, which may include legal action. I hope there is a DA out there somewhere willing to look into these allegations. And we, the social media technorati, should treat this on a much more serious level than the PR fallout. If a company like Yelp acts in the way that has been alleged, we should call for a boycott of the company, and an investigation to get to the bottom of this."
@queenofspain chimes in at /Message, "Regardless of what comes to pass, it's an issue and it should be blogged and looked into. Is this a matter of a digerati turning their heads to the sweatheart start up? I'm curious."
Related articles on PR 2.0:
– Reinventing Crisis Communications for the Social Web
– Comcast Cares and Why Your Business Should Too – The Socialization of Service
– Crisis Communications: Facebook and the Reality of Your Online Content
– Crisis Communications: Ariel Waldman vs. Twitter, When TOS Doesn't Apply to You
– Crisis Communications: Mark Zuckerberg Listens and Responds to Beacon Crisis
– The Art of Conversation – It's About Listening Not Marketing
– Free ebook: The Essential Guide to Social Media
– Free ebook: Customer Service, The Art of Listening and Engagement Through Social Media