Twitter represents a technology platform, sustaining ecosystem, and evangelical community that facilitate not only a behavioral transformation in how we communicate and define online relationships, but also represents a fundamental shift in how we listen, share, participate, and learn. For many, Twitter is the catalyst that is inspiring individuals and organizations to discover and observe the real-time conversations and activity that affect perception and influence action. While Social Media has existed well before Twitter, its innovative, instantly gratifying, and seductive spirit is forcing the evolution of networks and applications across the Conversation Prism and the Social Web.
The lessons and experiences that transpire on Twitter humanizes our voice, transforms how we discover and share information, and connects us to an extensive and empowering contextual network that serves as the foundation for education and inspiration.
At the very least, we're learning that cultivating and sustaining relationships on Twitter is defined less by our ability to merely participate in conversations through unstrung updates and public @'s and instead, prized by the personality, wisdom, and value we invest into each tweet as well as spotlighting notable insights of those we follow.
Our education spans a lifetime as long as we believe we have something to learn.
On June 16 & 17, I'm joining Jeff Pulver to organize and host the 140 Characters Conference (#140Conf) in New York. The conference will explore the effects of Twitter on communications, relationships, celebrity, media, advertising, politics, and social good.
The #140Conf will indeed feature a cast of 140 characters who will individually share their unique experiences, theories, discoveries, and creations in a motivating and rousing forum. We will leave informed, encouraged, and united as we focus on a greater mission of helping and guiding our respective communities to a higher state of social literacy through enriching and meaningful engagement.
This is an exciting time in which we live and we're truly looking forward to seeing your avatar in real life IRL at the #140Conf.
Register here.
Exhibitors
Please fill out this online form if you are interested in showcasing your product or service at the conference.
Sponsors
There is a limited array of sponsorship opportunities to prominently showcase your brand at the event. Please contact me via email.
Media
We are offering press access to working members of the media. Please visit the press page for further details.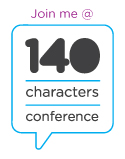 Helpful Posts on PR 2.0:
– Twitter Flutters into Mainstream Culture: The New Competition for Attention Starts with You
– Online Reputation and Brand Management Starts with Identity
– The Social OS, The Battle Between Facebook and Twitter is the New Mac vs. PC
– The Domino's Effect
– The Conversation Index
– A New Search Engine for Twitter
– Social Media Influences Buying Decisions
– Is Social Media Recession Proof?
– Facebook Now 200 Million Strong
– Twitter Traffic Surges to 10 Million
– The End of the Innocence
– The Social Effect and Disruption Theory
– Putting the Public Back in Public Relations is Now Available
– Twitter and Social Networks Usher in a New Era of Social CRM
– The Human Network = The Social Economy
– In the Statusphere, ADD Creates Opportunities for Collaboration and Education
– Humanizing Social Networks, Revealing the People Powering Social Media
– Social Networks Now More Popular than Email; Facebook Surpasses MySpace
– I Like You The Emerging Culture of Micro Acts of Appreciation
– The Ties that Bind Us – Visualizing Relationships on Twitter and Social Networks
– Make Tweet Love – Top Tips for Building Twitter Relationships
– The Battle for Your Social Status
– Twitter Tools for Communication and Community Professionals
– Is Twitter a Viable Conversation Platform
Connect with me on:
Twitter, FriendFeed, LinkedIn, Tumblr, Plaxo, Plurk, Identi.ca, BackType, Social Median, or Facebook
—
Subscribe to the PR 2.0 RSS feed.


—
Now available:

—
pr pr+2.0 pr2.0 public+relations marketing advertising interactive social+media socialmedia brian+solis social media media2.0 media+2.0 2.0 smo social+media+optimization marcom communication publicity twitter jeff+pulver 140 conference ny