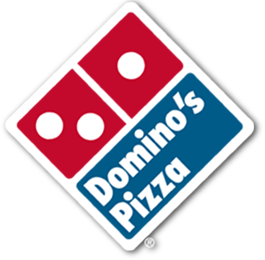 Domino's brand cultivated over 49 years…damaged in 30 minutes or less.
The latest viral video on the Web today isn't related to an upcoming summer blockbuster, nor the next Chocolate Rain sensation or even the next Obama Girl. Today's social video frenzy is a real time case study of what happens when the employees of a franchise use online video to inadvertently cause a global domino effect that financially and emotionally impacts other franchises, employees, customers as well as bruising the corporate brand overall.
Two employees from an individually owned Domino's store shot and shared a few devastating videos that will appall anyone and everyone who can actually stomach them. Warning: If you like fast food or every question what happens behind the scenes, don't watch these videos.
While those individuals claim that the antics were intended to be a prank and that no food was ever sent to customers, the mere prospect of something like this being potentially plausible was enough to inject doubt into the minds of paying consumers. The content was removed by YouTube, but spending a few minutes on Google or Yahoo Search will unearth a bevy of remixes and collages.

GoodAsYou ran the original videos and in turn, also corresponded with Domino's corporate offices.
Tim McIntyre, Vice President, Communications led the effort to kill the videos wherever possible while investigating the clues that would identify the local store and the offending employees.
Email 1:
Thank you for bringing these to our attention. I don't have the words to say how repulsed I am by this – other than to say that these two individuals do not represent that 125,000 people in 60 countries who work hard every day to make good food and provide great customer service. I've turned this over to our security department. We will find them. There are far too many clues that will allow us to determine their location quite easily.
Regards,
Tim McIntyre
Vice President, Communications
Domino's Pizza, LLC
Email 2:
We just got off the phone with the franchise owner, who was absolutely dumbfounded by this. He has told us that he will be terminating their employment effective immediately. We suggested that he call them and get a written statement from them, asking them to "explain" (to the extent anyone can, really) their actions. We are also seeking legal counsel to see what kind of action we can take against them for damage to the brand.
You are welcome to use anything I've sent to you in the past 24 hours. I do want to thank you for bringing this to our attention…I just wish it hadn't been posted so prominently on your web site…while it was certainly fair game, it does hurt the company and the thousands of people we employ in this country whether it's intended or not.
Regards,
Tim
Tim McIntyre
Vice President, Communications
Domino's Pizza, LLC
Domino's will surely suffer significant financial losses as a result of these "fake" videos and the tidal wave of public disgust that will surely crash over social networks. Sales will thin similar to the cascading effect that we witnessed during the unfortunate Wendy's chili fiasco.
Domino's is on the right track. By removing the first wave of videos, the company bought itself time to regroup, research, and plan its next moves. As we all know however, the Social Web is a ripe and fertile playground for those seeking and sharing timely and material content, so the video and outlying conversations will escalate before they dissipate. Listening, responding, and reassuring the public that this is an isolated event, using a combination of traditional and social mediums are instrumental in steering perception, slowing the bleeding, assessing damage, and ultimately creating and implementing a sweeping campaign to instill trust in the Domino's brand once again. This must be done at the local and national levels as each franchise is supported by its own locale and geographic community.
Amplifying the voices and the faces of trustworthy employees, customers, and managers can help us convey a believable and sympathetic persona that offers something or someone to connect to for those open to the other side of the story.
Ultimately, this will run it's course. Steering it and limiting the monetary and brand damages is paramount now and in the days and weeks to come. In the end, Domino's has a price to pay for these actions as its employees, whether or not they're trained, managed, or guided, are the ambassadors for the company brand with or without customers present.
Please also read: "Reinventing Crisis Communication for the Social Web."
UPDATE:
The official Domino's response: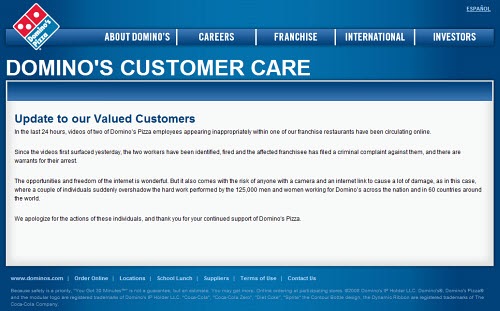 Update to our Valued Customers
In the last 24 hours, videos of two of Domino's Pizza employees appearing inappropriately within one of our franchise restaurants have been circulating online.
Since the videos first surfaced yesterday, the two workers have been identified, fired and the affected franchisee has filed a criminal complaint against them, and there are warrants for their arrest.
The opportunities and freedom of the internet is wonderful. But it also comes with the risk of anyone with a camera and an internet link to cause a lot of damage, as in this case, where a couple of individuals suddenly overshadow the hard work performed by the 125,000 men and women working for Domino's across the nation and in 60 countries around the world.
We apologize for the actions of these individuals, and thank you for your continued support of Domino's Pizza.
UPDATE 2:
Domino's is now on Twitter (@dpzinfo) responding to questions regarding The Domino's Effect
Connect with me on:
Twitter, FriendFeed, LinkedIn, Tumblr, Plaxo, Plurk, Identi.ca, BackType, Social Median, or Facebook
—
Subscribe to the PR 2.0 RSS feed.


—
Now available:

—
pr pr+2.0 pr2.0 public+relations marketing advertising interactive social+media socialmedia brian+solis social media media2.0 media+2.0 2.0 smo social+media+optimization marcom communication publicity dominos video youtube domino effect