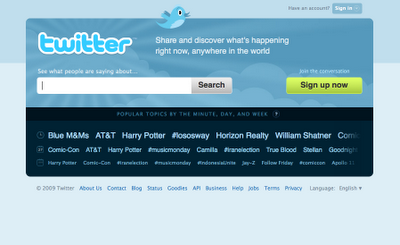 Twitter just rolled out its redesigned front page for those visitors new to Twitter.com. If you're already a registered user, you won't notice the new look unless you sign out and refresh the home page.
The new homepage helps provide a frame of reference, expectation setting, and also offers a lens into the conversations populating the popular microcommunity that connects people through 140 character strings.
Twitter now places an emphasis on search, the very functionality that helped Twitter earn prominence among a core, passionate, and extreme group of digital extroverts. The intention is to introduce new visitors to conversations that are related to the keywords that are important to them. As the site homepage now reads, "Share and discover what's happening right now, anywhere in the world."
The landing page now also provides insight into the popular topics by minute, day, and week.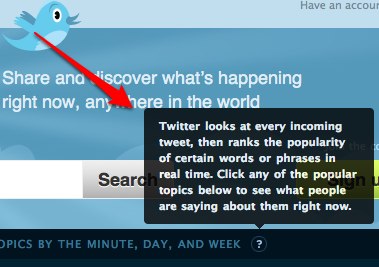 This move, while in the works for quite some time, follows the release of the Twitter 101 guide designed to help businesses embrace and leverage the power of Twitter and the Tweets that fuel the new media revolution.
Perhaps this is exactly what Twitter needs to start doing more of in order to keep users Tweeting(tm)!
For those looking to get insight into the real-time conversations powering the entire social Web, try Collecta.
Connect with Brian Solis on:
Twitter, FriendFeed, LinkedIn, Tumblr, Plaxo, Plurk, Identi.ca, BackType, Posterous, or Facebook
—
Kindle users, subscribe to PR 2.0 here.
—
Now available (click to purchase):
—
pr pr+2.0 pr2.0 public+relations marketing advertising interactive social+media socialmedia brian+solis social media media2.0 media+2.0 2.0 smo social+media+optimization marcom communication publicity advertising interactive spin brand branding Tweet twitter sponsored conversation