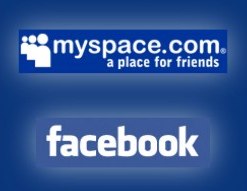 MySpace has been losing "face" over the course of the last year. With sliding traffic and attention as well as shifts in management and reductions in staff, MySpace is not only a place for friends, but also a place for skeptics.
According to a Compete.com, Facebook received 122,559,672 unique visits in June 2009 twice that of rival MySpace, which realized only 60,973,908 unique visitors.  In year-over-year comparisons, Facebook volume skyrocketed with 248.17% while Myspace slightly recoiled, down 5.65%. The good news for both networks is that June represented positive growth over the previous month with Facebook visits growing by 8.45% and MySpace realizing a bump of 7.19%.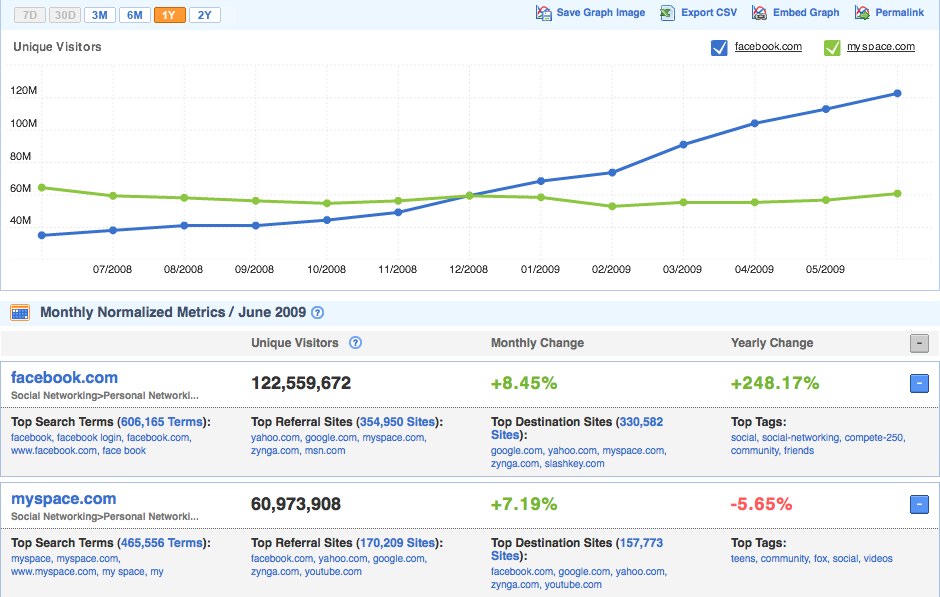 Not only has Facebook surpassed MySpace in traffic, according to eMarketer, Facebook appears primed to overtake the once dominant network in ad revenue as well.
Social Media appears to be an unsteady landscape tied directly to the popularity, trendiness, and momentum of any given network at any given moment in time.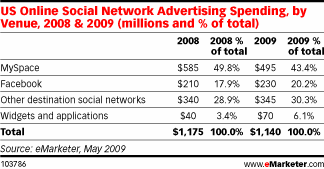 eMarketer anticipates US spending at MySpace to fall 15% to $495 million in 2009 from $585 million in 2008.  In contrast, Facebook will grow from $210 million in 2008 to $230 million in 2009.
After reviewing the numbers, an interesting observation surfaced…Advertising spending on Facebook and MySpace alone account for 2x the total advertising dollars going to all other networks combined. Also, widgets and applications will continue to grow with funding up 6.1% from 40 million in 2008 to $70 million in 2009.
Even though Facebook 2009 projections are roughly 40% of MySpace revenue, Debra Aho Williamson, eMarketer senior analyst and author of the new report, Social Network Ad Spending: A Brighter Outlook Next Year, expects Facebook to surpass MySpace revenues by 2011, "Facebook, once a distant second to MySpace, has outperformed its rival in nearly every measure of usage—and is on track to surpass MySpace in ad spending by 2011."
Williamson also predicted a brighter future for advertising spending on social networking, "The expected rebound in spending will come as more companies focus on creating and implementing an overall social marketing strategy. And it is a clear indication that the experimental phase of social network marketing is finally drawing to an end."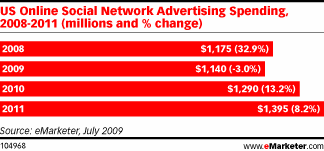 Indeed 2009 painted a bleak picture as spending was down an estimated 3%. The good news is that according to eMarketer, budgets will grow by 13.2% in 2010 and 8.2% in 2011.
I imagine that by 2010, we'll finally see a revenue model introduced by Twitter. Perhaps those numbers will only trend as opposed to fanning out once advertising becomes an option at the highly sought after network.
—
Connect with me on:
Twitter, FriendFeed, LinkedIn, Tumblr, Plaxo, Plurk, Identi.ca, BackType, Social Median, or Facebook
—
Kindle users, subscribe to PR 2.0 here to receive this feed on your device.
—
Now available (click to purchase):

—
pr pr+2.0 pr2.0 public+relations marketing advertising interactive social+media socialmedia brian+solis social media media2.0 media+2.0 2.0 smo social+media+optimization marcom communication publicity advertising interactive spin brand branding facebook widget social+network social network myspace comscore twitter facebook advertising online spending emarketer ad widget application