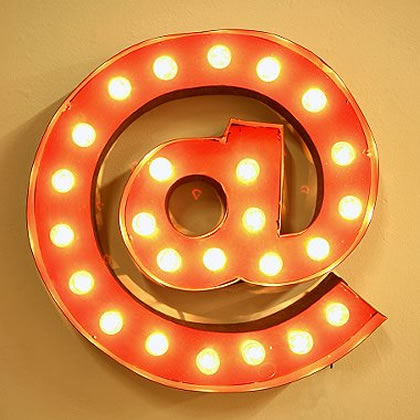 Credit: You can actually buy this lamp.
I've long believed that the "@" sign carried with it great power on the Web. In definition, it is the representation of "at" which evolved from the phrase of "at the rate of" in accounting and commercial invoices. Over time its ubiquity was solidified with its use as the buckle linking names to domains in email addresses.
Now Internet culture, specifically Twitter, has evolved and popularized @ conjuring a powerful and poignant symbol of designation, recognition, and action.
Facebook is now injecting the @ lifestyle and communications catalyst into status and posts allowing users to identify and reference people in status updates and other posts from the Publisher. The statusphere will transform as a result.
When updating or posting on Facebook, users simply type "@" and begin to enter a person's name or the name of fan pages, groups, and upcoming events. Facebook will suggest names on the fly to auto complete the process, allowing you to enter up to six tags in each message.

The end result is a the standard name, without the @ sign visible in the final message. In Facebook @ is a prompt to precipitate the process linking a name to a destination. Unlike Twitter, there is an action associated with the process of tagging someone or something. First, it triggers a notification alert to the person tagged. Second, it serves as a hotlink to the person, event, page, etc. Third, it reverberates physically across the social graph by appearing in the news feeds of those involved and also in the subsequent updates and responses that should ensue.
As in email, the @ now links people to content and perpetual conversations.
I do believe this is yet another example of Facebook's migration to solidify itself as your attention dashboard and HQ for your global social graph. This feature is also one that must be used responsibly I must note. I am already deluged with borderline spam tags in third-party picture and video applications and also in notes that individuals wish for me to see. Untagging is the savior ultimately, but be judicious before your tag individuals as the onus is on them to "remove" themselves from the ongoing conversation. Although, if I'm not mistaken, we cannot as users untag ourselves from "notes" – but you can untag your name from updates.
The power of @ is universal, expansive, and influential, use it wisely.
Connect with Brian Solis on:
Twitter, FriendFeed, LinkedIn, Tumblr, Plaxo, Plurk, Identi.ca, BackType, Posterous, or Facebook
—
Kindle users, subscribe to PR 2.0 here.
—
New book and Conversation Prism poster now available (click below to purchase):
—
pr pr+2.0 pr2.0 public+relations marketing advertising interactive social+media socialmedia brian+solis social media media2.0 media+2.0 2.0 smo social+media+optimization marcom communication publicity advertising expert interactive spin brand branding guru social+architect