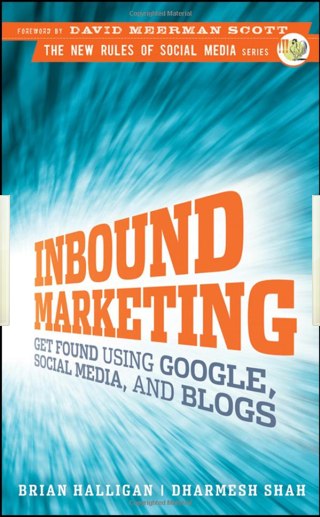 Inbound Marketing is a new book written by Brian Halligan and Dharmesh Shah of HubSpot.
This book is an exceptional guide to understanding the landscape of creating and maximizing presence. Inbound Marketing refers to the act of consumers discovering your brand through various forms of online media, without your direct engagement necessarily. In the interactive Web, I refer to this practice as SMO or Social Media Optimization – the art and science of escalating the findability of social objects within social networks and the blogosphere.
During the final stages of writing the book, Brian Halligan reached out to ask if I would provide a quote to include in the book. I of course took the time to contribute something I hoped was worthy enough for inclusion…
PR agencies, consultants and communications professionals either establish an epicenter that serves as the resource hub for their industry or they will intentionally remove themselves from the radar screens of customers and influencers alike. In the social Web, we are presented with a privilege to establish meaningful dialogue and collaborative relationships with the people who define our markets. This is an incredible opportunity to establish relevance and discoverability. Remember, consumers have choices. We're not part of those decisions where we're not present. Inbound marketing serves as the bridge between those seeking information, direction and insight and those willing to provide guidance and support.
As your list of must-reads expands, I suggest you add this to the stack.
Connect with Brian Solis on:
Twitter, FriendFeed, LinkedIn, Tumblr, Plaxo, Posterous, or Facebook
—
Click the image below to buy the book/poster:
pr pr+2.0 pr2.0 public+relations marketing advertising interactive social+media socialmedia brian+solis social media media2.0 media+2.0 2.0 smo social+media+optimization marcom communication publicity advertising expert interactive spin brand branding guru social+architect