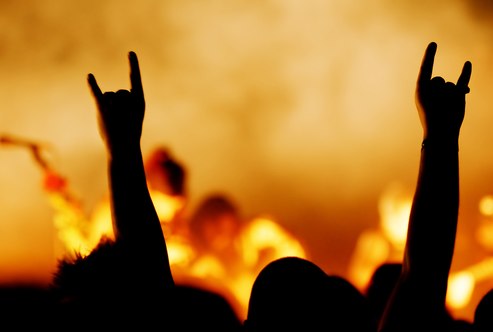 Source: Shutterstock
As brands and personalities race to establish online communities and host meaningful conversations in Social Media, Facebook continues to pave the roads that connect them.
If your customers, prospects, and the peers who influence them are active in Facebook, Facebook Fan Pages are then not a question of if, but when and how they're implemented and cultivated.
Many brands and personalities underestimate the value and reach of social networking, instead opting to drive traffic and activity back to the primary dot com (brand home page).  The problem, usually, forces people to traverse an all too familiar path from an interactive and dynamic social ecosystem to a static dead end. We assume people will find their own way instead of channeling the experience and also instilling and shaping strategic perception.
Effectively engaging with online influencers and stakeholders requires a new methodology that embraces the reality that Web sites are slowly losing favor as ritual destinations. To connect with those defining the landscape for brands outside of the brand domain, we simply have to look, listen, and learn. At the very least, we now need to also engage where engagement transpires.
For many, Facebook and Twitter represent the "conversation." As Facebook currently boasts just over 350 million active users with Twitter currently hosting somewhere between 10-20 million, Facebook is practically prescribed.
It's not as simple as creating a page and using it as an extended channel to push propaganda, press releases, commercials or one-sided rhetoric however. Creating a presence requires a proactive invitation process and also an active and dedicated program for cultivating participation. It's a balance of curation, recognition, and conversation. It's our job to give them a reason to not only return, but also invite others directly and indirectly through updates that reverberate across their social graph.
To bridge the social realm with the static dot com presence, Facebook recently introduced a feature that made fan pages portable – where site admins can host a lite version of the page directly on the brand web site.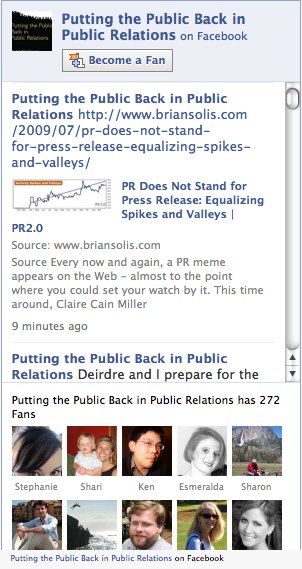 Here are a couple of examples of the Widget placed within a branded Web site:
Lance Armstrong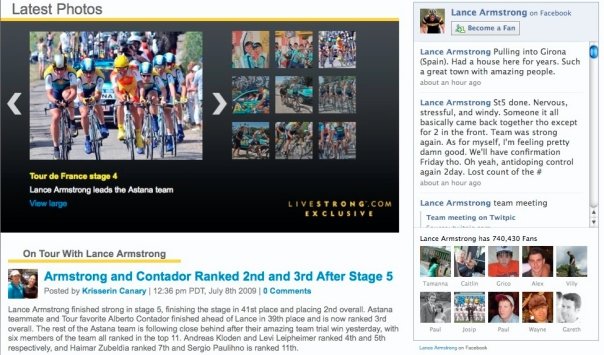 BlackBerry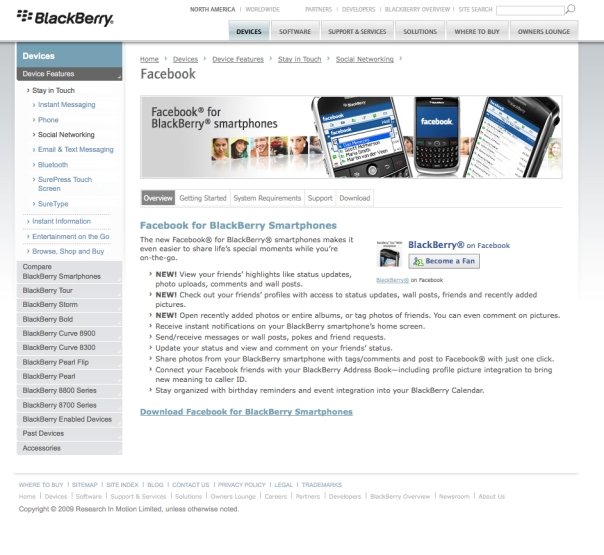 Now, Facebook is introducing the ability to more effectively reach specific communities of people to share targeted content – without saturating the greater community with irrelevant information.
Brands can now focus posts, links, photos, and videos to fans based on location and language. A post that is published to Facebook users in a specific location or language will only be visible to those users.
(Images sourced from Inside Facebook)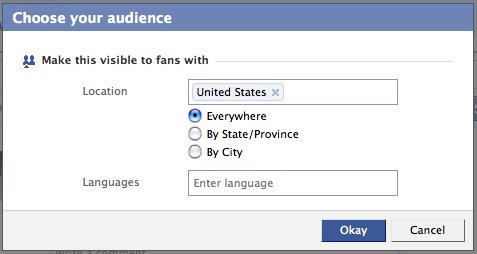 Some examples in Fan Pages include:
Global brands: Starbucks, who has over 5MM Fans across the world, may want to talk about a new drink currently only available in the U.K.
Musicians & Celebrities: The Foo Fighters may want to announce to fans in California that new tour dates have been added across the state.
Local: Red Mango may want to let fans in Palo Alto, California know that a new frozen yogurt shop is opening locally.
Celebrities: Roger Federer may want to separately thank his English-speaking and French-speaking fans in their respective languages.
Connect with Brian Solis: Twitter, LinkedIn, Tumblr, Plaxo, or Facebook
—

Get the new iPhone app!
—
Click the image below to buy the book/poster:
pr pr+2.0 pr2.0 public+relations marketing advertising interactive social+media socialmedia brian+solis social media media2.0 media+2.0 2.0 smo social+media+optimization marcom communication publicity advertising expert interactive spin brand branding guru social+architect