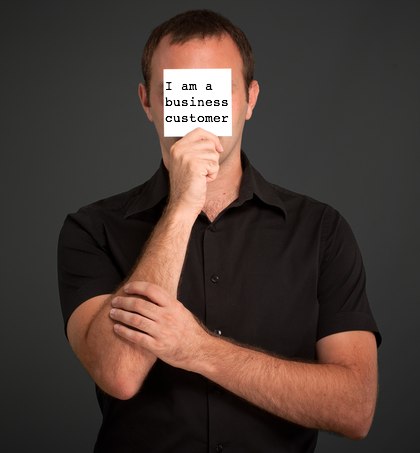 Source: Shutterstock (edited)
As some social media experts are now starting to realize, businesses need a little bit more than relationships to justify their spend in conversational marketing. Relationships are difficult to forge and even more burdensome to measure. And while participation and engagement are part of a more effective interactive business communications program now, we can not neglect our responsibilities to the bottom line as well as our dedication to existing customers and prospects.
Socialized media affects an organization in its entirety. Any division responsible for outside communication interaction, from marketing and public relations to sales and service, will eventually socialize – it's a matter of when, not if.
I'm often asked if I can share experiences, examples, and strategies in business-to-business as most individuals asking the question observe the saturation of business-to-consumer examples populating the socialmediasphere today.
Honestly, much of the work I do is focused in the B2B realm.  My experiences to date share similar philosophies, processes, and tactical programs with B2C programs, as almost everything begins with listening and observation. Identifying the new influencers, their reach, and surfacing their channels of influence and interaction are the benefits of research and documentation. The differences between B2C and B2B are represented specifically by the voices, communities, conversations, questions, interaction and their place within the buy and value cycles.
Everything comes into focus by reverse engineering who you need to reach, at what level, where they go for answers and direction, who do they look to for insight, and who are they connected to and why.
Perhaps one of the more understated benefits of social media in B2B is the ability to establish and foster expertise within a given industry or niche. The same tools and services that new influencers leverage to construct prominence and demonstrate awareness are also readily available to anyone with wisdom and vision to share.
I was once asked what it takes to become a thought leader. My answer was short and playfully sarcastic, "it starts with actually being a thought leader." In all seriousness however, it's true. Combining intelligence, prowess, experience, innovation, and inspiration into a series of targeted and distributed platforms that are shareable and discoverable by peers, customers, prospects and partners is how we earn mind share and eventually market share.
If you were to ask Charlene Li, Ray Wang, and Jeremiah Owyang of Altimeter Group, August Ray of Forrester, or Paul Greenberg author of CRM at the Speed of Light, I'm sure their views would align.
BtoB Magazine recently released its 2010 outlook, which predicts the rise of social media marketing in both importance and spend heading into the new year.
To get a deeper view at B2B social media marketing in 2010, eMarketer graphed the results…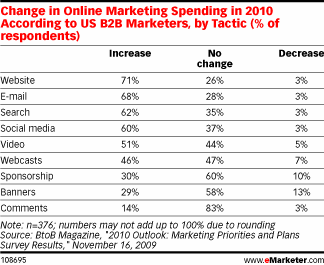 At the top of the list, Website spending is forecast to rise upwards of 71%. I believe that Websites in general, especially in B2B, should resemble the rapid evolution of the social web, as many social media and interactive marketing programs currently engage people in very dynamic communities only to send them to a static dead end.
B2B email and search marketing are also at the top of the list, increasing by 68% and 62% respectively.
Social Media rose to fourth with a dramatic increase of 60% heading into 2010. Surprisingly however, 37% of organizations reported no change in their Social Media efforts, with 3% actually reducing their programs. According to the report, 54% of respondents currently use social media for marketing, which represents a jump of 9% compared to November 2008.
It's also worth noting that video will increase by an estimated 51%, which we can assume will have a role in social media marketing – as one can guess that a social network will be employed to host and share much of the custom content.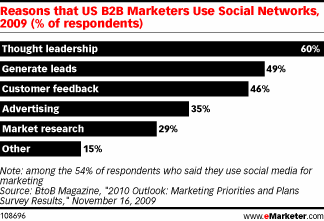 As mentioned earlier, establishing and conveying thought leadership is a valid and promising opportunity in social medial. 60% of polled B2B marketers reported that thought leadership was at the top of the list for reasons they would engage in social networks. Generating leads and customer feedback served as the second and third top motivators for participation with 49% and 46%.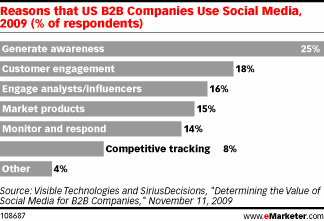 As eMarketer points out however, respondents to a different survey conducted by Visible Technologies and SiriusDecisions held differing priorities when it comes to Social Media marketing.
Generating awareness was at the top of the list with 25%, customer engagement followed with 18%, and engaging analysts and influencers ranked third with 16%. Marketing products and monitoring and responding trailed by only 1-2 points with 15% and 14% respectively. Although, one could argue that monitoring and responding and customer engagement are one in the same, which could theoretically send it to the top of the reasons.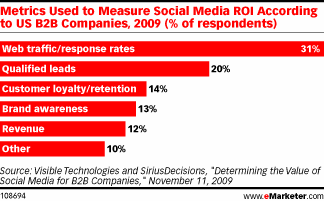 While many run away from the discussion of ROI and measurement, social media is among the most measurable forms of interactive marketing, assuming that you know how and why to employ it in the first place.
Of those surveyed, 31% measure Social Media ROI through Web traffic and response rates. Qualified leads, which to me represent a meaningful metric, are analyzed by 20%. In succession, customer loyalty ranked third with 15%, brand awareness followed with 13%, and perhaps most surprising, revenue accounted for only 12%. In B2B, the sell cycle is much longer than average transactions. Perhaps the extended evaluation process is accounted for in the lower deployment of revenue metrics.
In the end, the dynamics of business and the role of influence share similar attributes that significantly benefit from socialized media and active and informed engagement. We earn the business and relationships we deserve. This is, after all, just business.
Connect with Brian Solis on:
Twitter, LinkedIn, Tumblr, Plaxo, Posterous, or Facebook
—
Click the image below to buy the book/poster:
pr pr+2.0 pr2.0 public+relations marketing advertising interactive social+media socialmedia brian+solis social media media2.0 media+2.0 2.0 smo social+media+optimization marcom communication publicity advertising expert interactive spin brand branding guru social+architect