…and popularity is not influence.
In social media, influence has taken center stage. With the spotlight perfectly fixed on the "me" in social media, a large shadow is now cast over the "we" that defines the social web. As individuals begin to realize the possibilities and benefits that surface as a result of building connected social graphs, a very public exploration to find the balance between influence and popularity unfolds.
What's clear in this chapter of the ever-evolving Web is that we can expect the unexpected. What isn't clear however, is a pervasive definition of influence and how it is embodied in the avatars that populate social networks and the social objects that we introduce into the streams.
A good place to start is to recognize that influence is not in need of a new definition nor is it open to adaptive interpretation to suit the needs of those who confuse influence with favors, popularity, actions without effect.
Merriam-Webster defines influence as the act or power of producing an effect without apparent exertion of force or direct exercise of command.
Exploring alternative sources, influence is described as the capacity to have an effect on the character, development, or behavior of someone or something, or the effect itself.
I recently examined the definition of influence in a new report, "Influence is Bliss: The Gender Divide of Influence on Twitter." While the study evaluated the distribution and level of influence by gender on Twitter, it opened with a review of what influence is and isn't.
There's a clear delineation between influence and popularity and it's important to understand that in social networks, influence is not derived by the quantity of followers, friends, clicks, or "likes." Nor is it discernible by the frequency of which one participates in their respective communities. While these serve as indicators of influence, they are not necessarily constant factors in its quantification.
Influence was thrust onto the stage recently as a result of Fast Company's Influence Project, which for all intents and purposes, blurs the line between influence and popularity and it starts with with the tag line, "You're more influential than you think." The confusion between influence and popularity is only fortified by Fast Company's explicit intent, "Searching for 2010's most influential person online."
The dilemma here is that this project is not rooted in measuring the effects of influence at all; it simply measures the clicks as a result of how well someone campaigns for votes. Participants, all 27,000 of them, are now operating under the assumption that clicks contribute to influence and influence then begets publicity and ultimately some semblance of fame.
Is this program a mockery of social media as  cast by some of the web's most vocal pundits? No. However, to position it as a way of measuring individual influence is disappointing. With leadership comes responsibility and as such, we must continually earn a position of authority through our actions, ideas, and words. Doing so thoughtfully contributes to not only our social capital, but also our level of influence.
As an aspiring social scientist, I do find that as a cultural experiment, The Influence Project is fascinating and even fun to those involved.  To take the role of anthropologist and document the experience is something that I'm sure Fact Company's Mark Borden is anxious to document and publish.
The experiment comes at a price however and one that requires a modest, but important webwide cleanup effort. At the heart of the matter is a simple, but powerful word and it needs to be taken back.
Wisdom of the Crowds
Social media is said to be defined by the wisdom of the crowds. As Andrew Keen emphasized in his book, "The Cult of the Amateur," many of the most visible movements online wouldn't represent the level of wisdom one might expect. As such, effects are measured by the sum of their parts. And unfortunately, one can never underestimate the power of the uninformed in large groups.
It's trivial to spur a click, vote, like, or share/ReTweet. Over time, harmless requests transform into questionable acts of self-promotion and once switched, the transition is difficult to reverse. Social currency comes into play in all that we do online. It is the active investment of relevant content and insight combined with recognition, reciprocity, and reward that boosts trust and authority. Over time, our net worth is measured not by the size of our social graph, but our place within it.  As a result, social capital is visualized as influence. It is influence that shapes the agenda of social communities and the resulting activity and conversations that contribute to their resonance.
In social networks, influence aligns with an individual's investment where authority becomes a measure of return. Services such as Klout, Edelmen's TweetLevel, and PeerIndex, have devised complex human algorithms to calculate the level of prominence individuals have amassed in each network over time. These services, to some extent, establish a FICO score that calculates the credit of one's social capital.
HP's Social Computing Lab recently published a landmark study that examines the building blocks for making a tweet unmistakably influential. The team led by Dr. Bernardo Huberman, Daniel Romero, Wojciech Galuba and Sitaram Asur analyzed 22 million tweets. To put that number into perspective, 65 million Tweets fly each day, equating to just under 2 billion Tweets per month.
As a way of measuring influence and identifying particularly influential users, the HP team devised a new "IP Algorithm" to measure the influence level of users as well as surface Twitter's most influential individuals. The calculations also accounted for "passivity," the propensity for someone to view, ignore, or miss the content shared by others. Over the years, I've studied "connectivity," the opposite of passivity, where attentiveness begins with our attention aperture. In order for social object to trigger the social effect it must represent something compelling and shareable in addition to a right time vs. real-time introduction.
The study found that a notable majority of Twitter users act as passive information consumers and in turn, rarely share or RT content to their respective social graphs.  The key discovery is that to become influential, individuals  must not only catch the attention of their followers when their attention aperture is open; they must also overcome passivity. This is also something that I explored with Dan Zarrella in "The Science of Retweets." The same is true for Facebook and YouTube.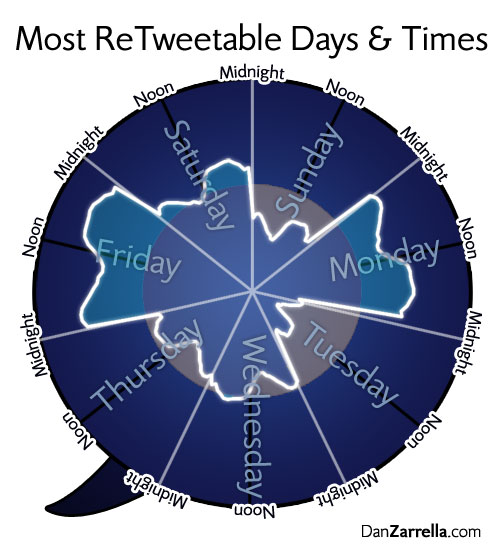 What's most important, is that HP's Social Computing Lab scientifically separates the concept of influence from popularity. The link between the size of the social graph and the propensity to cause effects is weak.
The study concludes, "This study shows that the correlation between popularity and influence is weaker than it might be expected. This is a reflection of the fact that for information to propagate in a network, individuals need to forward it to the other members, thus having to actively engage rather than passively read it and cease to act on it."
During the limited period of data collection, the HP team found that of all the influencers discovered as a result of the research project, the following users rose to the top of "IP-influence," @mashable, @jokoanwar, @google, @aplusk, @syfy, @smashingmag, @michellemalkin, @theonion, @rww, @breakingnews.
From Influence to Influencer
Over the years, I've explored the roles of influencers in social networks and as a result, I've refined the definition as simply the ability to cause measurable actions and outcomes. Intentional influence then assumes that certain actions are therefore definable and as a result, desired activity and results are now designed into strategies. The execution of these plans is then dependent on the reach and conviction of the influential voices to which they're aligned.
In a world where we are measured by our social graph and our stature within it, influence, not ignorance, is bliss. Attention, engagement and affinity are earned privileges and as such, with influence comes great responsibility.
Connect with Brian Solis on Twitter, LinkedIn, Tumblr, Facebook
___
Please consider reading, Engage!: It will answer your questions…
___
Get Putting the Public Back in Public Relations and The Conversation Prism:

___
Image Credit: ShutterStock