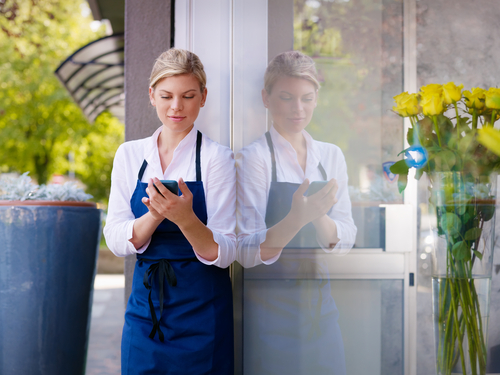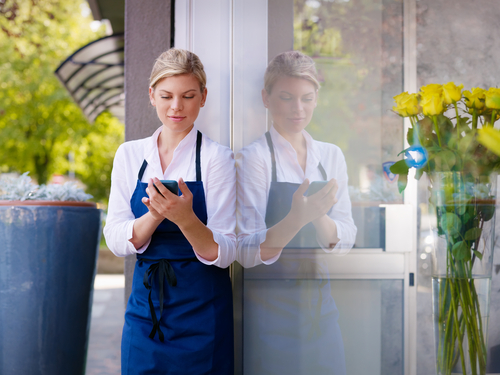 Did you know that the 23 million small businesses in America account for 54% of all U.S. sales?
Did you know that small businesses provide 55% of all jobs and 66% of all net new jobs since the 1970s?
While big business has eliminated four million jobs since 1990, small businesses added eight million.
Why the focus on small business today? It's National Small Business Week in the United States and to commemorate the occasion, I partnered with Cox Business to discuss the importance of connected consumerism amidst the release of its inaugural small business survey (#SBWSurvey).
Available at CoxBLUE.com, The #SBWSurvey was conducted nationwide among 605 small business owners. The findings were intended to help business owners and aspiring entrepreneurs gain perspective on the state of small business and to better understand what's on the minds of their peers.
Let's jump in…
When asked why people started a business in the first place, two-thirds set out on their own path to become the boss. They were inspired by the freedom of owning their own business or the idea of building something of their own. After all, that's what entrepreneurialism is all about.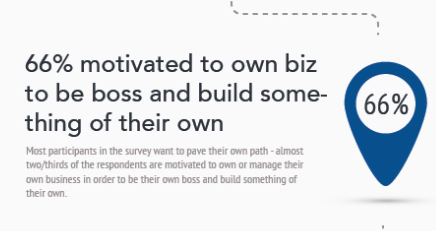 Even during the darkest days of this tumultuous economy, a strong number of businesses never considered closing shop. In fact 43% stayed true to their vision, embraced courage, and buckled up for the wild ride.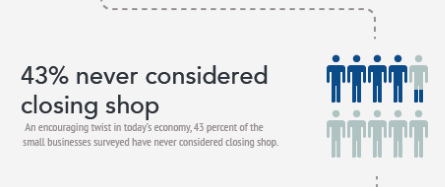 So often in my experience, business owners and managers, of any size, tend to underestimate new technology and overestimate their product or service as a means to growing their business. This is simply not the case and according to the Cox Business survey, 56% believe that emerging technology can only enhance business rather than disrupt it.  With that said however, all isn't clear in how to embrace new technology or exactly why for that matter.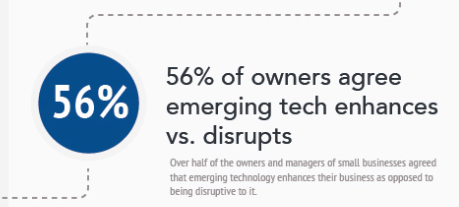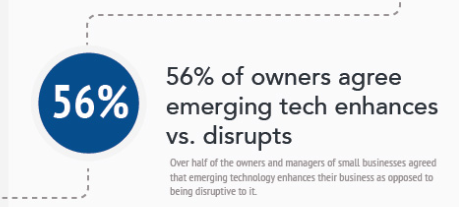 The survey introduced the concept of Digital Darwinism to small business owners. For those who are unfamiliar with the term, it's the phenomenon I explored in depth in The End of Business as Usual and What's the Future of Business. Digital Darwinism happens when technology and society evolve faster than the ability to adapt. To see just how big of a deal it is, take a look at this infographic.
The rate of innovation and new technology is only accelerating. I was pleased (or relieved) to learn that 37% of small businesses feel that they're evolving along with digital trends. However, another third feel that they were attempting to but didn't think they could really keep up with the tsunami of new communities, networks, apps, and devices.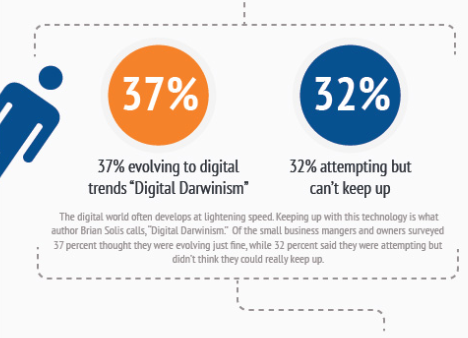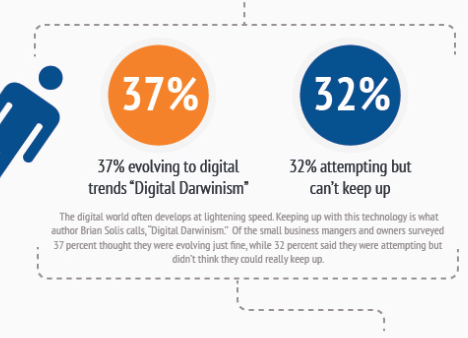 Perhaps feeling overwhelmed is a symptom of the reality we choose to see. If we choose to live in our comfort zone and see business opportunities as the proverbial glass that's half empty, we are prone to already see things from a negative perspective. On the other hand, new technology opens new channels, which creates new touch points. And, as we learned in Google's Zero Moment of Truth, connected customers, or Generation-C as I refer to them, will refer to as many as 11 sources to discover products, services and information during the decision-making cycle. This is a number that has doubled year over year.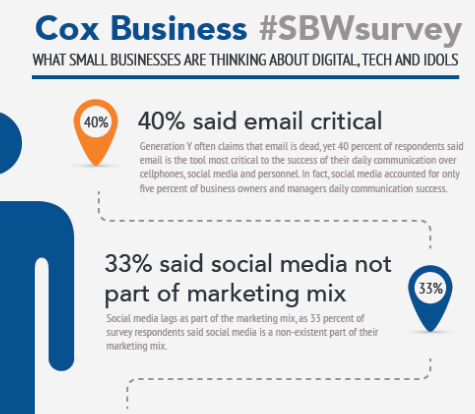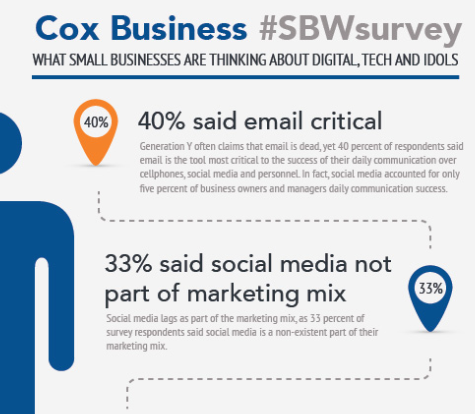 One of the most troubling stats from the report though was the number of small businesses that rely on email as the tool most critical to the success of their daily communication. While email may represent a vital conduit between small businesses and traditional customers, it certainly doesn't signify the future when considering how Generation-C prefers to connect. It's akin to relying on fax and The Yellow Pages in a time when a generation exists that has either never touched or seen either in real life.
Equally striking was the number of businesses (one-third) that do not use social media AT ALL as part of their marketing mix. Considering that web sites, even today, are largely useless, broken, or ineffectively design (or all of the above), social media represents a more efficient and human way of connecting with customers, where conversations and community can provide utility and foster goodwill. Reciprocity converts to acquisition better than the conversion rates of a generic email blast…I assure you.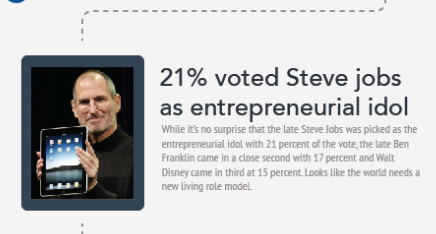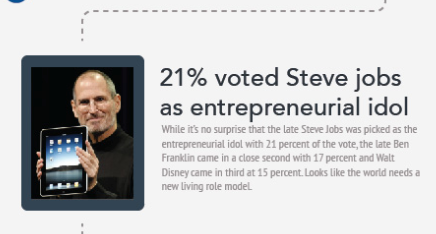 Small business owners were also asked to reveal their entrepreneurial idol. I smiled when I saw two my top three make the list. At number one, Steve Jobs accounted for 21%. Believe it or not however, Ben Franklin came in second with 17%. And, running a close third was Walt Disney with 15%.
Certainly Steve Jobs is up there in that he built Apple from the ground up of course, but also he ran it at its height as a passionate entrepreneur. Across the board, Jobs, Franklin, and Disney embraced the importance of experience through invention, innovation, and passion. These are three traits that are vital to success regardless of the economy or the state of technology. Living life, building businesses, not from templates or best practices, but instead as blank canvases, opens doors to new opportunities.
As I've always believed, constraint forces creativity. And, that's the point.
Technology isn't going away. It's not a fad. We are not going back to the good old days. In fact, we're living the good old days right now. It's time to move away from our comfort zones or positions of convenience. It's time to allow curiosity to trump skepticism. It's time to embrace the unknown to realize everything we need to know.
This is our time…and what an exciting time it is. These are the days that the future of business is either written or getting re-written.
Read the survey and view the infographic at CoxBLUE.
The story continues…
Connect with me: Twitter | LinkedIn | Facebook | Google+ |Youtube | Instagram
Image Credit: Shutterstock