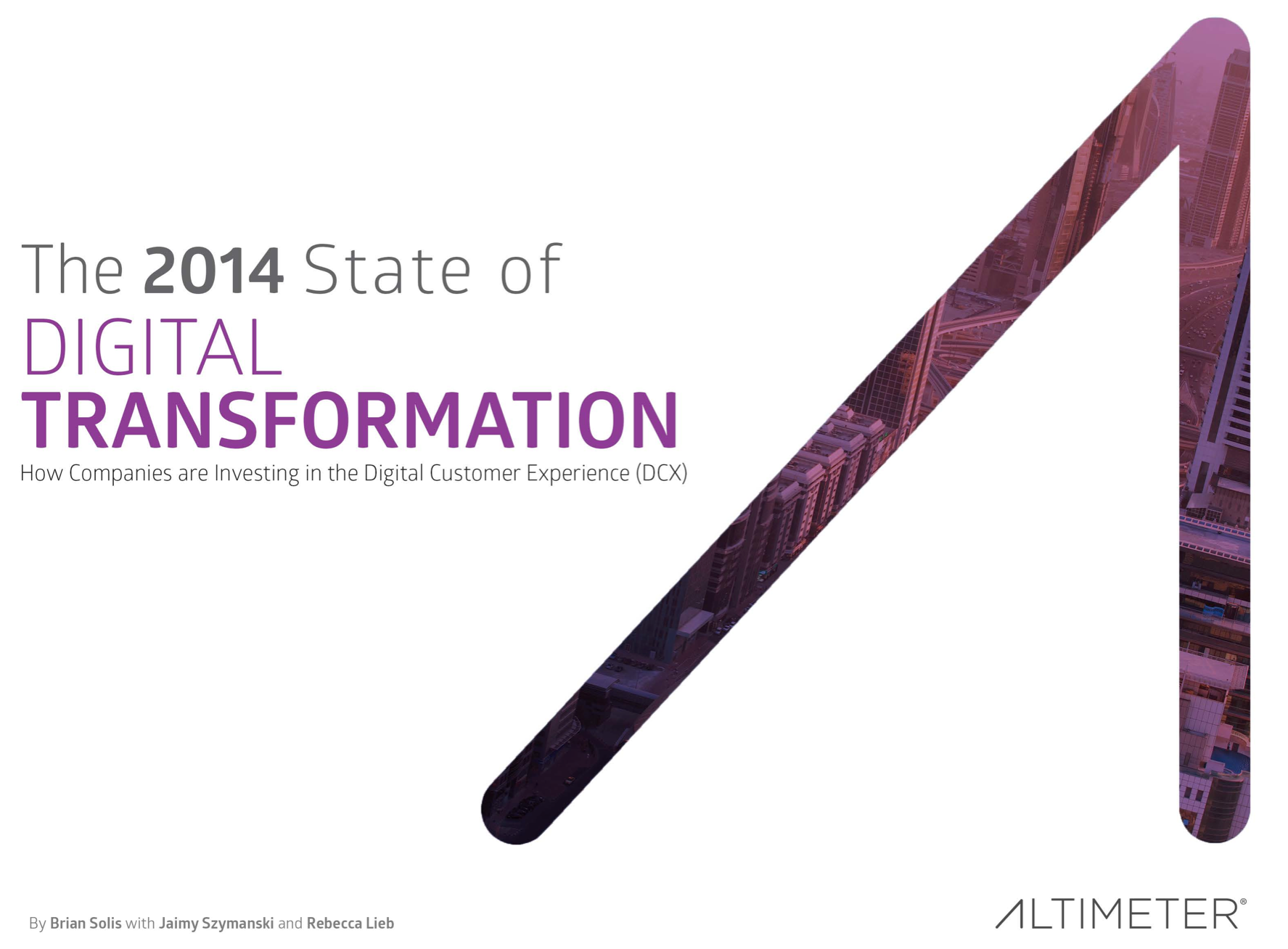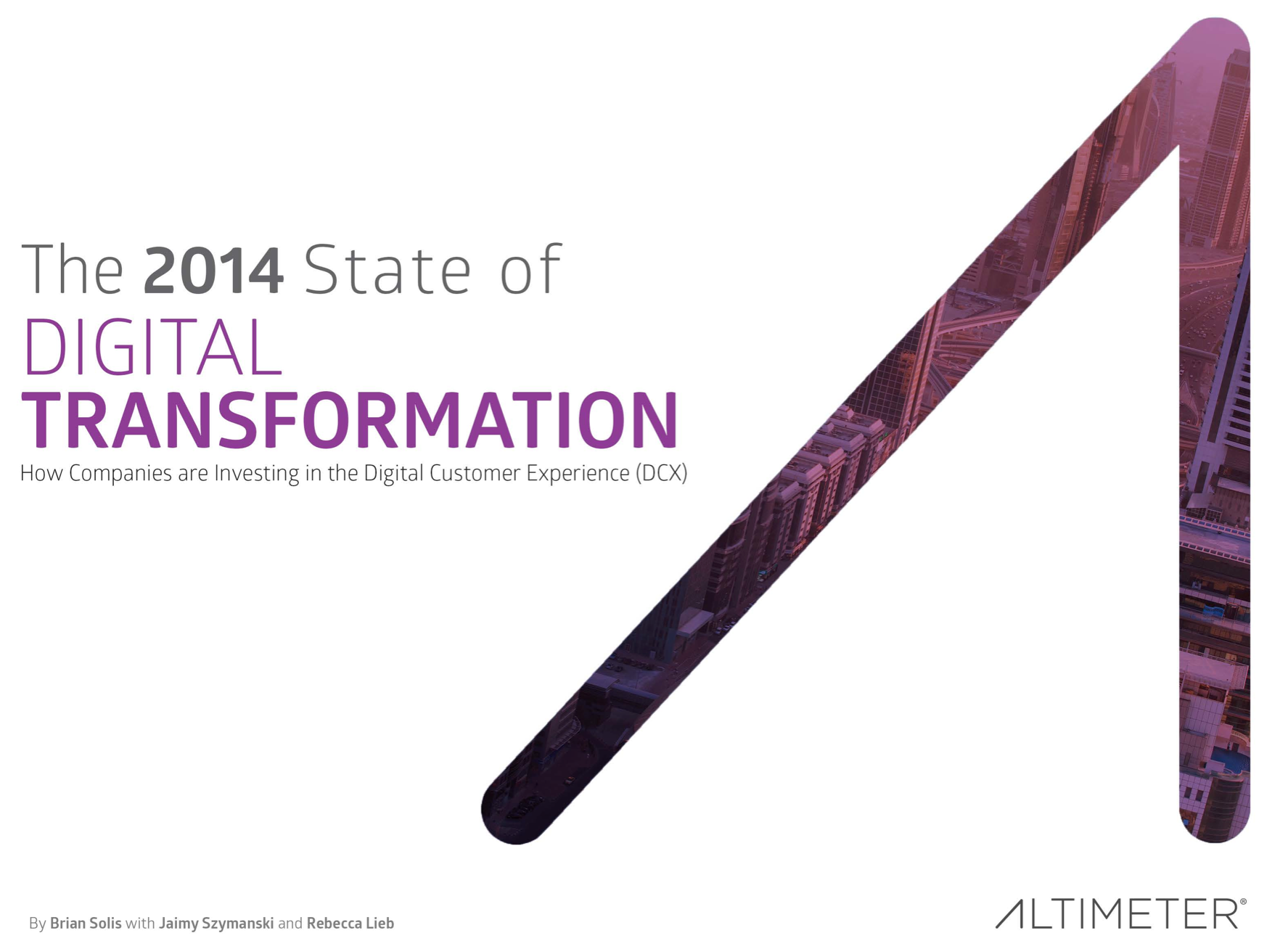 Today, I'm proud to announce the release of Altimeter Group's second report on Digital Transformation. This new report is aimed at executives and digital strategists to help them (you) further understand the state of digital transformation as you plan your next steps and investments.
In our initial report, "Digital Transformation: Why and How Companies are Investing in New Business Models to Lead Digital Customer Experiences (DCX)," we learned that digital transformation was as much about technology as it was about people. It was a much more human story, one that shared insights, advice and cautionary tales from those on the front lines.
Our new report is based on a survey we cast over the last year. Its goals were twofold: 1) to unearth where companies and supporting teams are in their metamorphic digital transformation efforts; and 2) also to capture a current snapshot for future comparison.
"The State of Digital Transformation" also features expert voices as part of Altimeter Group's previous qualitative research, including Sephora, Starbucks, Westfield, Ford, GM, LEGO, Discover, Intuit, Nestlé, Univision, a multinational financial services business, a multinational CPG company, and an American pharmaceutical company, among others.
Defining Digital Transformation
To focus our initial research, Altimeter defined digital transformation as a movement through a customer-centric lens:
The realignment of, or new investment in, technology and business models to more effectively engage digital customers at every touchpoint in the customer experience lifecycle.
From the onset, we learned that digital transformation means different things to different people, and that's okay; we're all learning. What's important to realize however is that investing in new digital technologies, such as social, mobile, big data, cloud, etc., doesn't in of itself equate to "digital transformation." It's about uniting individual technology efforts around a common vision supported by an updated, integrated infrastructure to effectively compete as a unified business in connected markets.
You've heard it before…people, process, technology. But without vision to see how markets are shifting and leadership to identify, organize and drive new opportunities, digital transformation can become yet another victim of technology-first efforts that miss the human mark. This is why we focused our research on the digital customer experience initially. It's a tremendous effort.
Strategists often equate digital transformation with a shift in technology investment. Its true implications though span far beyond technology and into the realms of infrastructure, organization, and leadership. More so, it leads to and is inspired by a renewed focus on the entire customer experience. As you can imagine over the years ahead, digital transformation will leave in its wake modernization, improvements and innovation across everything from HR to collaboration to sales to supply chain and beyond.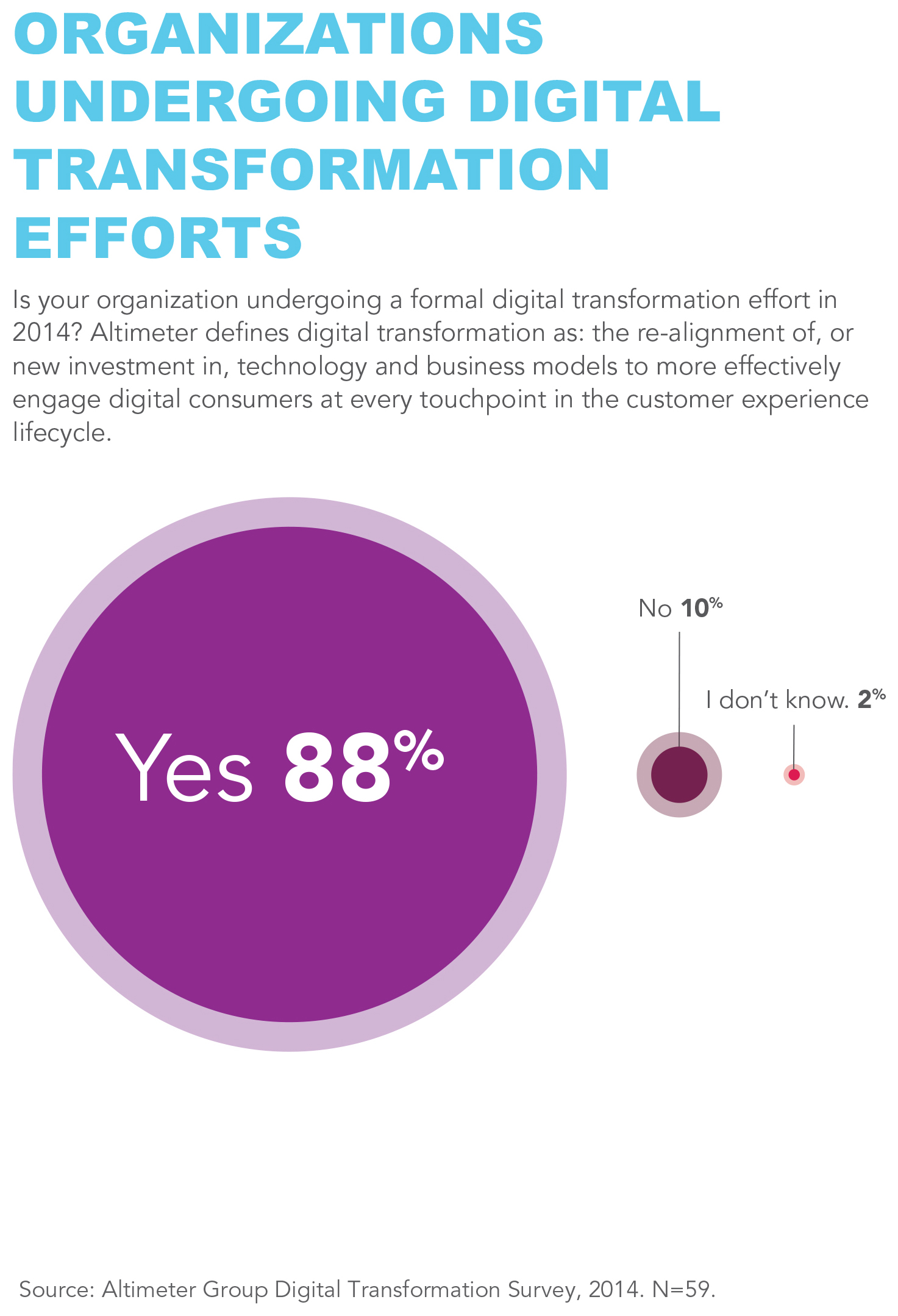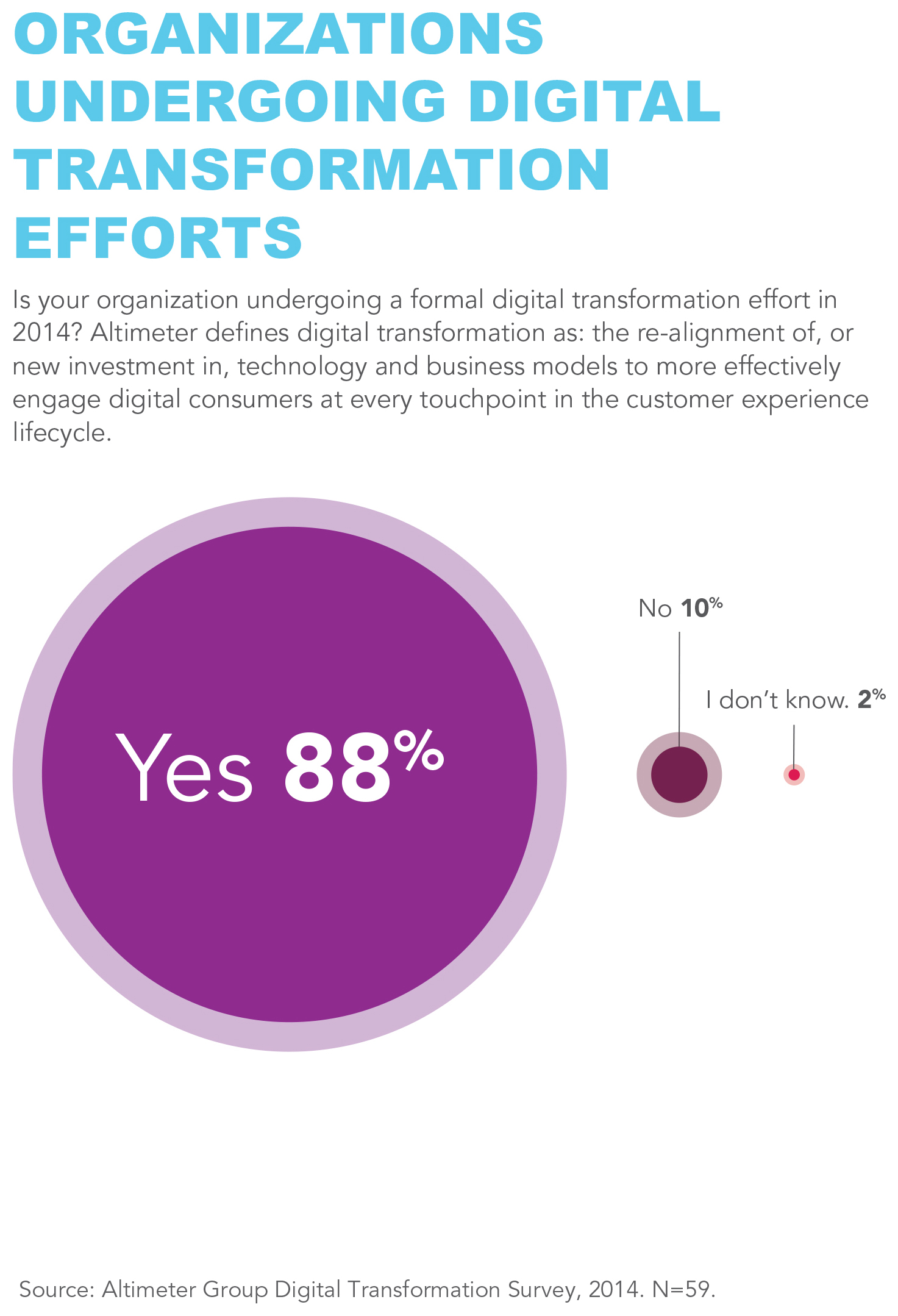 We learned that 88% of executives and digital strategists stated that their company is undergoing a formal digital transformation effort in 2014. Yet, only 25% had mapped out the digital customer journey. This is  especially interesting in that participants were given Altimeter's definition of digital transformation at the beginning of the survey.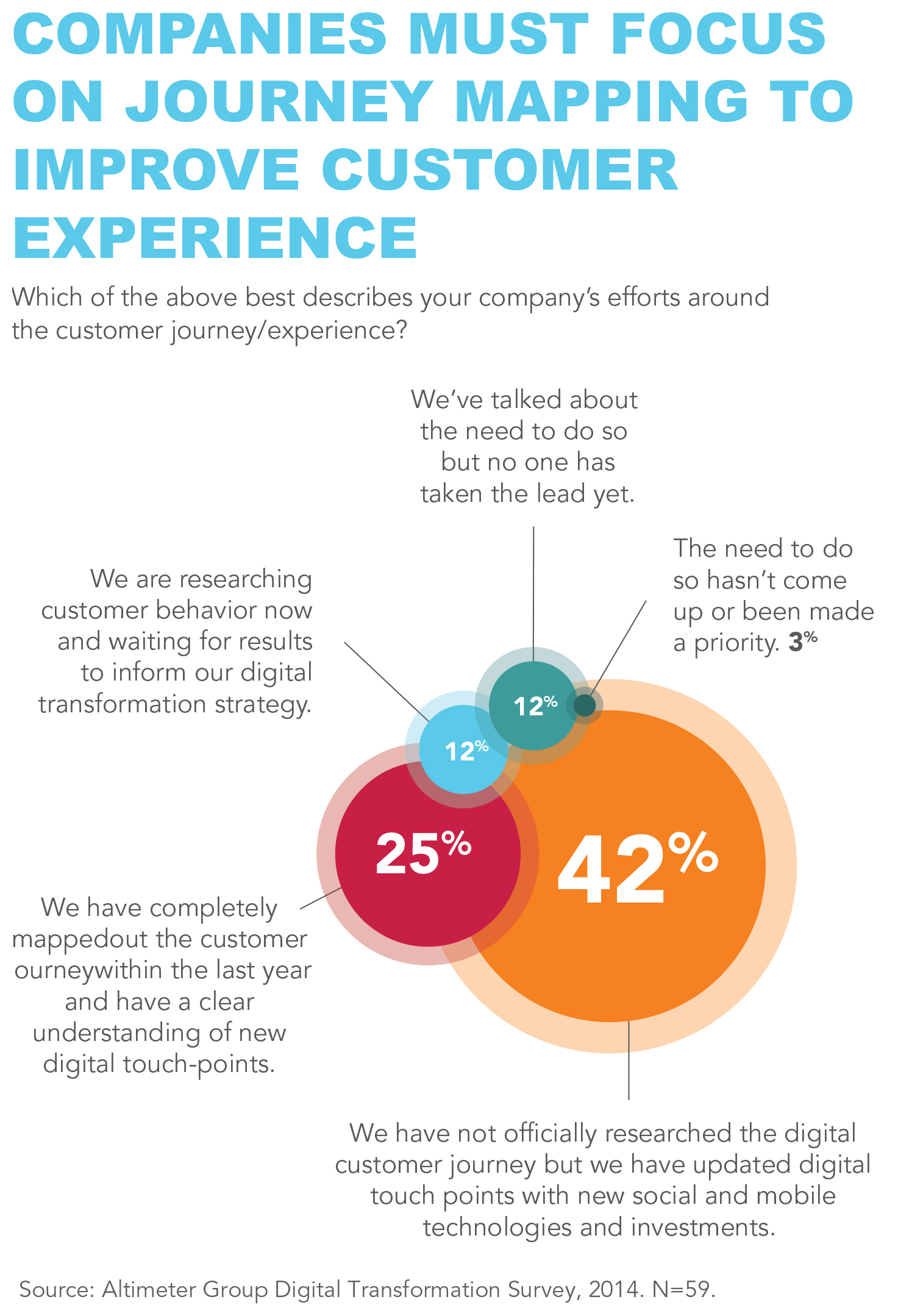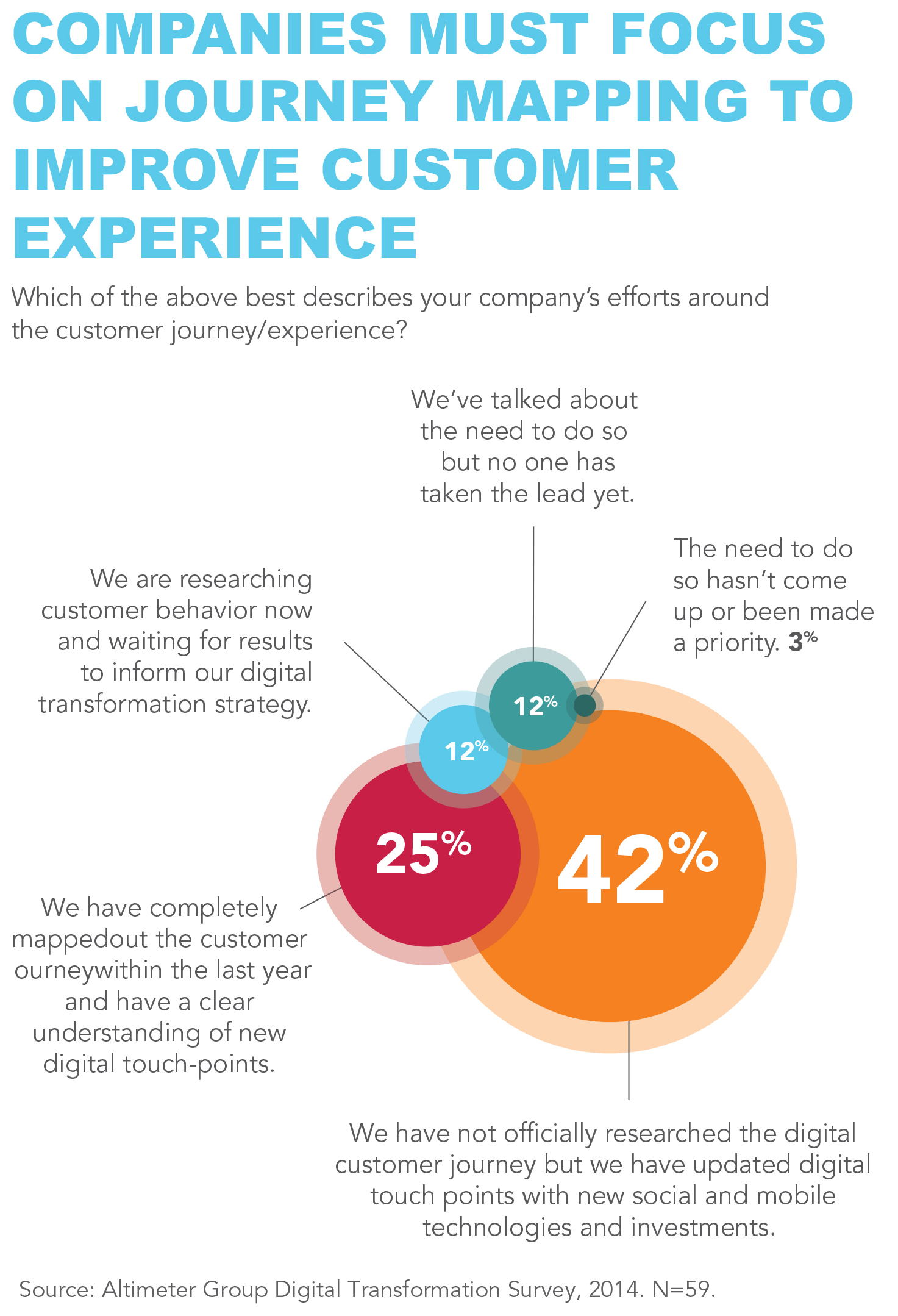 Not surprising, a majority of strategists, 42%, reported that while they have not yet researched the customer journey, but were investing in new digital channels any way. At the same time, 17% of digital leaders are now in the process of studying the digital customer journey.
Digital transformation doesn't just mean increasing digital investments. It means thinking and acting "digital first."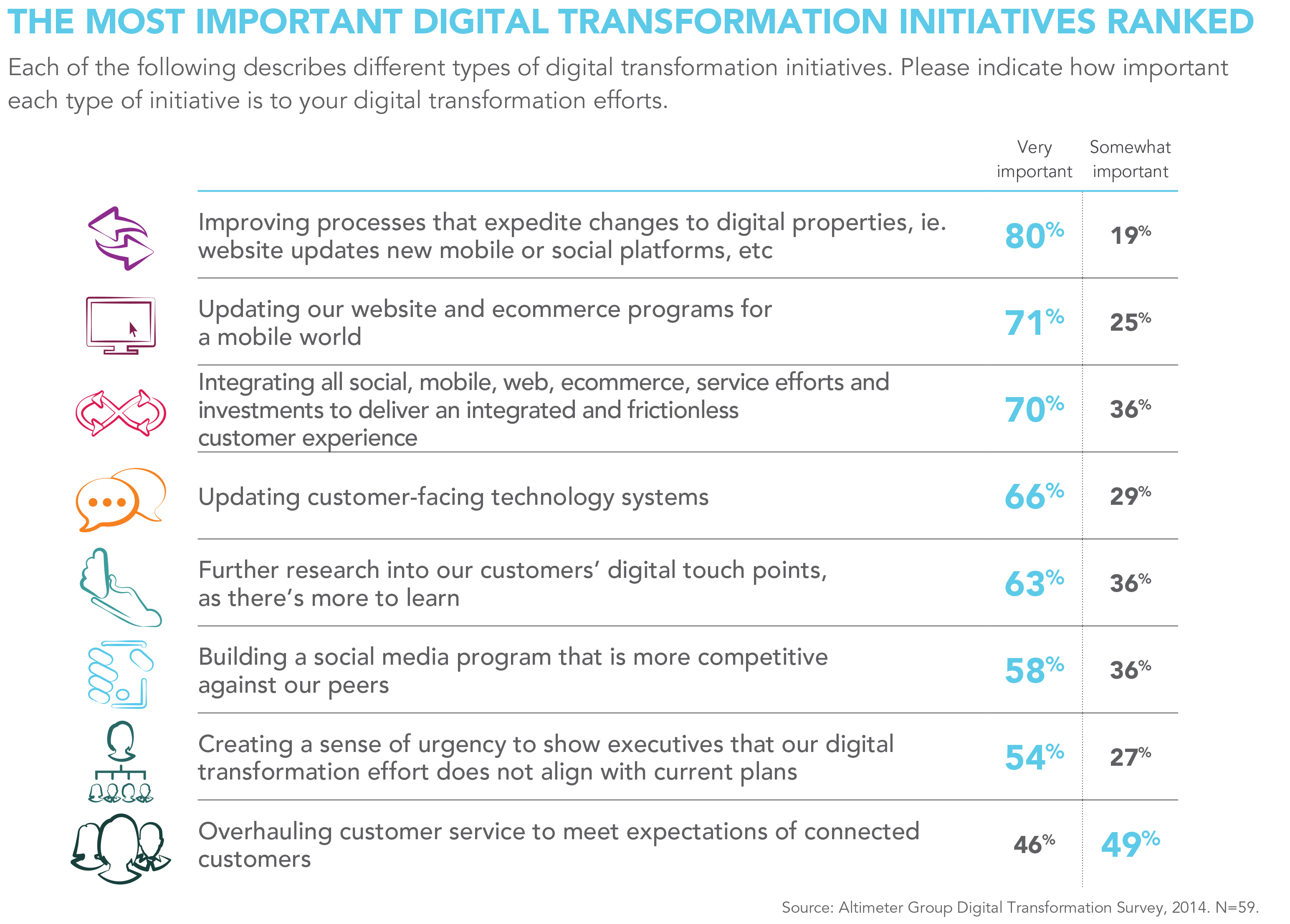 We asked strategists to help rank the most important digital transformation initiatives they were pursuing. Here are the results…
1) Improving processes that expedite changes to digital properties, ie. website updates new mobile or social platforms, etc. (80%)
2) Updating website and ecommerce programs for a mobile world (71%)
3) Integrating social, mobile, web, ecommerce, service efforts and investments to deliver an integrated and frictionless customer experience (70%)
4) Updating customer-facing technology systems (66%)
5) Further research into customer digital touch points (63%)
6) Overhaul customer service to meet the expectations of digital customers. (46%)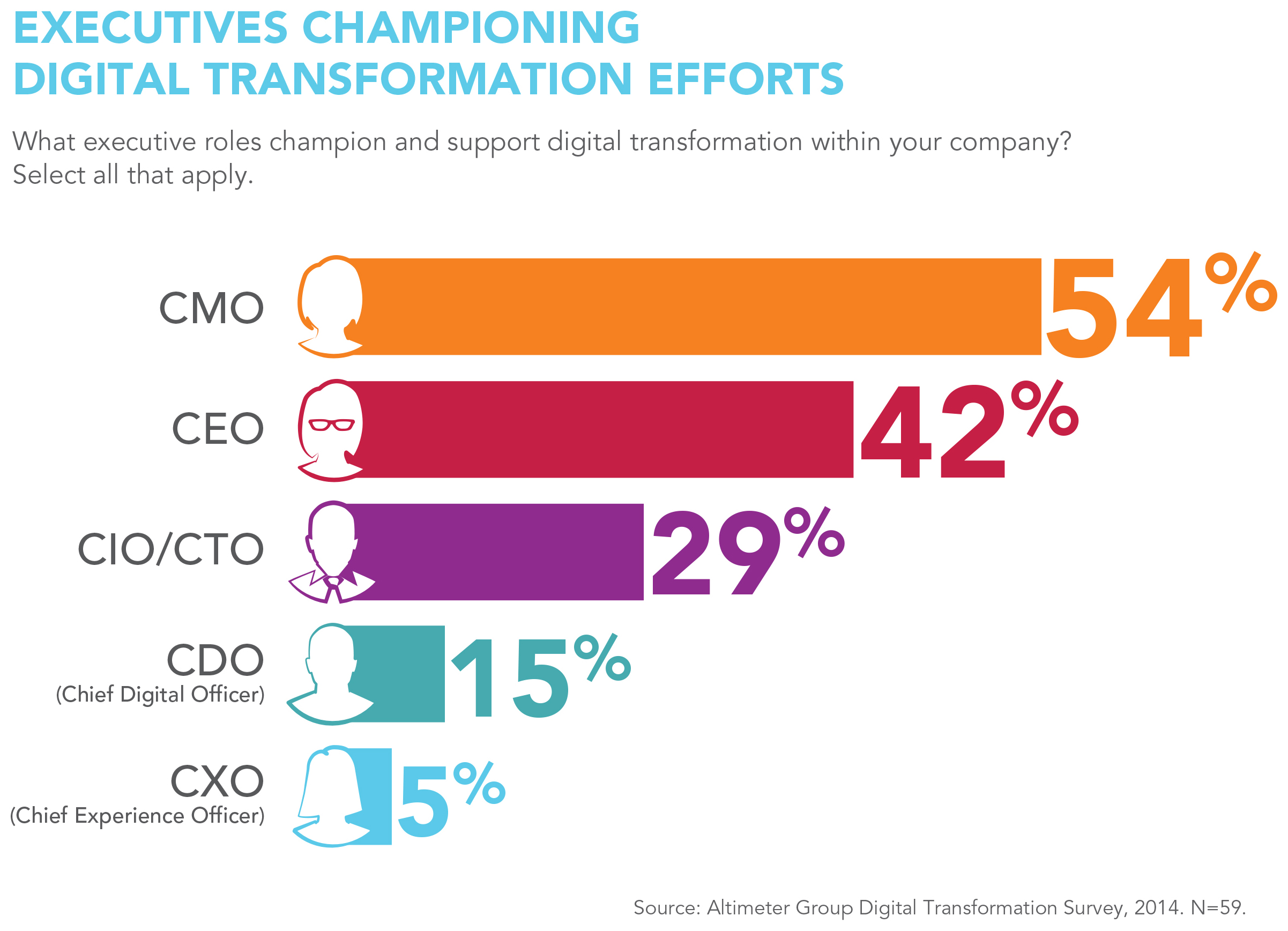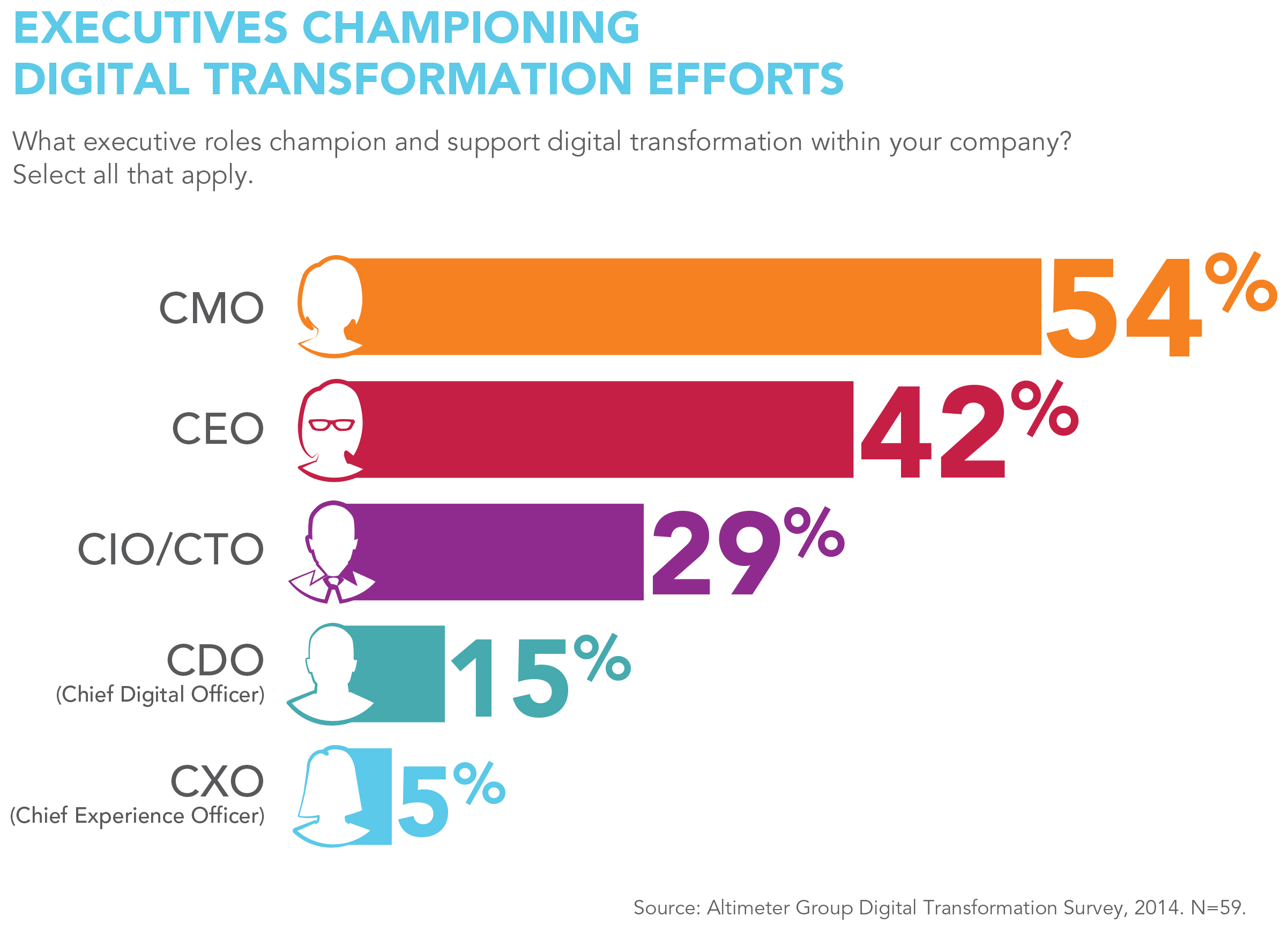 In our previous report, we learned that it is a rare occurrence when digital transformation is led by the CEO. This time around, we also learned who the players are in championing or sponsoring change. Here, digital transformation is often driven by the CMO, CEO, and CIO (54%, 42%, and 29% respectively.)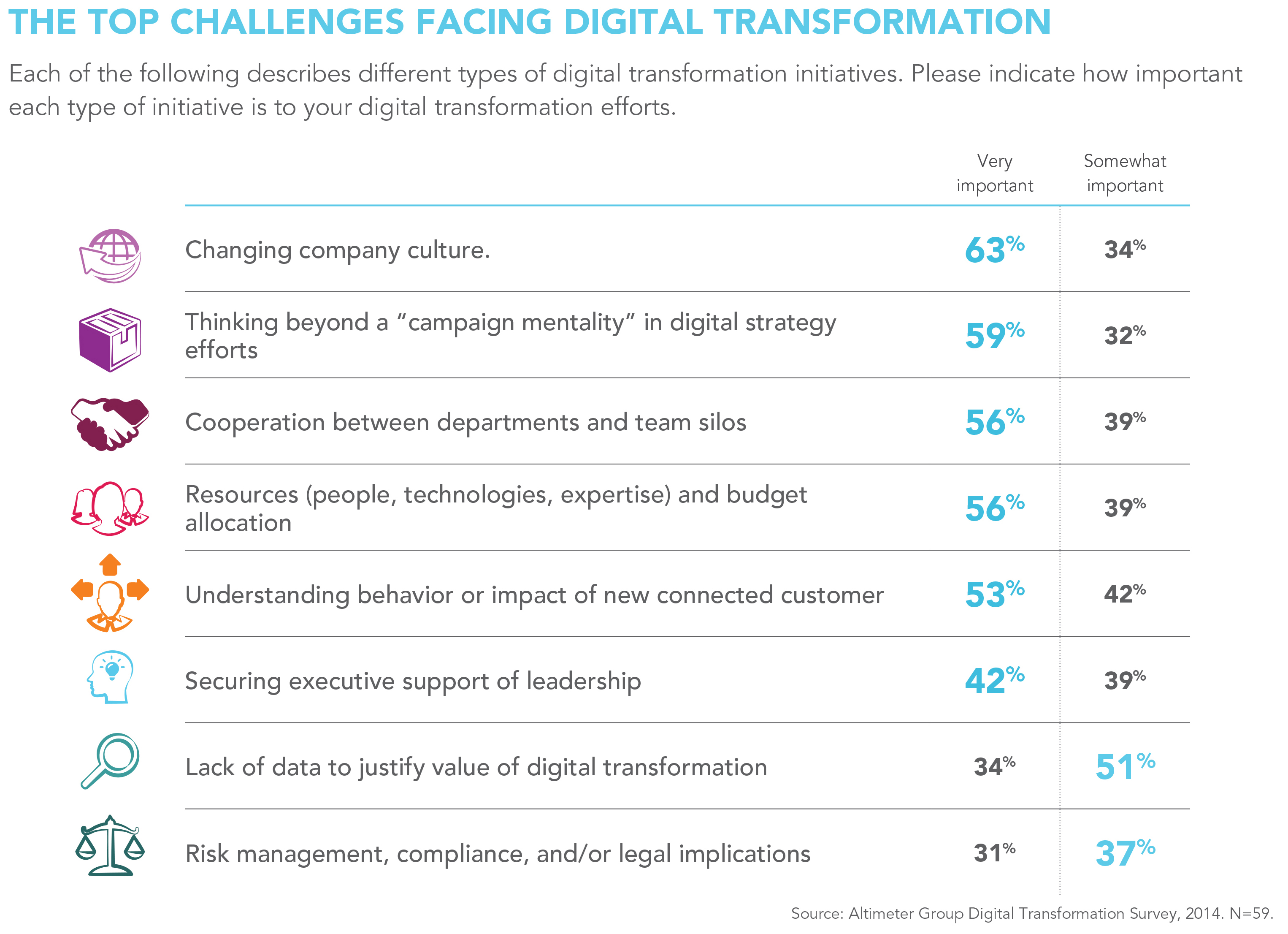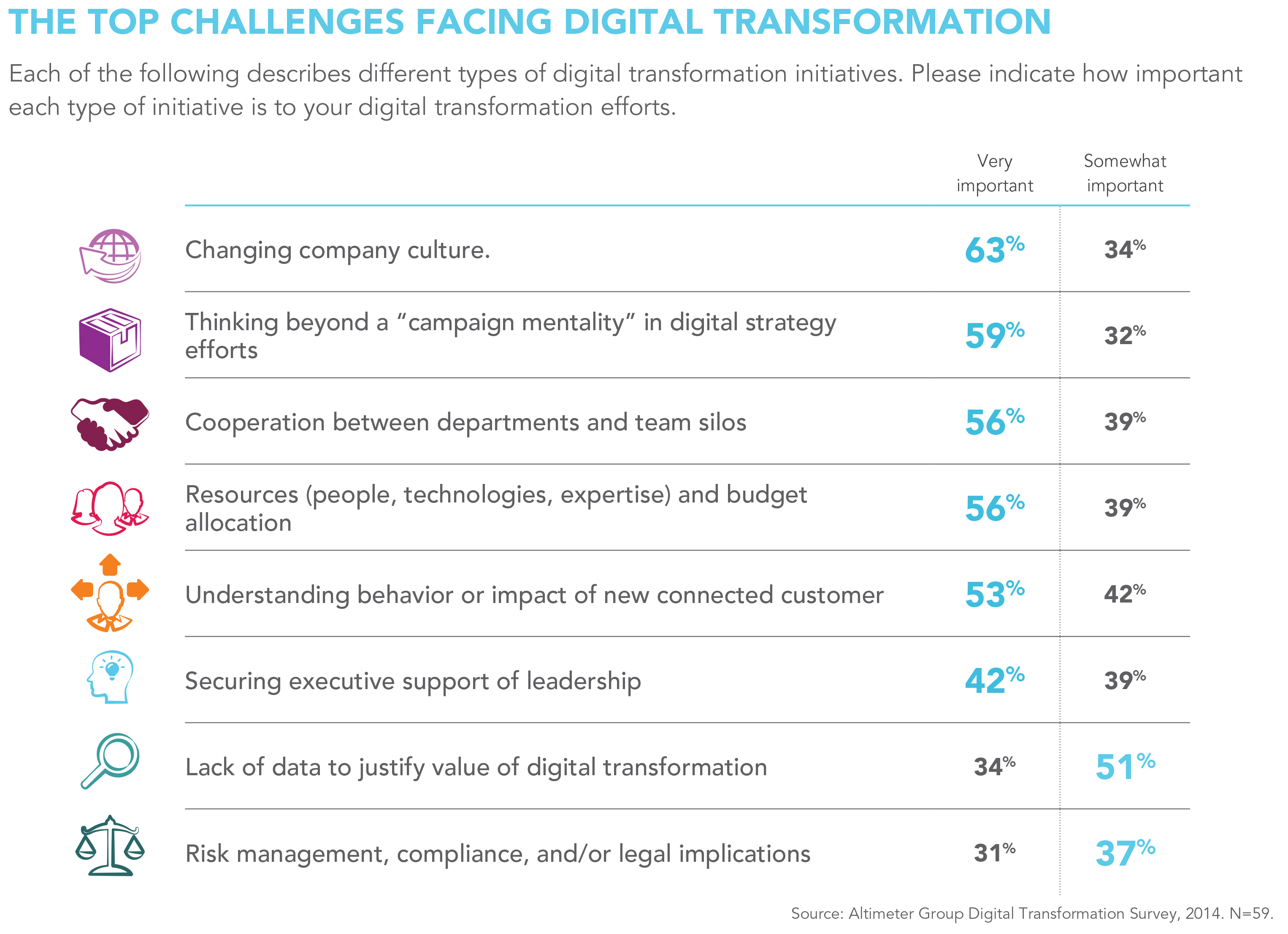 Change of course is not without its challenges. And it is most interesting, yet not surprising, that the greatest antagonist to change is company culture (63%). That's just the beginning however. Digital transformation is as much about introducing new technologies as it is seeing new opportunities and working toward them differently than in the past.
Additional challenges facing digital transformation specific to DCX include…
– Thinking beyond a campaign mentality (59%)
– Cross-functional collaboration (56%)
– Resources (56%)
– Understanding digital customer behavior (53%)
– Securing executive support (42%)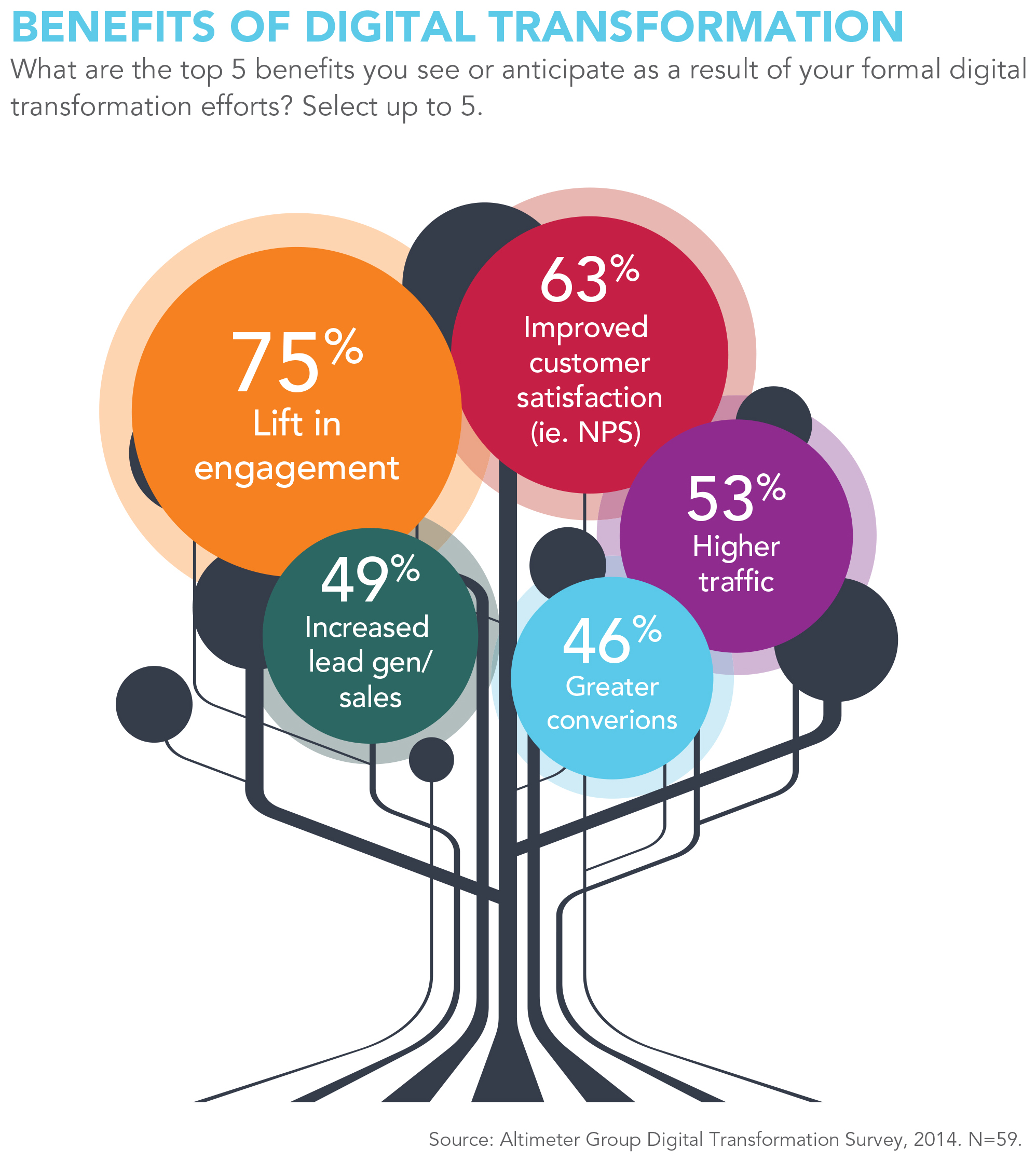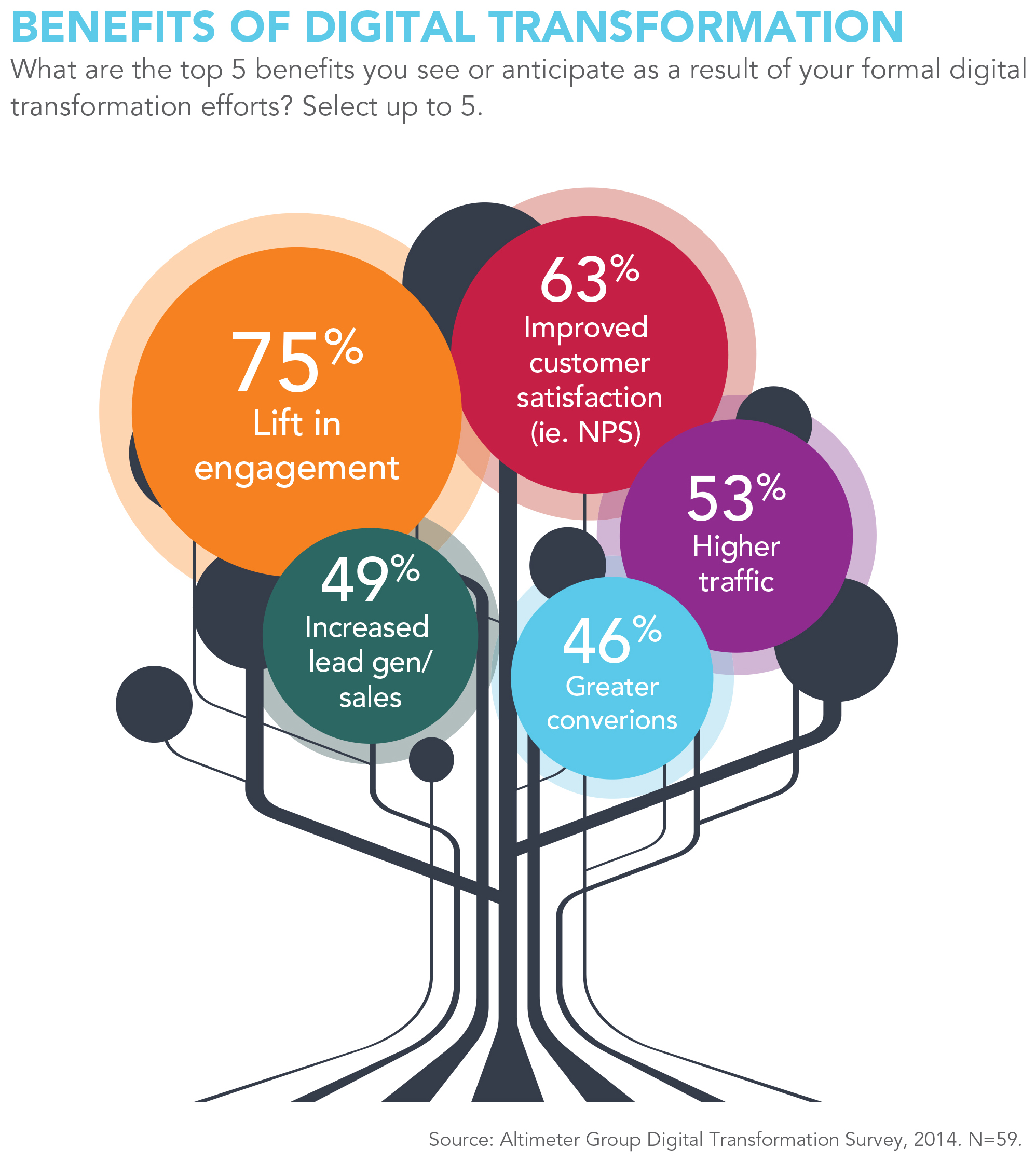 Digital transformation wouldn't push forward if it didn't bear fruit worthy of the effort. There are other fantastic reports, like this one by CapGemini and MIT, that cover different aspects of digital transformation. They all agree that in the end, those organizations that invest in new technologies, people, and processes to compete in digital markets realize business-level returns including market share, greater margins and profits, talent, among others.
Digital transformation impacts the bottom line. It leads to boosts in collaboration and productivity. Additionally, digital transformation helps companies assess and aspire to enhance the real customer experience.
Since our work focused on DCX, we were also introduced to more performance-oriented benefits…
1) Lift in customer engagement (75%)
2) Improved customer satisfaction (63%)
3) Higher digital traffic (53%)
4) Increased lead gen/sales (49%)
Conclusion
It's clear. We still have a lot to learn about digital transformation: what it is, what it isn't, and what it offers businesses that explore its permutations. But what's clearer is that change has to start somewhere.
Remember, in the end, the key to digital transformation is to adopt technology as enabler for something bigger. Behavior, whether it's related to customers, employees, values, or expectations, is as important (or more so) as becoming increasingly digital through new investments in strategy and technology.  Thus, digital transformation becomes a catalyst for re-imagining the overall customer (or employee) experience.
Businesses undergoing digital transformation are each, in their own way, creating new processes, forming new business models and teams, and investing in new technologies and systems to work in ways that are more relevant to the state and evolution of today's markets. In doing so, they're leveraging digital transformation to become more customer-centric, more human, and renewing their culture for a new generation of customers and employees.
There's so much more to the report. Please take a moment to download it here and also share your story with us.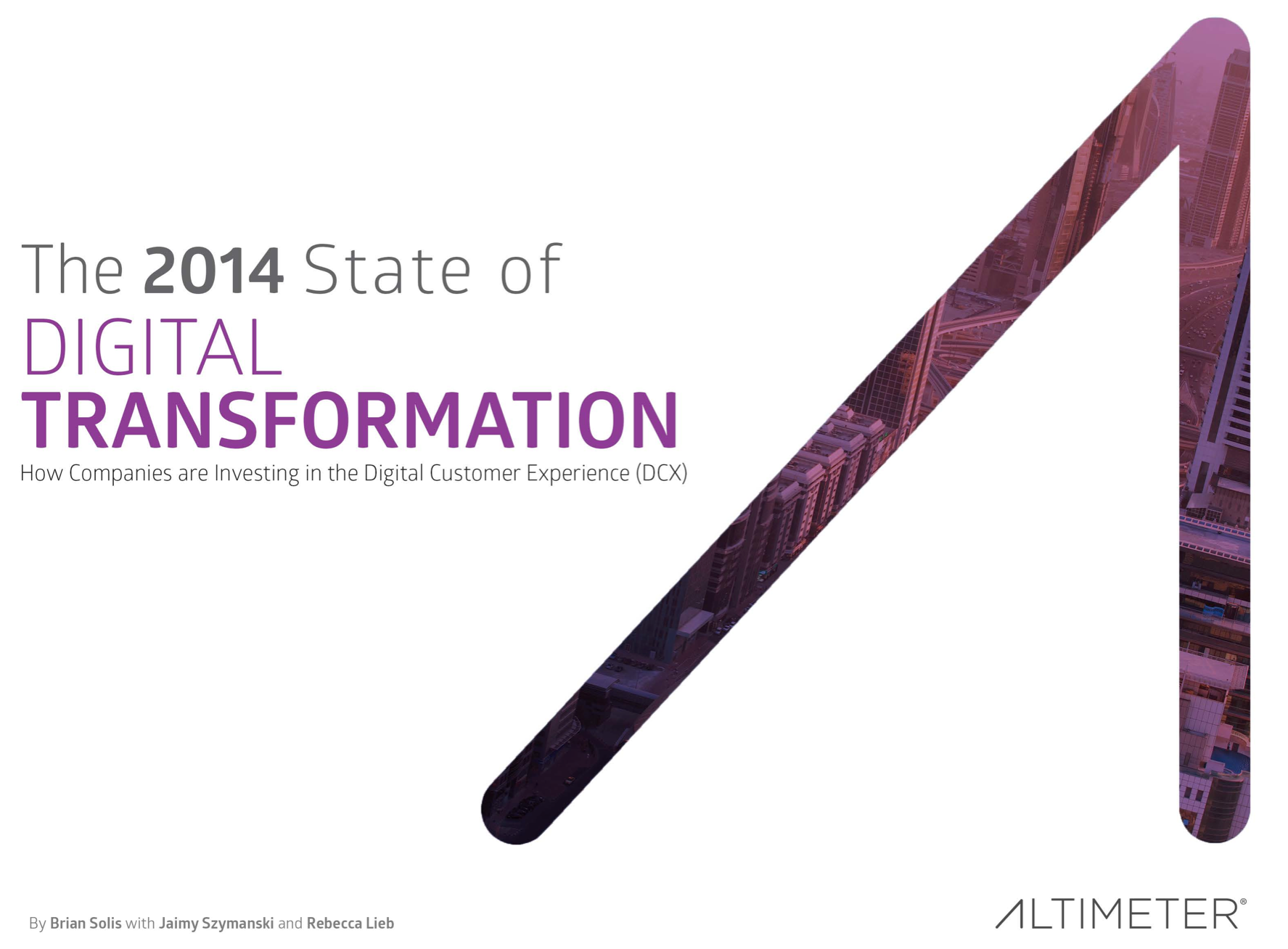 Connect with me…
Twitter | LinkedIn | Facebook | Google+ |Youtube | Instagram | Pinterest