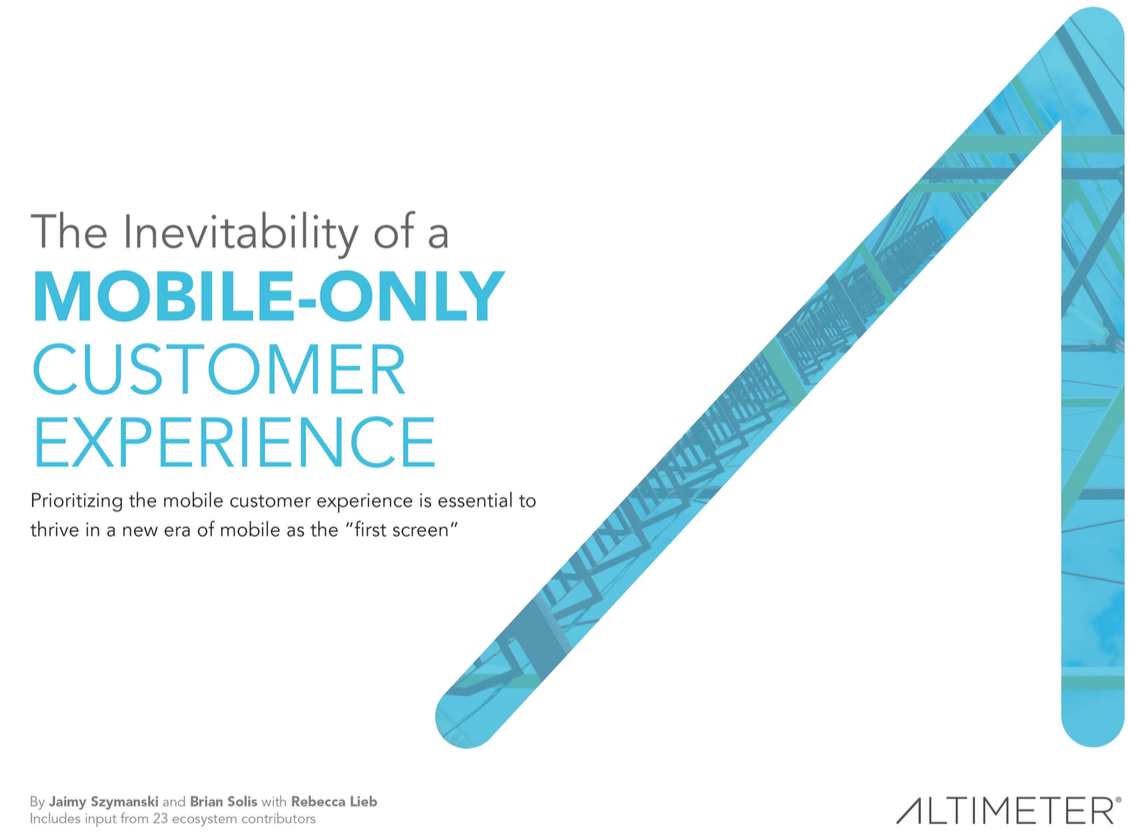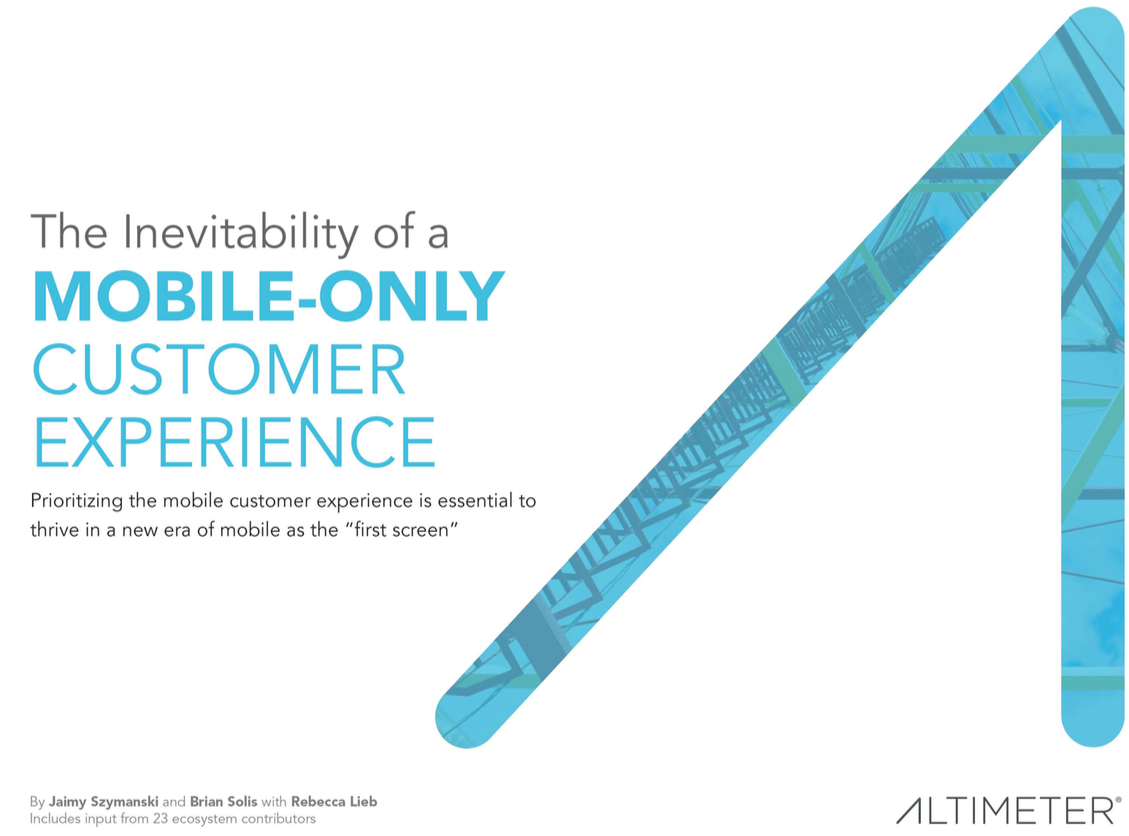 Consumers aren't just going digital, they're also becoming increasingly mobile. To them, mobile isn't the second screen, it's the first screen. Brands however, struggle to keep up with them and as a result, mobile strategies are off target or underwhelming.
This finding among many others is the result of new research conducted by my colleague Jaimy Szymanski and me. I'm proud to announce that the report, The Inevitability of a Mobile-Only Customer Experience, is available today for immediate download.
Mobile CX: Digital First and Mobile First
After spending several months interviewing brands such as Starbucks, MasterCard, Nespresso, Starwood and 19 other leading companies, we learned that while there's significant progress in mobile, there's still a lot of work ahead.
Today, there is a tug-of-war between digital first and mobile first approaches in customer experience. What if they were mutually exclusive? What if brands invested in digital first and also mobile only customer journeys?
Digital transformation needs a sense of urgency and that's where champions are desperately needed. Our research shows that digital or mobile first isn't good enough. For many companies, mobile technology further fragments the customer experience.
90% of consumers move between devices to accomplish a goal, using an average of three different screen combinations each day. At some point, multiscreen fatigue will force consumers to abandon any customer journey that doesn't prioritize mobile only experiences.
We all know that digital is a priority for brands. We also know that strategists still struggle to get executive support and necessary resources and budget to make critical moves as the digital landscape continues to evolve. But if we are to create a sense of urgency, we must understand that as mobile becomes the first screen, the entire journey must be reimagined. As it is, the digital customer journey largely exists as a remnant from the days of Web 1.0.
As mobile consumers become more and more proficient at navigating customer journeys via the small screen, they are learning how to bypass outmoded touchpoints. By not truly understanding mobile customer behavior, brands cannot invest in a meaningful mobile customer experience. This causes friction and forces consumers to multiscreen and/or channel hop instead of going through the funnel or their journey with ease and delight. As such, mobile CX is of vital importance if brands are to succeed in the digital economy.
Somewhere along the way, mobile strategy simply became an extension of all things digital. But mobile consumers are far more sophisticated then we know. And, forcing them through digital paths that were meant for bigger screens and point-and-click navigation completely misses critical engagement opportunities. Instead, mobile CX must complement digital customer experiences AND provide a dedicated journey unto itself. Doing so caters to those who prefer, or only know, life through a smaller window where they navigate differently and for more intuitively through a pinch and zoom, swipe, tap and hold, user experience.
To win among mobile- and digital-first customers, brands must focus on learning more about the mobile journey as it exists and how it could exist. This includes understanding customer frustrations, expectations, and behaviors specific to mobile. When done in parallel to other digital investments, mobile (in each of its forms) becomes both a self-contained and complement experience to the digital/traditional journey. Only then can mobile CX be truly customer centric because you take into view the needs, expectations and behaviors of digital and mobile customers.
Please download the report today.
Connect with me… Twitter | LinkedIn | Facebook | Youtube | Instagram | Pinterest