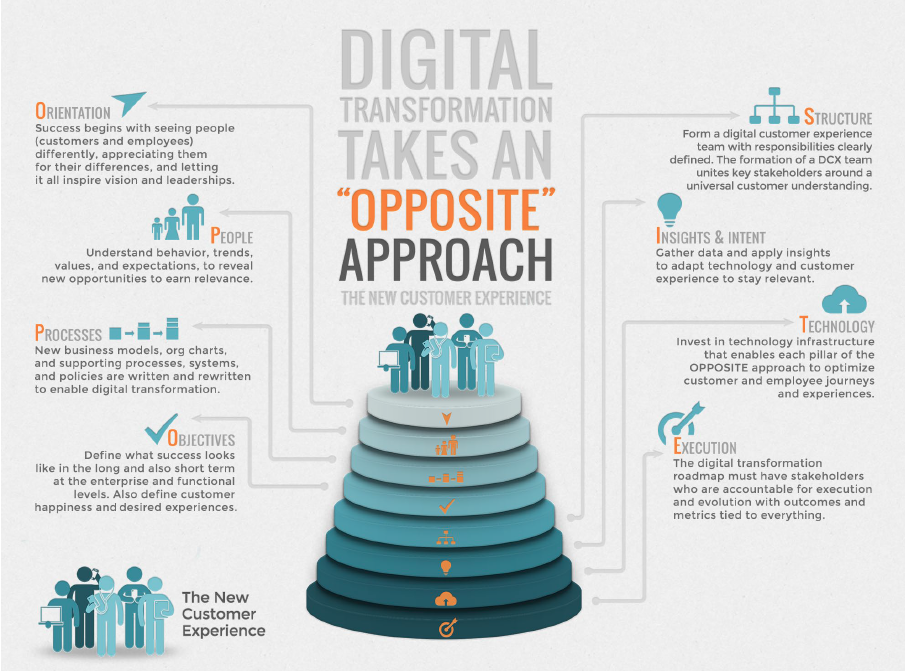 Solis was interviewed on the Modern Marketing Engine Podcast by host Bernie Borges (on the Vengreso platform) in an episode titled, "Digital Transformation Takes an OPPOSITE approach." Borges said, "Brian's focus on digital transformation in his recent research on the 8 Success Factors of Digital Transformation inspired me to extend the invitation to him to share the key findings on our podcast."
Through Solis's research, he and Jaimy Szymanski, Digital Experience Analyst at The Altimeter Group, uncovered a framework many digital leaders follow unconsciously – the "OPPOSITE" approach. This unusually long acronym represents a compilation of eight best practices guiding today's successful organizations through their digital transformation.
Among the topics discussed and points made during the interview:
How Altimeter Group is an analyst firm that studies disruptive technology and publishes reports following their open-source research model.
How Solis spends his nights and weekends as a digital anthropologist studying human behavior and the impact of digital.
Why Solis says analysts are good at filling in the gaps based off experience and how he has been able to do so with his research and social science studies.
How Solis' book X: The Experience When Business Meets Design, examines the complexity of current business practices and business climates.
How the "OPPOSITE" framework is laid out in the 8 Success Factors of Digital Transformation report, and how it was developed based on 34 interviews with leading brands.
How Sephora, Starbucks and GM are taking an approach similar to the OPPOSITE approach to go through a business transformation, not just a digital transformation.
Why Solis says customer experience is the sum of all engagements a customer has with you in each touchpoint and throughout the customer journey, and how it should be built against an experiential standard.
Read the entire summary and listen to the podcast here: https://vengreso.com/blog/digital-transformation-takes-opposite-approach