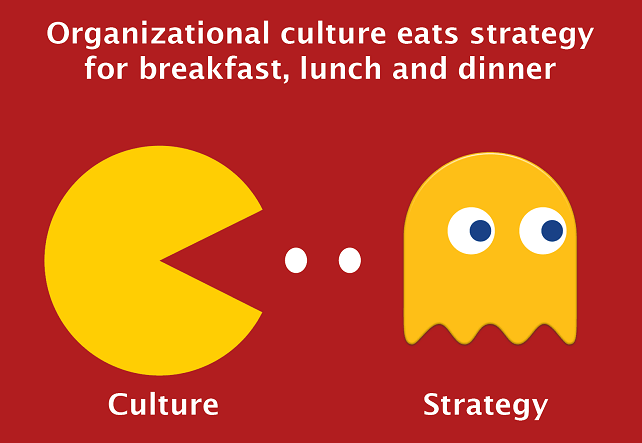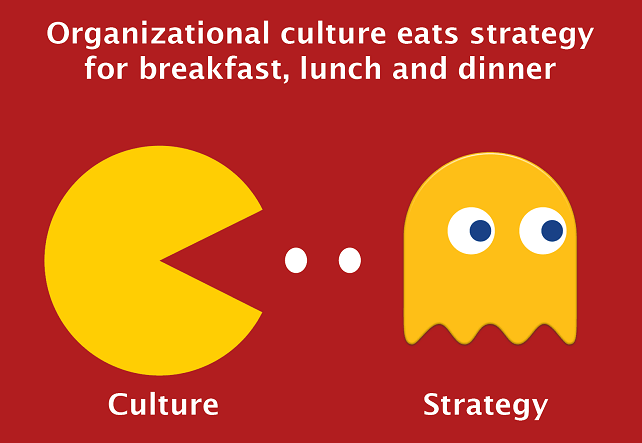 Executives underestimate the importance of culture in an era of digital Darwinism.  Most cultures are risk averse at a time when taking risks is the most direct path to innovation…
Digital Transformation is the act of investing in people, technology and systems and processes to upgrade how businesses work in this digital economy. Technology is disrupting everything. Beyond market shifts, people too are different because of technology. As a result, behaviors, expectations and preferences are evolving. Our business philosophies and practices though aren't keeping pace. Now's the time to invest in people AND technology to change perspective and find new ways of engaging and leading connected employees and customers.
Digital transformation isn't without its challenges however.  Throughout all of my research around digital transformation, one thing stands in the way to progress: culture.
As part of a past survey on the State of Digital Transformation, we set out to surface the premier challenges facing digital transformation.
We asked  respondents to share the different types of challenges they face, ranked as extremely significant, somewhat significant, or not a significant challenge.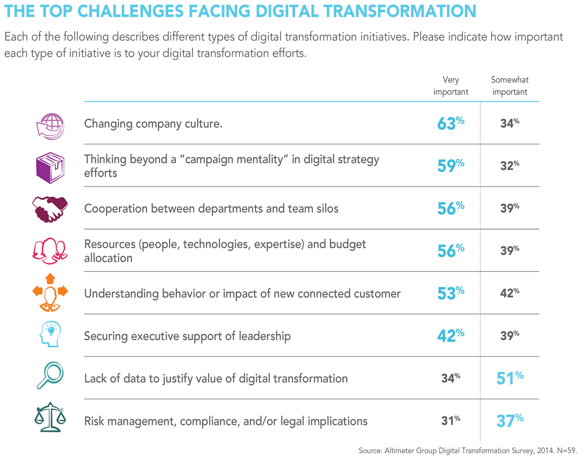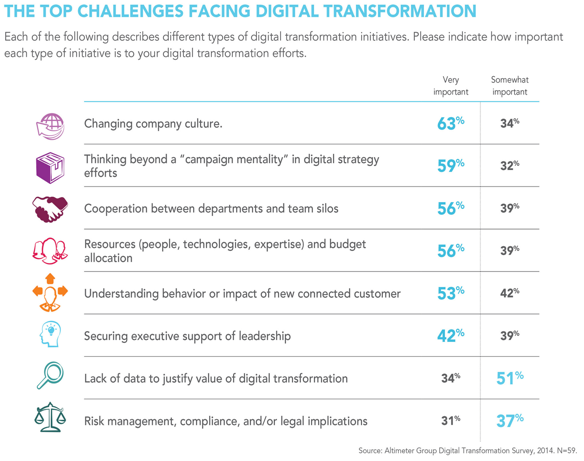 Culture is indeed key. At the top of the "challenges" list, changing company culture lead with 63% of respondents stating that it is an extremely significant to successfully lead digital transformation efforts toward fruition.
On the flipside, only 3% however felt changing culture is not a significant issue.
Unfortunately, many technologists tend to argue that digital transformation is about technology first and as such, culture has no business in these efforts. But you and I know that change is a human thing and that's why it's so difficult. When a culture doesn't encourage or reward change, it will have course thwart the efforts of anyone seeking to transform anything.
Company culture is the basis of digital transformation, a fact supported by both the qualitative and quantitative research my colleague Jaimy Szymanskiand I conducted from 2013-2014. We learned from those leading digital transformation efforts, that without openness to
change, either naturally or as a specific initiative, digital transformation stalls at best or implodes at worst.
Why?
We found that even though most company cultures are open to change, they are mired in directional ambiguity or risk aversion.
Culture is a derivative of leadership and represents the company's personality, value system, purpose, and people. What's clear in every research endeavor I've led on the subject is that the need to change is constant and pervasive. This is the effect of disruptive technology on business and society. Culture, too, must adapt to symbolize resilience and communicate a renewed vision to employees and the market overall.
Risk-Averse Cultures are Slow to Embrace Change
Without executive support, without leadership, culture cannot mature or adapt. This is especially true when the case for change is not partnered with a compelling business case to do so. And that's what's necessary to progress and earn relevance in a digital economy.
The businesses we independently surveyed and interviewed recognize that executive support is key to sanctioning change and investing in it. Earning it is referenced as a challenge at 42% (extremely) and 39% (somewhat).
At the time of my research, Andy Hedges was the former Director of Shopping Centre Management at Westfield, one of the world's leading shopping center companies. In one of our many conversations, Hedges believed change agents must helped executives envision new opportunities and possibilities. "We've got a lot of traditional, successful business leaders in our business," he acknowledged. "The consequence of that is that they're very much keeping things in the digital space at a bit of an arm's length. I don't want it to be dismissed as a fringe conversation, because it's real, and it's happening," he continued.
To affect culture, Hedges believes executives must not only 'get it' but also become part of digital transformation. That starts with education and answering two key questions, "how do we help them come on this journey?" and "how do we help enough of the general c-suite leadership to fully understand the implications of the structural shift happening around us right now?"
As in anything, education starts with making the business case.
In the case of General Motors, the business case was made by demonstrating how the company was missing significant opportunities with digital customers and thus missing revenue opportunities.
In a conversation as part of our research on the subject, General Director, Global Customer Experience Execution and Planning 
at General Motors David Mingle shared GM's process in revising its vision to better connect to the values, intentions, benefits, and overall "why" of digital transformation. After initially forming its CX group, GM went back to the beginning
and revised its vision and values to emphasize, "customer as its compass." Mingle explained that it's now part of the GM culture, embraced fully by the C-suite. "We listened to customer needs and learned how we could provide expertise, transparency, convenience, and appreciation for their business. These insights were referenced
in a lot of meetings to influence our culture
and to change how we make decisions." He
further shared: "Our CEO embraces and enforces it. More importantly, leaders are rewarded for demonstrating it."
To become customer-centric takes creating a culture of customer centricity. And that takes a shift in the culture as it exists today. This is key
as culture evolves to empower people to work together in new ways to solve new problems and seize new opportunities.
Businesses undergoing digital transformation are each, in their own way, creating new processes, forming new business models and teams, and investing in new technologies and systems to work in ways that are more relevant to the state and evolution of today's markets. In doing so, they're leveraging digital transformation to become more customer-centric, more human, and renewing their culture for a new generation of customers and employees.
Please read the "6 Stages of Digital Transformation" to benchmark your efforts against other companies investing in business evolution.
Connect with Brian!
Twitter: @briansolis
Facebook: TheBrianSolis
LinkedIn: BrianSolis
Youtube: BrianSolisTV
Snapchat: BrianSolis
Experience is everything…read my new book, X!