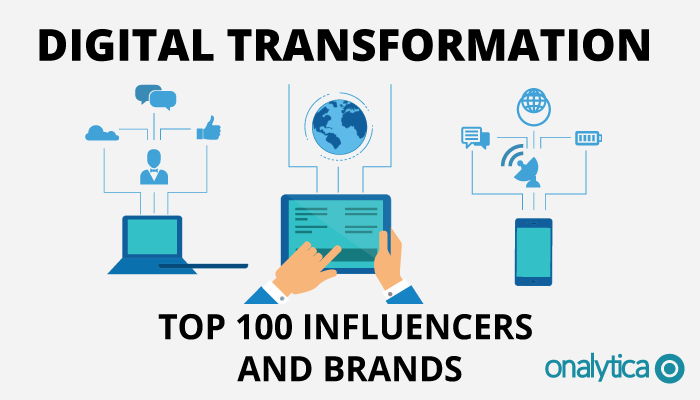 by: Joe Fields, onalytica [Excerpt]
Digital transformation is the term given to the transformation of business activities, processes and models to fully leverage the opportunities of new digital technologies. According to a recent report by the World Economic Forum, companies that have implemented digital technologies across their business are more successful in enhancing revenue sources, competing against digital natives and outperforming peers.
The internet, robotics, artificial intelligence and data analytics are dramatically altering today's industries. These new technologies can effect an organisations operating model to the extent that it is no longer fit to serve its customers. This is why it is essential for businesses to adapt and evolve to enable new types of innovation and creativity and meet new demands. Microsoft for example have recently adopted a more scalable subscription based model, with an increased focus on mobile devices. By 2018, 67% of the CEOs of Global 2000 enterprises will have digital transformation at the center of their corporate strategy.
WHAT ARE THE INFLUENCERS SAYING?
We reached out to some of the top influencers on our list to ask them for their views on digital transformation.[…]
B
rian Solis – Principal Analyst, Altimeter Group, a Prophet Company and Author of X: The Experience When Business Meets Design
"Digital transformation is a movement progressing without a universal map to guide businesses through proven and productive passages. This leaves organizations pursuing change from a known, safe approach that correlates with "business as usual" practices. Operating within the confines of traditional paradigms without purpose or vision eventually challenges the direction, capacity, and agility for thriving in a digital economy." 
[…]
MAPPING THE COMMUNITY
We were very interested in seeing which content marketing influencers and brands were leading the online discussion, so we analysed 338K+ tweets over the last 3 months mentioning the keywords: "digital transformation" OR digital transformation. We then identified the top 100 most influential brands and individuals leading the discussion on Twitter. What we discovered was a very engaged community, with much discussion between individuals and brands.
Below you can see another network map created with our Influencer Relationship Management software (IRM) showing the number 1 influencer Brain Solis at the center and all the conversations to and from the influencers in his field. If you are interested in learning more about identifying, managing and engaging with influencers click here to get in touch!
---
[,,,]
TOP 100 INDIVIDUALS
We looked at all the individuals engaging on Twitter to bring you a list of the top influencers in digital transformation. Below is the top 50, if you want to see who ranks from 50-100 be sure to download the full report…