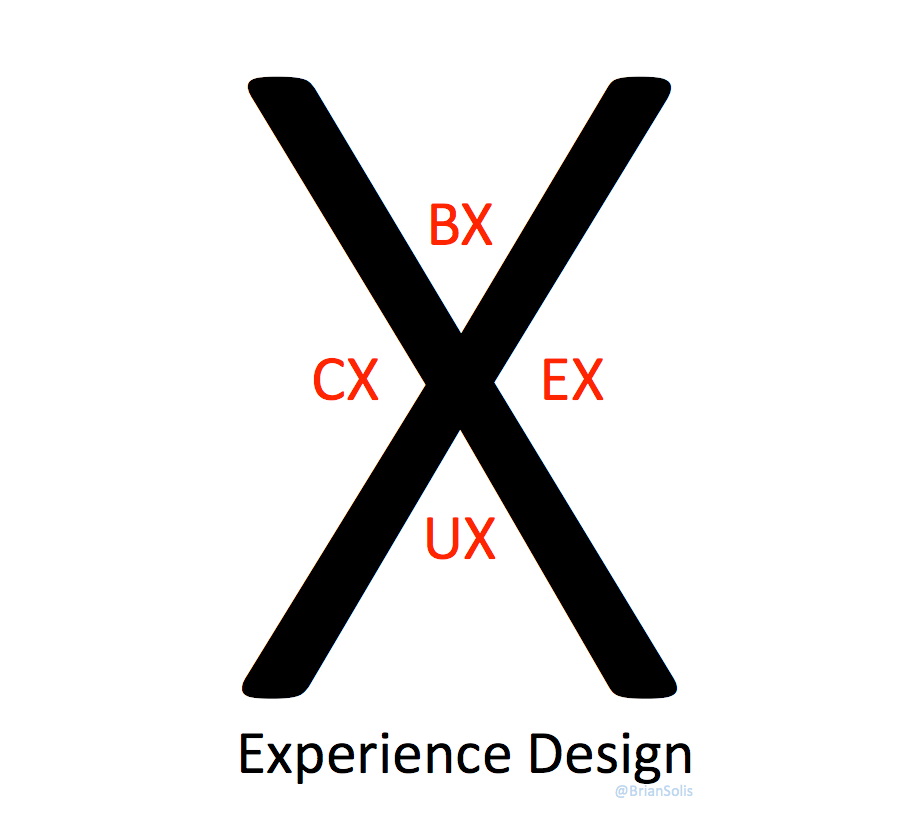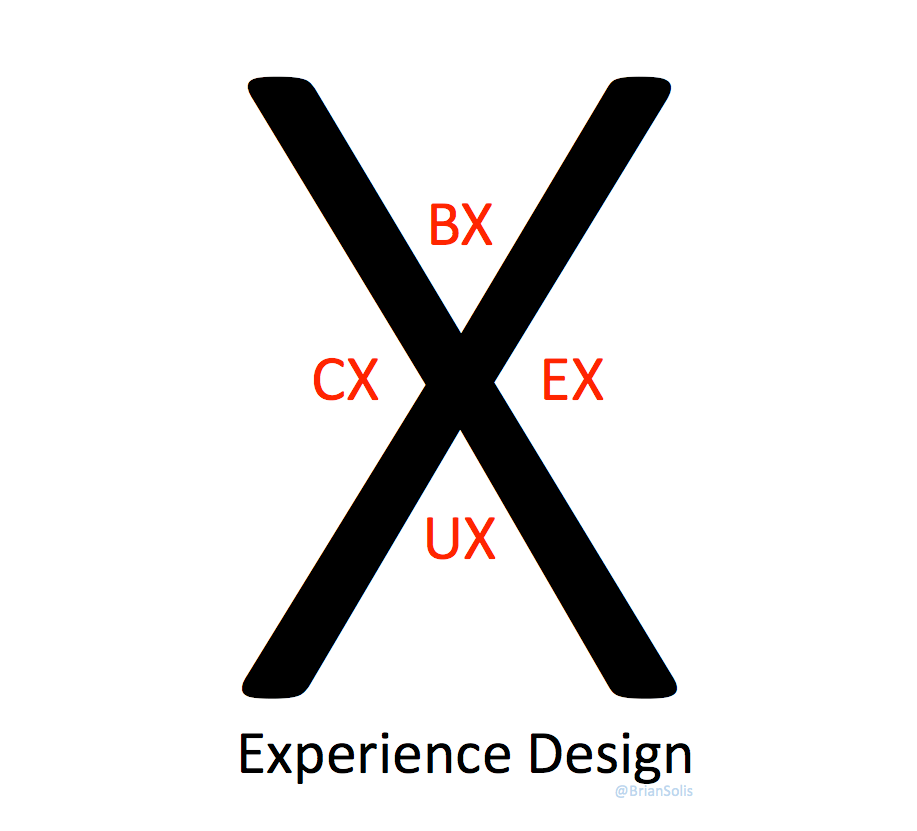 Businesses are doubling down on customer experience and rightfully so. The customer has never been more connected, informed and empowered. Any brand hoping to survive and thrive in an era of digital Darwinism has no choice but to #adaptordie. But customer experience in of itself is not enough. Brands must understand what it means to compete at a time when people are not only changing, their priorities around values, aspirations and loyalty are also shifting.
Humanity is now the killer app.
Never mind leadership, basic market relevance is no longer tied to business as usual. We are now witnessing the rise of a new normal, which changes the entire dynamics for how brands earn customer attention, deliver value and build relationships.  In fact, the entire concept of brand is up for re-imagination. What brands stood for and how that value proposition was communicated is now dated and becoming obsolete. Not only are brands in need of an upgrade, every touch point, value proposition, processes, policies and systems are also in dire need of modernization. Perhaps most importantly, executive perspective, philosophies, expertise, work, leadership and management are ripe for innovation.
As a hopeless optimist, I believe that re-invention isn't only possible, it's ready for the taking. The biggest challenge is simply seeing and doing things differently. This is especially difficult when a company is currently performing well and delivering returns to shareholders and stakeholders.
I wanted to share a recent presentation from the DX Summit where I dive into the state of experience, how we got here and where we need to go. In it, I introduce "The X framework," a concept introduced in X: The Experience When Business Meets Design. It help executives prioritize efforts so that every cog is turning in directions that move the entire machine in a direction of modern relevance.
BX – Brand Experience: Define the emotional and tangible experience that customers should have before, during and after engagement.
CX – Customer Experience: Align "the experience" in each moment and the sum of all moments to enliven the brand essence.
UX – User Experience: The customer's engagement with each touchpoint, interface, representative and the product itself, must bring the experience to life individually and collectively. This takes design in user interface, UX and information architecture.
I hope this helps you…
The X Framework for Experience Design (Overview)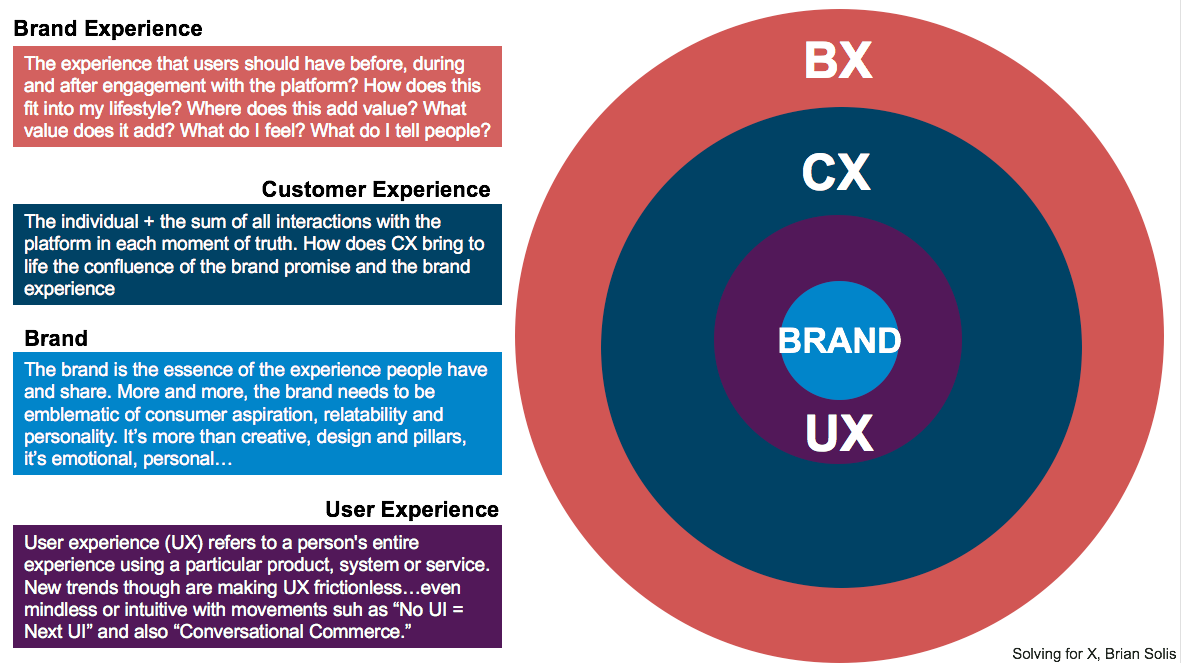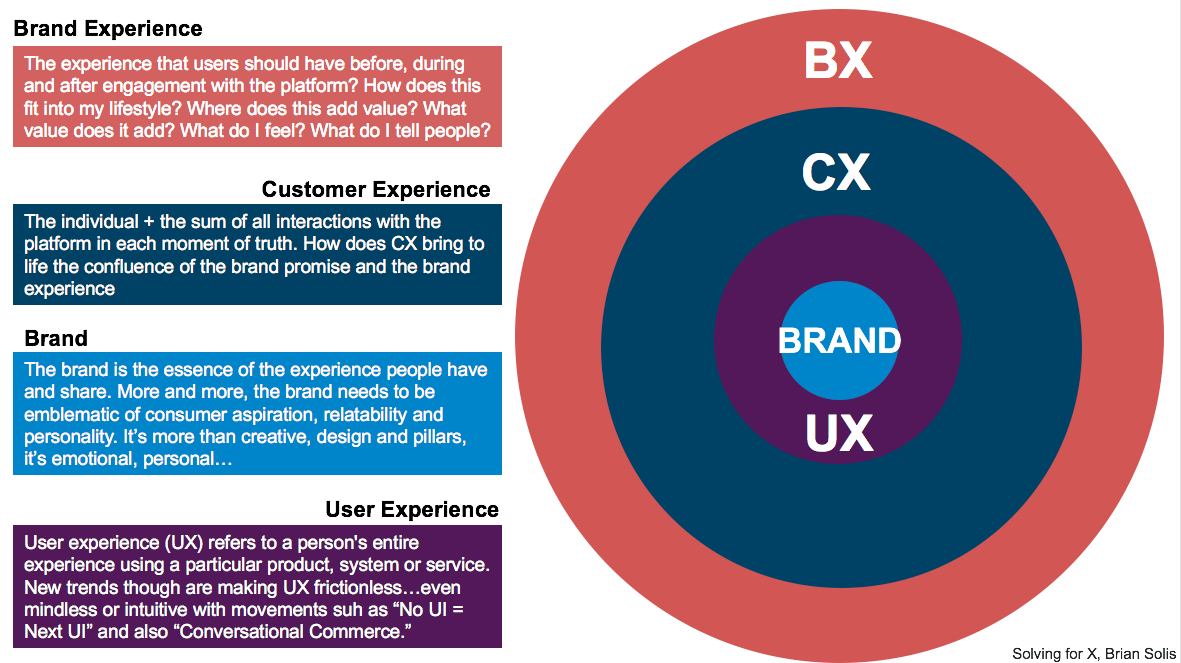 Brian Solis
Brian Solis is principal analyst and futurist at Altimeter, the digital analyst group at Prophet, Brian is world renowned keynote speaker and 7x best-selling author. His latest book, X: Where Business Meets Design, explores the future of brand and customer engagement through experience design. Invite him to speak at your event or bring him in to inspire and change executive mindsets.
Connect with Brian!
Twitter: @briansolis
Facebook: TheBrianSolis
LinkedIn: BrianSolis
Instagram: BrianSolis
Youtube: BrianSolisTV
Snapchat: BrianSolis