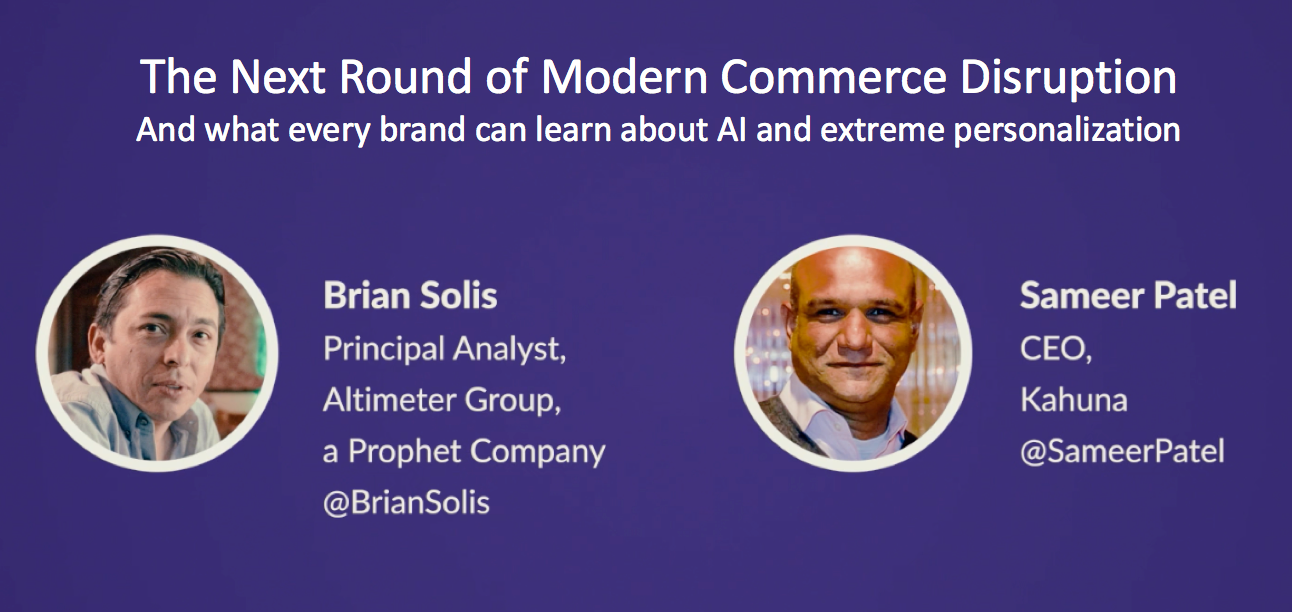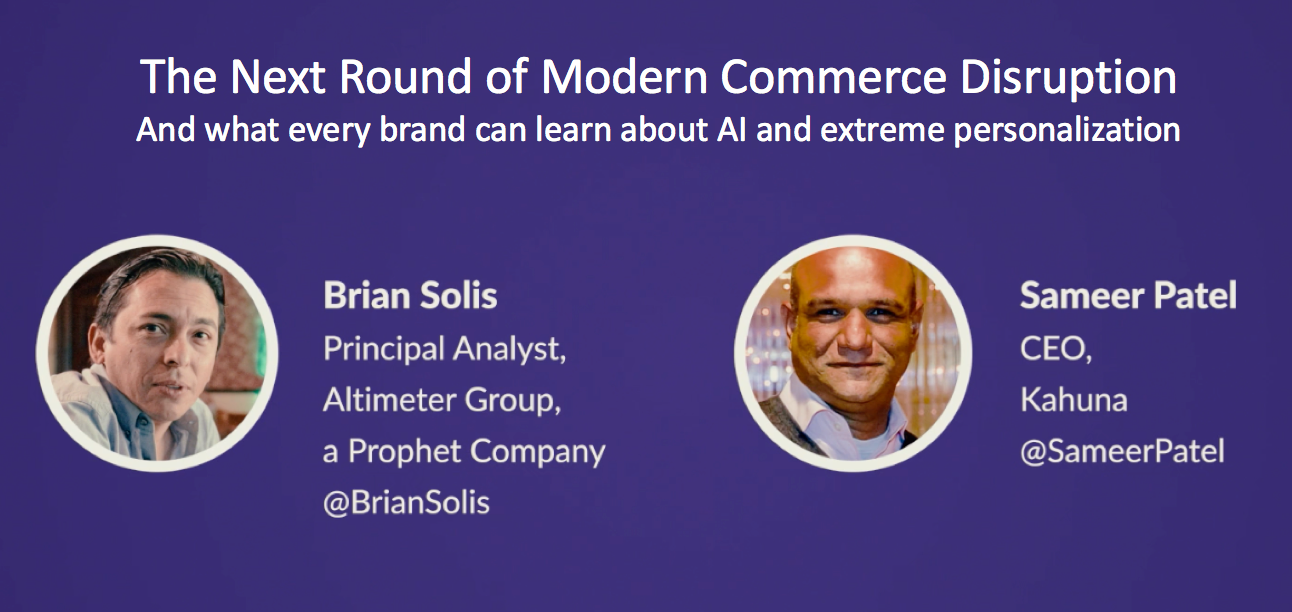 The evolution of modern commerce is underway. Every day, we are introduced to new, niche players that introduce new personalized product and business models. At the same time, traditional retailers are learning how to innovate and also acquire innovative startups to introduce new capabilities, expertise and leadership into the fold. And of course, Amazon only continues to disrupt on all fronts.
At the heart of this rapid evolution and revolution is emergent technology such as AI, machine learning, mobile, conversational commerce, et al. But technology isn't in of itself the driver of modern commerce disruption. It is more and more, becoming a facilitator of modern customer engagement. Customers too are evolving and as a result, their behaviors, expectations, preferences, values, et al., are shifting. The other catalyst is human. Disruptors are increasingly placing connected consumers at the center of everything. And the key to doing so effectively is extreme personalization and the ability to scale customer engagement to an audience of one.
Recently, I partnered with Sameer Patel, CEO of Kahuna, to publish an ebook that introduces a blueprint for personalizing customer experiences, "The Next Modern Commerce Disruption: A Marketer's Blueprint to Win in the Age of Personalization."
To launch our masterpiece, I visited Kahuna's HQ in Silicon Valley to record a series of promotional videos with Sameer. As we were doing so, we ended up talking about the trends driving the next modern commerce disruption and what ALL brands in every industry must do now to compete for modern customers.  Thankfully it was all caught on video and it was edited into a short but insightful eight-minute video.
The Next Modern Commerce Disruption
Segment 1: The Two Trends Reshaping the e-Commerce Landscape
Segment 2: The Three Rounds of Modern Commerce Disruption
Segment 3: What Digital disruptors Do Differently to Win
Segment 4: Transitioning Your Marketing from Customer Segments to an Audience of One
Segment 5: Moving Your Brand to the Next Round of Modern Commerce Disruption
About Brian
Brian Solis is principal analyst and futurist at Altimeter, the digital analyst group at Prophet, Brian is world renowned keynote speaker and 7x best-selling author. His latest book, X: Where Business Meets Design, explores the future of brand and customer engagement through experience design. Invite him to speak at your event or bring him in to inspire and change executive mindsets.
Connect with Brian!
Twitter: @briansolis
Facebook: TheBrianSolis
LinkedIn: BrianSolis
Instagram: BrianSolis
Youtube: BrianSolisTV
Snapchat: BrianSolis