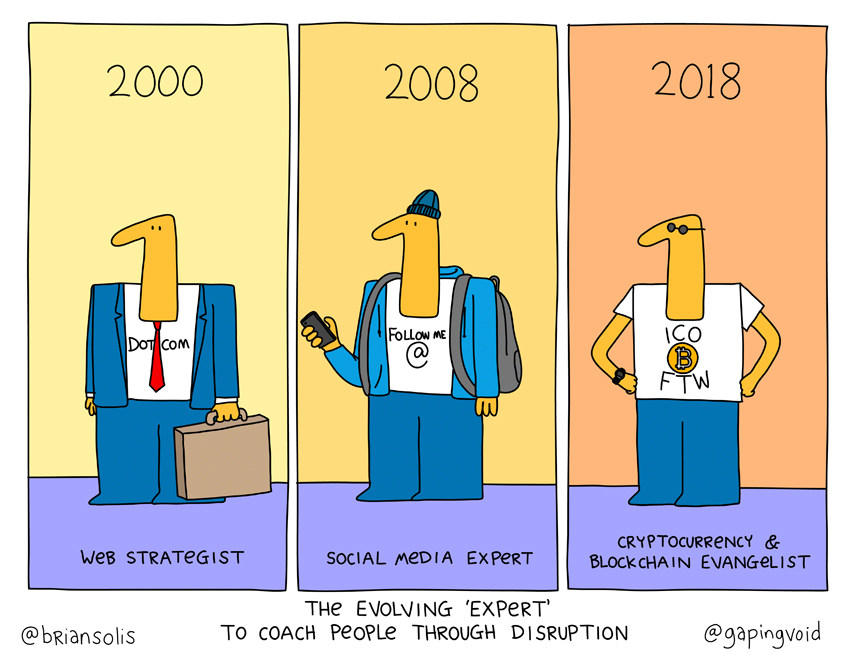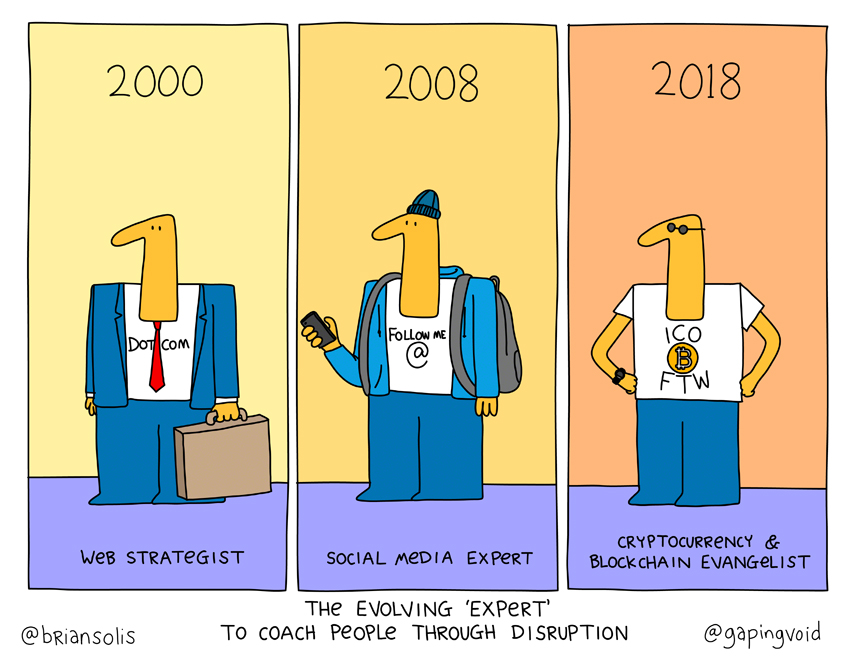 Have you noticed the shift in focus of the evolving digital expert?
We have…
The Gapingvoid team and I have collaborated on many projects over the last decade. Our work has focused on prodding executives and entrepreneurs to think differently in their approaches to digital Darwinism and disruption. Whether we're speaking to startups about the next big thing, attempting to humanize corporate culture and innovation or exploring ways to engage audiences in more meaningful ways, art and story carry our messages. We like to have a little fun, even if it's at our own expense.
The Next Big Disruption is Here
Every 10 years or so, there are emergent trends that are so significant, that they disrupt everything…from work to consumerism to behavior to values. Nowadays, that disruption is more frequent and widespread. It isn't one thing, it's everything, i.e. AI, AR/VR, blockchain, autonomous, robotics.
Along the way, there are experts who rise to navigate us through disruption. Twenty years ago, it was the dotcom boom and bust. Just over 10 years ago, it was social media. In 2018, we take a moment in time to observe something that others too have noted. In this case, we've all been rumbling about the rise of cryptocurrency evangelists, those who geeked out so much around Bitcoin, Etherium and the like, that they are moving the entire ecosystem from the fringe to early adopters and beyond..
We recently found a cartoon created by Habib Haddad, that depicted these stages in a way that inspired us to add our take and share with everyone.
Here's to the experts!
Brian Solis
Brian Solis is principal analyst and futurist at Altimeter, the digital analyst group at Prophet, Brian is world renowned keynote speaker and 7x best-selling author. His latest book, X: Where Business Meets Design, explores the future of brand and customer engagement through experience design. Invite him to speak at your event or bring him in to inspire and change executive mindsets.
Connect with Brian!
Twitter: @briansolis
Facebook: TheBrianSolis
LinkedIn: BrianSolis
Instagram: BrianSolis
Youtube: BrianSolisTV
Snapchat: BrianSolis