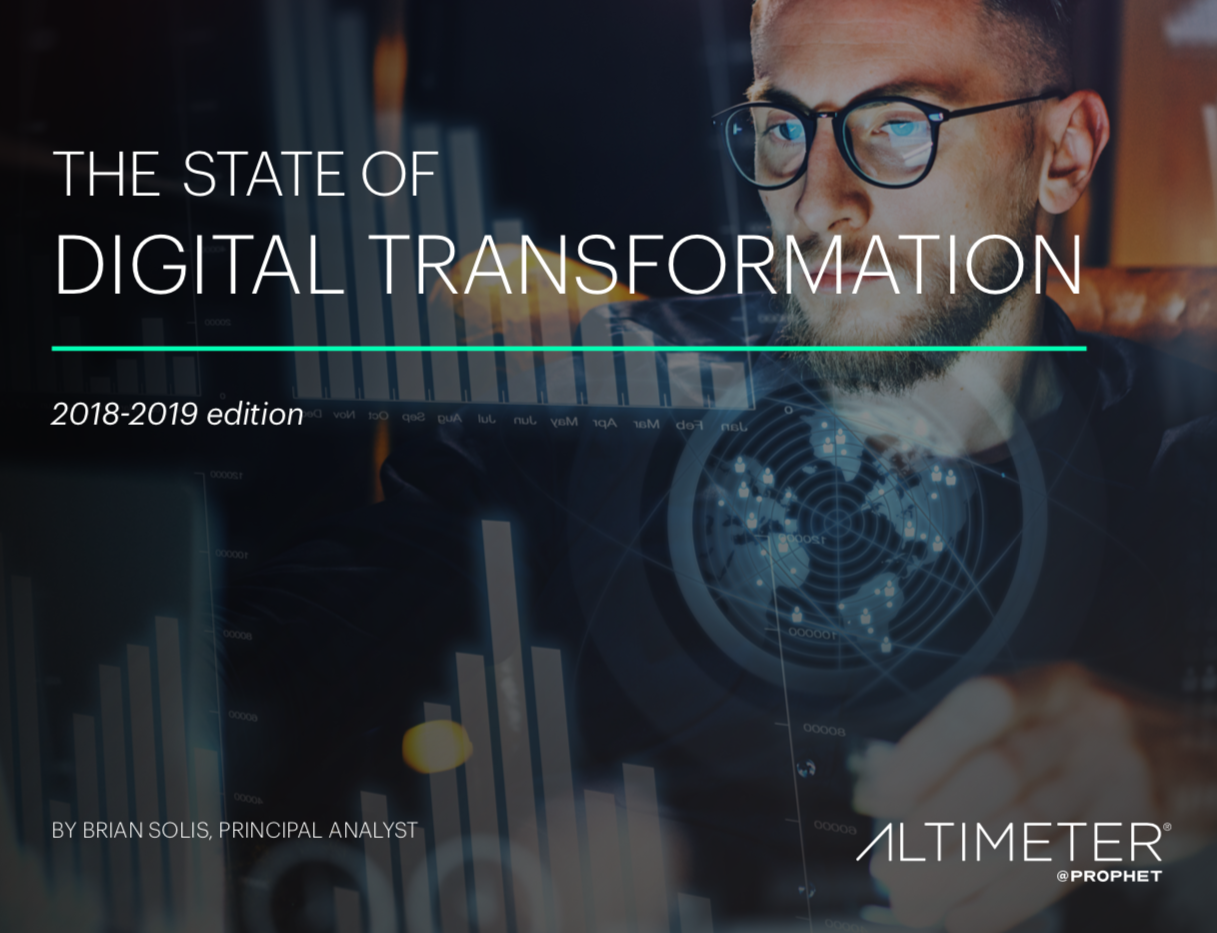 I'm proud to announce the availability of The 2018-2019 State of Digital Transformation report.
Now in its fifth year, our annual "State of Digital Transformation" research continues to document the constantly evolving enterprise. As disruptive technologies and their impact on organizations and markets continue to progress, our research aims to capture the shifts and trends that are shaping modern digital transformation.
In 2018, strategic digital transformation is only becoming more pervasive moving beyond IT to impact competitiveness throughout the organization. Budgets are soaring. The list of disruptive technologies on the radar of stakeholders is expanding. Ownership is moving to the C-Suite and managed by cross-functional, collaborative groups. Customer experience (CX) continues to lead digital transformation investments, but as we observed in 2017, employee experience and organizational culture are also rising in importance to empower and accelerate change, growth, and innovation.
This year, it's clear that digital transformation is maturing into an enterprise-wide movement. Digital transformation is modernizing how companies work and compete and helping them effectively adapt and grow in an evolving digital economy. What's also evident is that there is still much work to do as companies are, by and large, prioritizing technology over grasping the disruptive trends that are influencing markets and, more specifically, customer and employee behaviors and expectations.
To celebrate its release, I shot a short video at Prophet's HQ in San Francisco. In under two minutes, you'll learn the key drivers and trends shaping digital transformation efforts across organizations as well as actionable strategies for accelerating the evolution of transformation to drive growth.
Please download the new report here. 
______________
Brian Solis
Brian Solis is principal analyst and futurist at Altimeter, the digital analyst group at Prophet, Brian is world renowned keynote speaker and 7x best-selling author. His latest book, X: Where Business Meets Design, explores the future of brand and customer engagement through experience design.
Please, invite him to speak at your event or bring him in to inspire colleagues and fellow executives/boards.
Connect with Brian!
Twitter: @briansolis
Facebook: TheBrianSolis
LinkedIn: BrianSolis
Instagram: BrianSolis
Youtube: BrianSolisTV
Newsletter: Please Subscribe