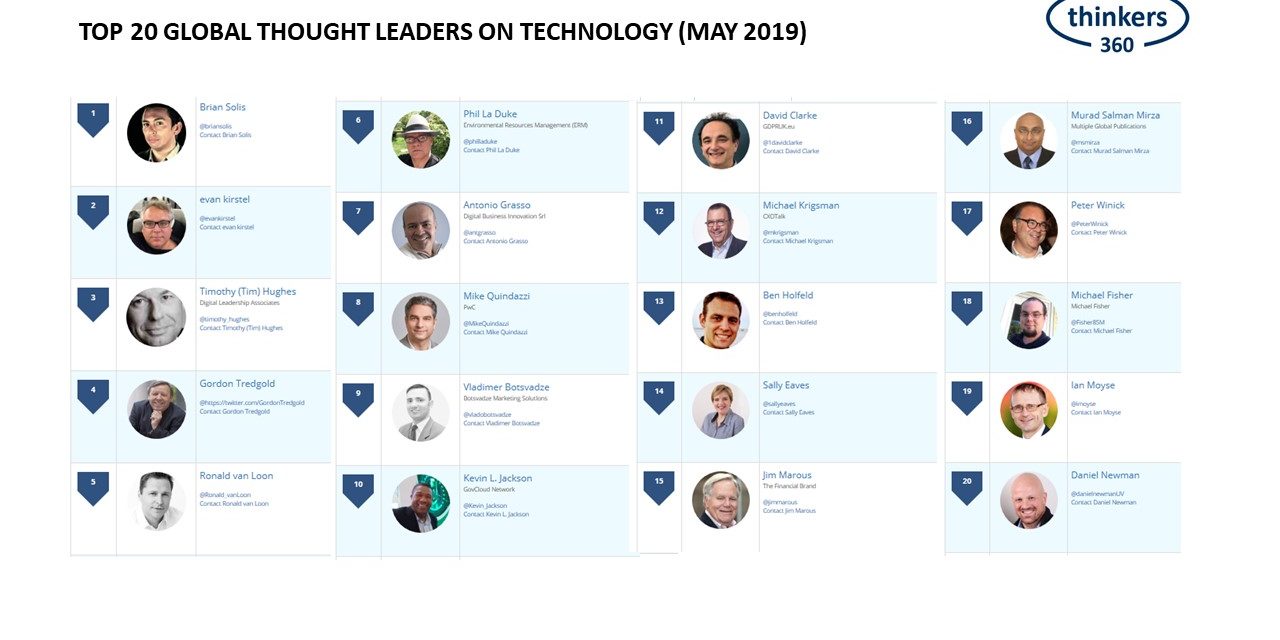 May 4, 2019 – Thinkers360 has released its latest ranking of global thought leaders on technology where Brian Solis has landed in the top spot with a perfect thought leadership score of 100.00. The next closest score was more than ten points off Solis's.
Thinkers360 explains their differentiation from, and complementary nature to, the various influencer leaderboards on social media, is that they take a holistic view of thought leaders and experts, beyond their social media activity, and look across all the hats they may wear – such as academic, author, entrepreneur, influencer and speaker – and all the types of thought leadership content they produce.
The platform currently covers business and technology topics including Agile, AI, Analytics, AR/VR, Autonomous Vehicles, Big Data, Blockchain, Change Management, Cloud, CRM, Cryptocurrency, Culture, Customer Experience, Cybersecurity, Design Thinking, Digital Disruption, Digital Transformation, Edtech, Emerging Technology, ERP, FinTech, GovTech, Health & Safety, HealthTech, HR, Innovation, IoT, Leadership, Lean Startup, Management, Marketing, Mobility, Open Innovation, Predictive Analytics, Procurement, PropTech, Social, Startups, Supply Chain and Sustainability.
See the full rankings here: https://www.thinkers360.com/top-20-global-thought-leaders-on-technology-may-2019/