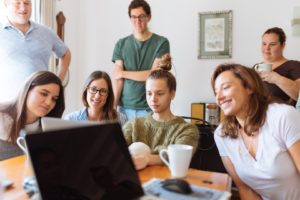 Solis is interviewed by Rieva Lesonsky, CEO and Co-Founder of GrowBiz Media, in an article posted on Bank of America's Small Business Community site called "Generation C: Understanding how to speak to the Connected Customer."
The author starts by mentioning that Solis first introduced businesses to the "Connected Customer" in 2012, but many small businesses haven't yet embraced Gen C. Solis says that Gen C "is not limited to one group of demographic. Demographic marketing is based on age, income, etc. It's not an age group, it's a lifestyle…Gen C is anyone relying on tech."
After giving some background on Solis, including mentioning his new book Lifescale, she starts the interview.
Some highlights from his responses:
"[Businesses] need to think differently about catering to this group. Open-minded ones understand they're dealing with a different, more connected type of customer.  And there's a new generation of businesses—the innovators and disrupters coming into play. Companies like Uber, Postmates and DoorDash. They operate with speed and sophistication and have introduced new dynamics built around providing convenience, speed, value and personalization. Those are the pillars of experience for Gen C. These innovators are disrupting all industries. They broke the mold, raised the bar and set new standards. Once customers experience these standards, they don't want to go back. The new experience becomes the new standard." .
"Generation C is demanding, impatient and accidentally narcissistic. The world revolves around them and their devices. It's all about speed. They consider impatience a virtue. [These] are their touchpoints, and we need to meet their expectations."
"Most small businesses still operate from that traditional mindset. They're trying to be the best chai latte place. That's not good enough. They need to be the best chia latte place consumers find and love."
"Mobile has made consumers even more self-centered. They're searching for the 'best…for me'. Many go on Facebook and Twitter and ask, 'what's the best…' and let the lazy web solve it for them. Businesses need to cater to customers who have different needs. Small business owners need to find Generation C. Go where they go. The internet has changed how consumers buy. This online decision-making is what Google calls the Zero Moment of Truth (ZMOT). For Generation C it's about the ultimate moment of truth, about sharing their experiences. Consumers will make different [buying] decisions based on others' connecting the dots back to their [ZMOT].
Read the entire article here: https://smallbusinessonlinecommunity.bankofamerica.com/community/running-your-business/sales-marketing/blog/2019/09/09/generation-c-understanding-how-to-speak-to-the-connected-customer