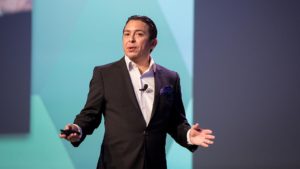 Solis was listed among ten influencers in a piece by Yamini on the Exceeders site.
The author introduces the article with a general overview of digital transformation: "Solely looking at digital transformation spending by organizations around the world should make it clear that it's here to stay. A forecast by IDC states that worldwide spending on digital transformation technology and services may reach $1.97 trillion by 2022. The manufacturing industry is expected to invest the most, followed by transportation and retail. An organization's transition can feel overwhelming as today's customers expect a lot. So where can technology leaders go to stay knowledgeable and up to speed?"
He suggests that people follow these influencers to stay up to date on the latest trends.
Yamini describes Solis as "a bit of a celebrity. For the unaware ones, Solis is globally recognized as a thought leader in high demand. He can be found giving keynote lectures or tied to promotions of his books on innovation and digital transformation. Asides from being critically acclaimed for his groundbreaking approaches to transformation, Solis also works as Altimeter Group's Principal Analyst, 'humanizing' the technology people are in desperate need of seeing with different eyes to understand the benefits of."
There is also a link to and a screen capture of a Tweet Solis made in which he said, "Innovative brands are investing in innovative technologies, customer data and new operational models to understand where, how and when to deliver value-added engagement."
Read the entire article here: https://www.exceeders.com/blog/top-digital-transformation-influencers-of-2019