On Twitter, SAP hosts regularly hosts the #CXTweetChat where experts gather to discuss the top trends in customer experience. In a recent Tweet Chat, Brian Solis joined to share customer data, privacy and marketing as CX.
Tracey Wallace captured the entire conversation for SAP at The Future of Customer Engagement and Experience.
Call it traction. Call it swing. Call it group think. Whatever you call it, there's something magical about an organization all working toward the same end goal.
Perhaps it's magical because it doesn't happen often. Perhaps it's magical because it brings the consumer in, astonishes them with the power of cohesion, and launches unparalleled word of mouth marketing.
In 2020 and beyond, this ability to row in sync is more critical than ever before because the inner-workings of organizations are changing for a new generation and type of consumer. And this consumer cares –– a lot –– about sustainability and experience.
Q6. We know customers want personalization and expect data privacy. How do brands balance the two?
A6: Sometimes they're not mutually exclusive. Personalization is a basic expectation these days because everything in their personal life is personalized. Privacy is something people are learning about every day, e.g. is Facebook listening to me? #CXTweetchat 1/2
A6: I see something as dull as opting in for cookies or mailing lists or disclaimers as a new opportunity to refresh the conversation about privacy, engagement and personalization in a more human and meaningful way. It's time to spark the conversation. #CXTweetchat 2/2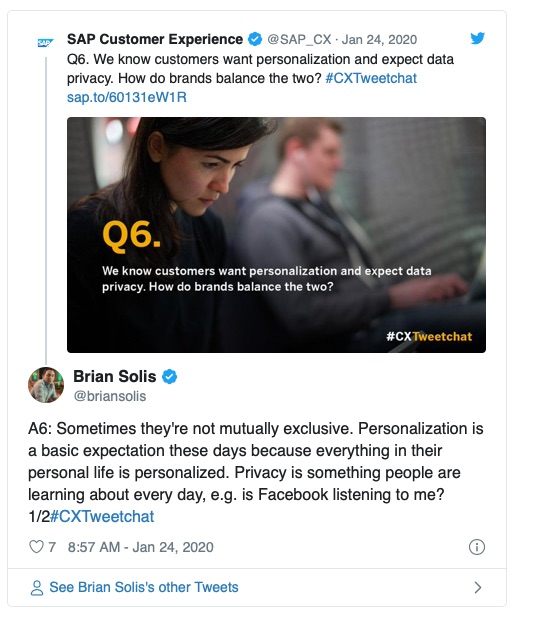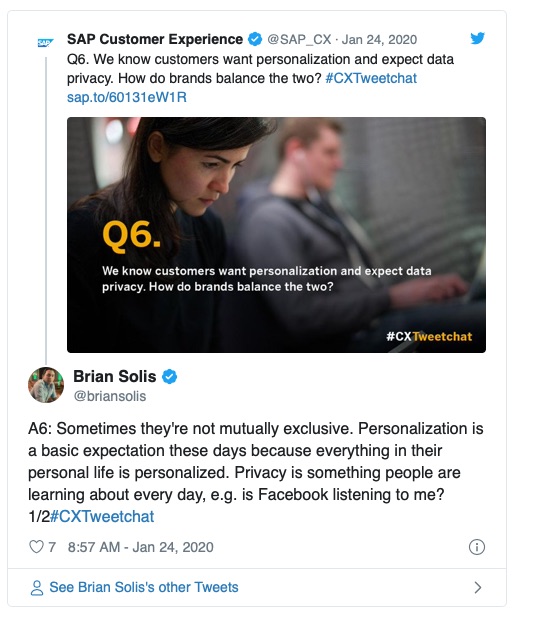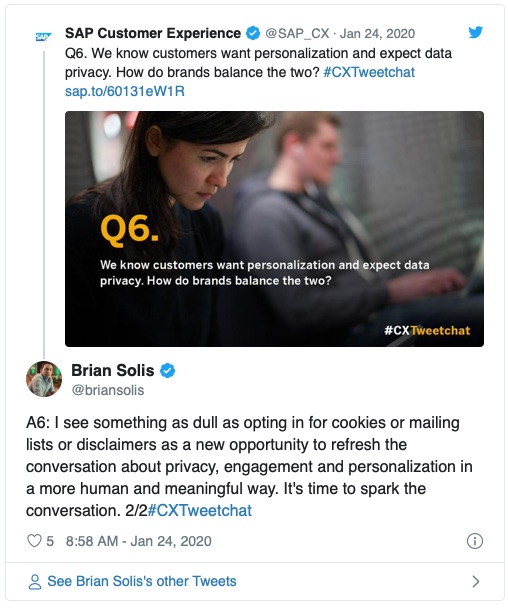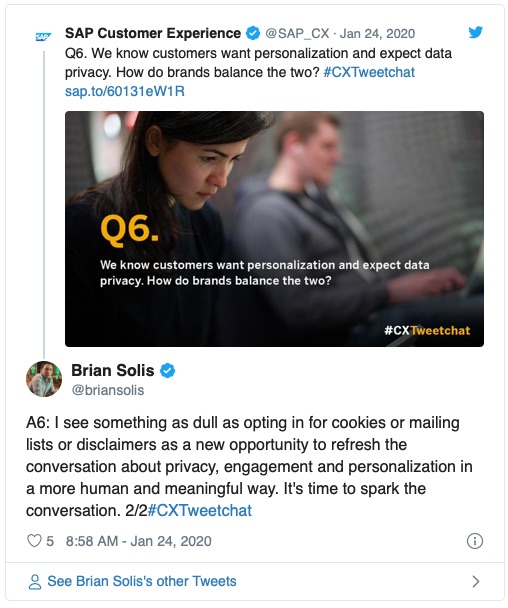 Q7. With advances in neuroscience being applied to marketing tools, is neuromarketing an emerging discipline for the next generation of marketers?
A7: The social sciences are long overdue in marketing. But what is marketing today? It's an opportunity to understand sentiment, aspirations, behaviors, preferences and expectations, to use data and humanities to deliver modern, engaging experiences. #digitalempathy #CXTweetchat