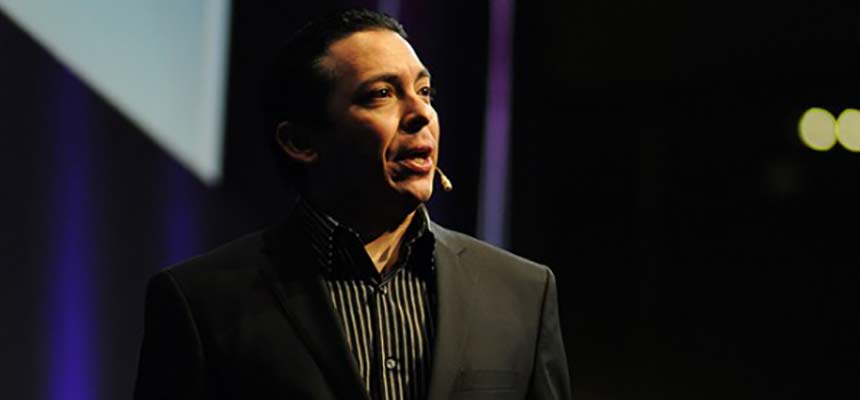 Brian Solis is a principal analyst at Altimeter, the digital analyst group at Prophet. He is also an award-winning author, prominent blogger/writer, and world renowned keynote speaker. Contact him via email.
A digital analyst, anthropologist, and futurist, Solis has studied and influenced the effects of emerging technology on business and society. His research and books help executives, and also everyday people, better understand the relationship between the evolution of technology and its impact on people and also the role we each play in evolution. As a result of his work, Solis also helps leading brands, celebrities, and startups develop new digital transformation, culture 2.0, and innovation strategies that enable businesses to adapt to new connected markets from the inside out.
His new book, X: The Experience When Business Meets Design, introduces the importance of experiences as the new brand, bringing the worlds of CX, UX and BX together to re-imagine the customer journey and lifecycle.
His previous books include, What's the Future of Business (WTF), which explores the landscape of connected consumerism and how business and customer relationships unfold and flourish in four distinct moments of truth. Prior to WTF, he published The End of Business as Usual, which was named as a Top 10 Business Book by Publisher's Weekly. EOB examines the emergence of Generation-C, a new generation of customers and employees and how businesses must adapt to reach them. Prior to End of Business, Solis released Engage, which is regarded as the industry reference guide for businesses to market, sell and service in the social web.
He is a regular contributor to leading business and industry publications including Adage, Forbes, Wired, VentureBeat, , among others. Brian is also an official LinkedIn Influencer with over 500,000 people on Linkedin, Twitter and Facebook.
As a sought-after speaker, Solis actively shares his vision and experiences through keynotes and presentations at conferences and events worldwide to help organizations understand and embrace the dynamics defining the rise of digital transformation, innovation, connected consumerism and digital lifestyles.
CRM Magazine named Brian as an influential leader of 2010 and was the recipient of an Authority of the Year award by SoftwareAdvice in 2011.
Brian's blog is consistently named as a leading marketing and business blogs around the world.
Brian also hosts Revolution, a popular online video series that examines technology, trends and best practices and introduces viewers to the thought leaders who are blazing the trail. Guests have included Katie Couric, Mark Burnett, Shaq, Billy Corgan, and Guy Kawasaki.
Altimeter Group
At Altimeter @Prophet, Brian studies disruptive technology and its impact on business. Specifically, Brian is studying digital transformation and how businesses are investing in new models and strategies to design the new digital customer experience (DCX).  Additionally, he studies corporate and startup innovation to learn how to disrupt markets before being disrupted. Brian also advises businesses on market strategy and change management and to help stakeholders introduce digital initiatives, systems and processes to more effectively connected with the connected customer and employee.
Pivot Conference
For four years running, Brian Solis served as the executive producer and host of the annual Pivot Conference in New York. Each year, Brian looks at the most disruptive trends impacting business from the inside and out. He then develops a unique story arc for the event that helps executives and strategists not only appreciate disruption but also learn what to do about it. Brian also assembles the most relevant authorities, leaders and even celebrities to address each topic in ways that are inspiring and also practical. He believes that conferences should also produce experiences beyond the traditional sessions and networking. Brian also makes an exceptional effort to include live art, music and performance into the mix.  In 2013, Pivot attracted over than 1,000 attendees.
FutureWorks
Prior to joining Altimeter in 2011, Solis was principle of FutureWorks, founding a creative agency and business consultancy for new media in 1999. Through FW, Solis led interactive and social programs for Fortune 500 companies, notable celebrities, leading brands, and Web 2.0 startups. Additionally, Brian specializes in change management and organizational transformation to help businesses (and the leadership team) introduce new media resources, systems and processes, and management layers to effectively embrace and excel around the social consumer.
Books
What's the Future of Business explores in a fun, visual and insight way how connected consumerism breaks down into Four Moments of Truth, the role of technology in decision-making, and how businesses need to create experiences that mean something in each stage and also spark engagement between consumers based on those experience.
What's the Future of Business also takes readers on an uplifting "hero's journey" to help them bring about change from the inside out. The end result demonstrates how experience design amplifies customer relationships, drives word of mouth, and fosters organic advocacy. The point is that experiences can often trump your product or service.
The End of Business as Usual examines the rise of the connected consumer, their effect on the bottom line, and how organizations can adapt to effectively compete for their attention, their business or contribution, and most importantly, their loyalty. The book examines how leading companies are finding success with connected customers. And, the lessons, case studies, and best practices contained within will help readers earn the support of organizational leaders by identifying growth opportunities and prioritizing where to invest time and resources. The result is creating an adaptive foundation for businesses to not only build relationships with connected customers, but improve customer AND employee relationships overall. As the subtitle states, we must rewire the way we work to succeed in what really is nothing short of a consumer revolution.
Engage is an award winning and best selling book that become the industry's reference guide to smarter social media strategy and practices. Versions 1 and 1 provide a deep review of the evolution of new media and how to integrate new technologies and methodologies into everyday activity. It is written for champions and executives alike in business, marketing, branding, interactive, service, and communications with a mission to help all aspects of business to the table. Engage helps readers design social media marketing and service strategies and programs that matter, work, and that perform against business objectives.
Prior to Engage, Solis partnered with co-author Deirdre Breakenridge on Putting the Public Back in Public Relations, which became a best seller in the communications industry.
In 2007, Solis worked with Geoff Livingston, on Now is Gone, an early, award-winning book that helps businesses learn where to start in Social Media and why.
Solis has also contributed forewords to many best-selling books including:
The Social Book by Virginia Coutinho
Ethical Practice of Social Media in Public Relations by Marcia DiStaso and Denise Sevick Bortree
Demand Horizon by Gerry Campbell
Repped by Andy Beal
Share This Too by various authors
@Your Service by Frank Eliason
Social Media ROI (in Italian) by Vincenzo Cosenza
Smart Business, Social Business by Michael Brito
Social Media ROI by Olivier Blanchard
The Hidden Power of Your Customers by Becky Carroll
Social Media Geek-to-Geek by Rick Jamison & Kathy Schmidt Jamison
PR 2.0 by Deirdre Breakenridge
MySpace Marketing by Sean Percival
Twittfaced by Jacob Morgan and others.
The Rise of Social Business and Social Media

Brian Solis has been actively writing about disruptive technology, emerging business models, and new marketing and business since the mid 90s to document the impact on the future of media, commerce, and culture. He was also among the original thought leaders working to organize and define the "Social Media" movement to establish a definitive media category. In early 2007, he wrote the worldwide hit The Social Media Manifesto, which showed in detail how organizations need to rethink business, marketing and service strategies.
Connect
Connect with Brian on Twitter | LinkedIn | Facebook | Google+ | Youtube |