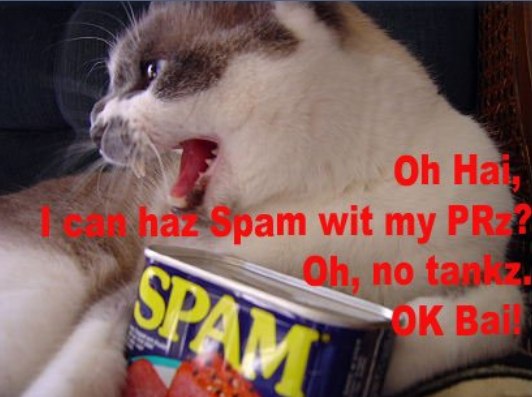 Chris Anderson, Editor in Chief of Wired and also author of The Long Tail, is someone whom I deeply admire and respect. We've linked to each other in the past and for the most part, I agree with his views and observations.
Every now and then Anderson discusses the state of PR and when he does, it causes nothing less than a full-blown blogstorm that reverberates across the entire industry. But, what matters is that we all learn from it.
In his latest post, he makes a pretty powerful statement, "Sorry PR people, you're blocked."
If you don't read anything else in my post, please just learn from what Chris says here, "So fair warning: I only want two kinds of email: those from people I know, and those from people who have taken the time to find out what I'm interested in and composed a note meant to appeal to that."
Is that so hard?
Really?
What's it going to take for PR to reflect that sentiment and honest plea for relevance?
It should be common sense. But it's not. Common sense is all too uncommon in almost everything we do these days. I really wasn't going to blog about this as there have been plenty of very astute, as well as unbelievably lame, commentary on the subject.
Taking a step back to observe the landscape, the cumulative response represents both sides of the spectrum and everything in between. The net result should be that we as PR people need to do things better.
So, where do I fit in?
As both a PR person and a blogger, and as a friend to many people currently discussing it online, I felt a bit like Al Pacino in Godfather Part III…every time I think I'm out, they draaaaaggg me back in!
First, let me say this, more for Chris, but to the benefit of everyone else as well, I agree and empathize with the inspiration behind your post.
No, really, I do.
Hell, I only get a small fraction of the press releases and pitches you receive, but it's still enough to give me a taste of your frustration. I'm committed to helping rectify this problem for you and all other respectable and influential journalists and bloggers.
Let's reach an accord shall we?
I promise to fix this problem among those with whom I work with and can reach. I will also work with others whose voices are trusted among PR practitioners and their peers within the communities in which they seek guidance. We will do everything we can to help teach those PR people who truly desire to learn and truly understand the ramifications of their actions, good and bad, and how to be successful while respecting the rules.
Everyone else, aka the lazy PR flacks, well, they're are on their own.
What do I ask in return?
Remove the list of names from your blog. Keep them in your block list, but let's not continue to publicly crush the hopes of those who really were only, at the end of the day, doing their job – no matter how poorly it was done.
Yes, I know and appreciate that you wouldn't have drawn the same worldwide reaction had you not posted them. The deed is done and cheers to you for taking a stand.
I feel the lazy flacks have learned their lesson as they have all been alerted to the fact that they are the epitome of what's wrong with PR; well, that, and the fact that your post scared the sh!t out of everyone else.
Yes, they represent the larger epidemic of what we the few, but proud PR folks who try to do things better, have to contend with day in and day out – the worldwide poor reputation of PR. Public Relations, when you think about it, really is the furthest thing from PR these days. I mean honestly, very few of us are out there building relationships with the public or people for that matter. Most of us don't bother to spend the time to really learn about what we represent, why it matters, and how it's different than everything else out there. And, without that understanding how could we possibly figure out the channels and context necessary for it to reach the people that would need to hear the story?
This is the reason why many PR people aren't or will never be, ready to make the transition to Social Media. After all, if reporters and bloggers don't want to talk to us, why would we bring the same foolish BS and spam tactics to our customers?
I dedicate this blog and almost everything that I do to try to change things for the better. But I am only one person. I join a growing group of people who really do want to change, build relationships, and be of service to you, our customers, as well as to the people who employ us.
But it's not just PR. It's the whole game of media. And, the game itself is broken.
The only reason anyone is paying attention now is because Social Media provides the ability for people to to reach other people on a global and immediate scale, and in this case it just may start to work itself from the right to the left on any market graph. People have voices now and they can now publicize and expose the very things we took for granted for far too long.
Let's look at the game however, because PR is only one of many functions in the greater scheme of content distribution.
It is a job that many people perform everyday in order to earn a living. Like any business, there are shining stars and lazy flacks that ruin it for everyone else. But, it is still a job. and people are still just people. We all have a$$hole bosses or clients that push and push us in order to prove our value and earn our paychecks regardless of how much we push back. In many cases, like in everything else, most just grin and bear it. We also have coworkers that are just in this to collect a paycheck. Even though the timer is ticking until they leave the business, their contribution only damages the damaged PR reputation in the meantime.
Many of us are measured in volume, inbound links, traffic, sales, or by the stack of coverage, that all collectively determines our ability to keep our jobs. Don't get me wrong. There are plenty of snake oil s
alesman in
this business, and in every business for that matter, but those who truly want to do things differently choose to separate themselves from the crowd.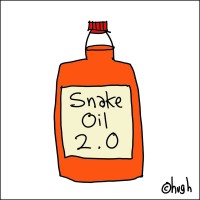 There are those that are overly ambitious and just don't know better. Then there are those who are trained by decades of outdated communications philosophies, formulas and bullsh!t metrics that send them out into the real world only to get baptized by fire for every mistake they make – while taking down the brand they represent in the process. And in the realm of Social Media, these lessons are the equivalent of public flogging in the town square, except this time, the world is watching.
There have been many responses to this subject, however, what every single one of them is missing is that sense of internalization that demonstrates that "we" get it. Maybe most don't believe that some of us could get it, but boy, do we get it. Then again, how does everyone else know we really get it?
I can guarantee you that I will still get my scheduled call from Bacons aka MediaMap offering to renew my unbelievably expensive subscription to the "industry-leading" media database, that, as they SWEAR, provides me with every opt-in contact who wants to receive information associated with key topics, products and industries.
But, it's the difference between building lists and building relationships.
Could we do our job better?
Hell yes.
Could we take the time to make sure that what we want to share is actually important to you?
Yes. Absolutely.
Should we spend more time reaching out to people individually than blasting matrices comprised of those who are simply grouped by "key words?"
Yeah. I mean, it should be obvious. But most PR people, veterans included, are just groomed to make the numbers. But, yes, yes we really need to adopt and live the "less is more" and "quality versus quantity" mantras we hear all the time. More importantly, we need to also push back and ensure that our clients and bosses understand what the collective group of fed-up journalists and bloggers are saying that they will no longer tolerate the status quo.
It's all about humanizing not just the process of receiving information, but also the process of sending it.
Is PR representative of spam?
For the most part, yes.
This is business and every cog in the machine has its associated benefits and downsides. For every reporter and blogger that's inundated with lame pitches and unsolicited press releases, I can show you two flacks that are equally spammed with requests for updates and the status of coverage from execs in order to prove their worth. The problem is so much deeper than PR spam. It goes back to the very reason why companies invest in PR in the first place, and in the process, they mostly miss the point of publicity all together. They all believe their news matters to everyone else and that you have nothing better to do than take our release and run with it.
Get me the Wall Street Journal!
Why aren't we in the New York Times?
You do have these relationships right?
But, let's put things in perspective. There's more to the story.
Media is also a business and they are comprised of both editorial and advertising departments. Do you know how many phone calls and emails I get from sales or biz dev people from publications and blogs soliciting advertising "deals" and sponsorship opportunities for conferences? You'd be surprised and I'm not the only one.
In some cases, I'll receive calls only moments after speaking with a reporter saying, "I hear so and so is considering running your company in the story on such and such. I think it would be smart to also take out an ad to strengthen your story and your brand."
I've even had some reporters tell us off the record that they were advised not to cover us until certain contracts were signed.
Ahh yes, this is all a business. Most editors and reporters however, have the luxury of not seeing this side of things. It's not hypocrisy. In most cases it really is just church and state, but just not equally on both sides of the playing field.
Do any of these sales people take the time to figure out that I'm merely in PR and not in sales?
For the most part, I'd wager that these ad sales people are more aggressive and relentless than PR could ever be.
While reporters complain of those PR people who follow up and ask, "Did you get my email?" There are also sales people who call daily to CONVINCE me that I'm making a terrible mistake by not running ads when my competitors are all participating.
Yes, it's the difference between commission and fixed salary – it's all related to the ability to sell a story vs. tell a story.
Like anything there are lines and they're crossed all the time, across the board.
But for every crappy PR person and ad rep, there are also equally lazy writers.
Trust me when I say though, that there are plenty of reporters and bloggers who can't get the story right, even if they're briefed, which has legitimate business ramifications. There are lazy reporters who simply cut and paste and can't be bothered to do more. There are writers who won't cover a story because someone else did, even though their ad departments can "prove" that their demographics have little crossover with any of their competition. There are those who break embargoes for the sake of getting the extra eyeballs for that particular story. And then there are those who are better than everyone else. These actions too come at a price.
Would publicly outing these people make things better?
I don't think so. Is PR constantly sending offers for penis enlargement miracles or the ability to meet lonely women in your area tonight?
No.
So, just opt out. It's part of the business.
It's the difference between spam and someone just doing their job – again, even though it's a poor way of doing so.
It's just as easy to reply to someone with either unsubscribe or "f#ck off" as it is to place them on a blog post where they, and their company can be ridiculed.
Block them and publish the companies like Gina Trapani did (whom I also greatly admire.)
We all choose who we ultimately work with and we earn the relationships we deserve. But at the end of the day, the onus is on PR leaders to do something about it – at least from our side any way.
Chris Anderson didn't tell us anything we didn't already know. He only brought a bigger magnifying glass to class in order for us to more effectively see the ills of our business. We still have things we need to change and until we do, these public lists are only going to increase in frequency and volume.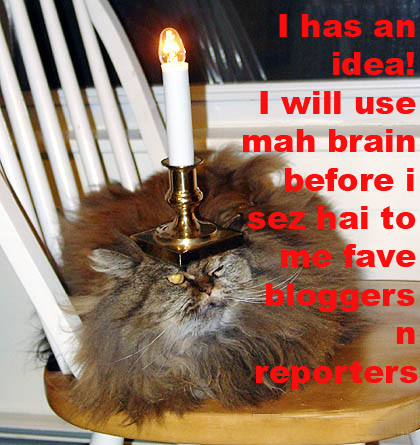 Attention PR people, here are your lifehacks or PR hacks in order for you to do your job better and stop pissing people off ( and ruining it for the rest of us in the process).
1. Remember this is about people
2. What do you stand for? Answer that first before you try to convince people that are busier than you why they should take time to stop what they're doing to pay you any attention.
3. It's more than doing your homework. To some doing homework is building lists. Figure out what your are representing and why it matters. How does it compare to other things. What do people need? What are their pains?
4. Practice saying it aloud in one-to-two minutes or less to a friend or in front of a mirror. Seriously. It works. If you don't get it no one else will.
5. Less is more. Find the right people, not just because you read their profile in a database, but because you read their work and understand their perspective.
6. Engage in conversations outside of when you need something.
7. Build relationships not lists.
8. Humanize the process and remember that this is about people
9. Stop whining and making excuses. You are responsible for your actions so arm yourself with what you need to be successful.
10. Isn't weird that it's always 10? Stop sending press releases without summarizing what the news is and why it is IMPORTANT to the individual person you're sending it to.
11. Ah, thank you Spinal Tap. This one goes to 11. Remember the future of PR is on you. If you're not in this to do your job better, then ask yourself why you're here. If you're not actively contributing to things improving then you're part of the problem.
Other voices on the subject (all of whom I felt had something relevant to contribute to the discussion):
Pro
Plasticbag
Organgrinder
Jeremy Zawodny
Copywrite
Commercial Archive
PR. Differently
darrenbarefoot
Common Sense PR
PSFK
BoingBoing
AccMan
AR&D;
Bad Pitch Blog
Jeremy Pepper
Cartoon Barry Blog
JackieDanicki
Marketing Begins at Home
Observing
Galleycat
UNC
Murphy's Law
Web Ink Now
The Flack
CrunchGear
C.C. Chapman
An Alternative Perspective
Shel Holtz
Joshua Schachter
Bokardo
SiliconValleyWatcher
Topaz Partners
How to Split an Atom
Mobhappy
IPDemocracy
Behind the Buzz
Ryan Block
Geoff Livingston
UPDATE: Chris Anderson follows up his original post by surveying the aftermath. He also had a few nice things to say in response to a comment about my post. Thank you Chris, I appreciate it. "Brian's a smart guy and the bits I read seems spot on…"