A few weeks ago, I alluded to a new Twitter application that would eventually debut to help qualify the people who follow you on Twitter.
Good friend and developer extraordinaire Christopher Peri and I proudly introduce FriendFilter in Beta. I've collaborated with Peri in the past to develop @microPR (along with Stowe Boyd), MicroJobs, and other apps soon to be released. His vision and technical prowess are ahead of many and I'm lucky to know him.
FriendFilter improves the signal to noise ratio on Twitter by providing you with the intelligence necessary to effectively curate the content and the people that appear in your Twitter timeline.

Auto-following dilutes the content and flow of the conversations that inspire and guide you.
While there are many tools that facilitate the proactive discovery of individuals who share similar interests and passions such as Mr. Tweet, TweepSearch, Twellow, Twubble, and WhoShouldIFollow, none provide a matchmaking system at the point of follow. This is an important distinction as Twitter sends an auto-notifier every time someone follows you with nothing more than a link to the person's page in the micro community.

Without meaningful guidance, you're following people back as a generous act of reciprocity, which generates goodwill, but not necessarily because you believe their content or updates in the statusphere are relevant and worth following. It is this goodwill that is forcing many power users to create a secondary account simply to follow the voices whom they must follow to stay current and motivated.
FriendFilter complements your notification message from twitter via email with detailed information about each person following you so that you can make an informed decision on the spot as to whether or not to follow back.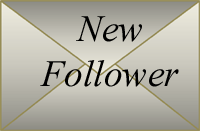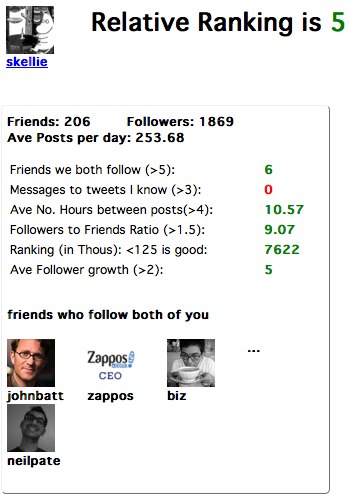 The stats and data provided by FriendFilter include:
– Number of friends
– Number followers
– Average posts per day
– Friends we both follow
– Messages to tweets I know
– Average number of hours between posts
– Followers to Friends ratio
– Ranking (in Thousands)
– Average Follower growth
– Friends who follow both of you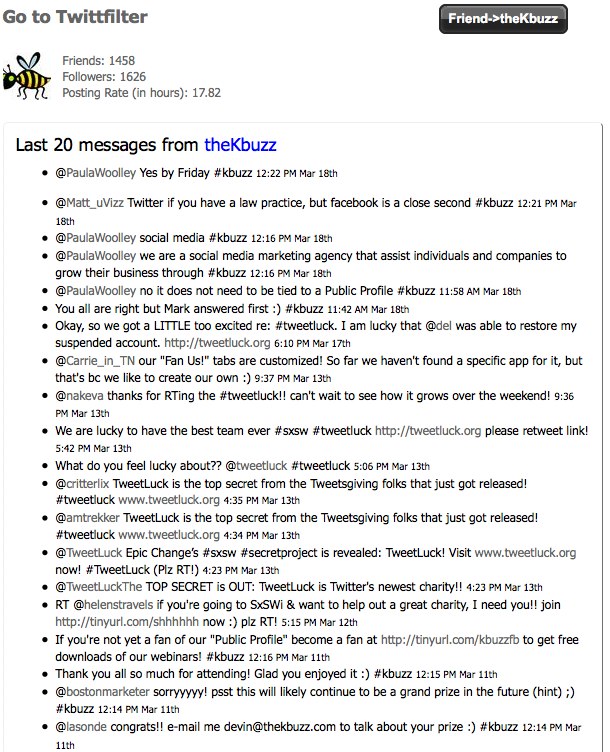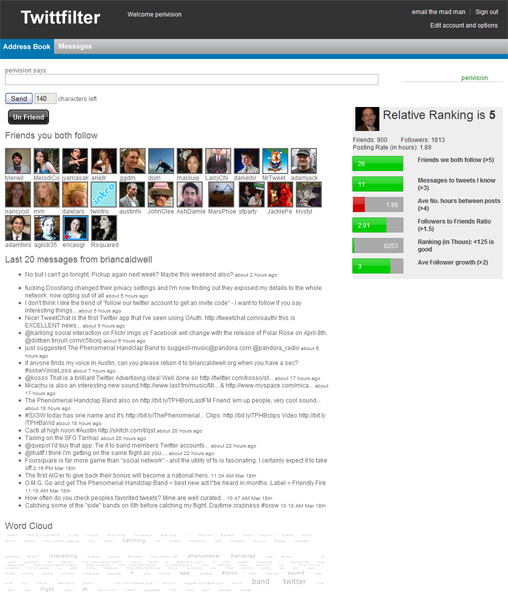 If someone seems interesting, you can simply click on their user name to see their last 20 updates, a TweetCloud, as well as a direct link to friend that person.
You control the volume of emails you receive from FriendFilter by adjusting the threshold of inbound alerts. For example, I have set my minimum score to "3" which qualifies followers based on a cumulative score that represents how close we align within the Twitterverse.

FriendFilter also provides you with an email update each time your username is mentioned on Twitter, which is helpful for personal and professional brand managers for up-to-the-minute online reputation management (ORM).
Of course there's more to FriendFilter, but we'll save those gems for later. Remember it's a early Beta, so please be kind and let @pervision know if you have any issues or ideas.
In the meantime, please sign up for FriendFilter to increase the signal to noise ratio on Twitter and invest in a more meaningful and rewarding social graph.
Happy 3rd Birthday Twitter!
Helpful Posts on PR 2.0:

– Twitter and Social Networks Introduce a New Era of Social CRM (sCRM)
– The Human Network = The Social Economy
– In the Statusphere, ADD Creates Opportunities for Collaboration and Education
– Humanizing Social Networks, Revealing the People Powering Social Media
– Are Blogs Losing Authority to the Statusphere?
– Social Networks Now More Popular than Email; Facebook Surpasses MySpace
– I Like You, Micro Acts of Appreciation Reverberate Across the Social Graph
– BackType Connects the Conversation Graph
– Tracking Brands on Twitter to Improve How You Listen and Engage
– The Ties that Bind Us – Visualizing Relationships on Twitter and Social Networks
– Make Tweet Love – Top Tips for Building Twitter Relationships
– The Battle for Your Social Status
– Twitter Tools for Communication and Community Professionals
– Is Twitter a Viable Conversation Platform
– Is FriendFeed the Next Conversation Platform
– The Social Revolution is Our Industrial Revolution
– The State of Social Media
– Free ebook: The Essential Guide to Social Media
Connect with me on:
Twitter, FriendFeed, LinkedIn, Tumblr, Plaxo, Plurk, Identi.ca, BackType, Social Median, or Facebook
—
Subscribe to the PR 2.0 RSS feed.


—
pr pr+2.0 pr2.0 public+relations marketing advertising interactive social+media socialmedia brian+solis social media media2.0 media+2.0 2.0 smo social+media+optimization marcom communication publicity twitter friendfeed tweet update status app signal noise ratio friendfilter filter friend email twittfilter