In October 2008, I documented months of research and analysis into a full directory of Twitter applications for communications and marketing professionals. In May 2009, I categorized the most applicable and qualified applications, and with the help of JESS3, we published The Twitterverse, a beta map of the Twitter universe that arranged relevant applications in a way that allowed us to see and navigate the landscape more efficiently and effectively.
While working on the official release of the Twitterverse, I was temporarily diverted, and thankfully so, to help good friend Laura Fitton (@pistachio) with the formation of OneForty.com – the first App Store for Twitter.  Enter "SOLIS140" to gain access into the private Beta. I join Guy Kawasaki and Laura Rippy as advisors.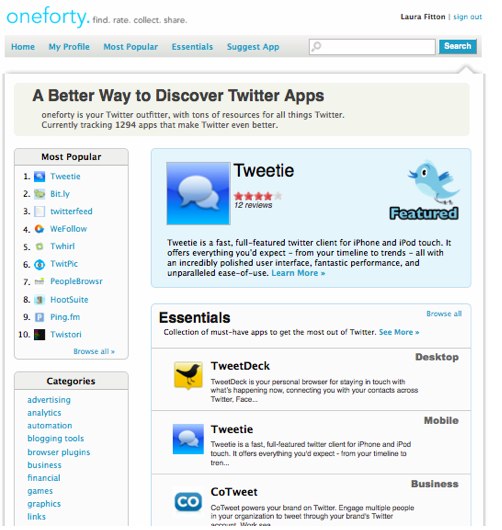 Like Summize before it was acquired and relaunched as Twitter Search, OneForty is Twitter's missing piece. Similar to the App Store for Apple's iPhone, OneForty is a marketplace for the Twitter community to discover and share tools and services that make Twitter valuable. It also offers a business platform for the over 20,000 Twitter developers to market their innovations. It brings order to the chapos with organized categories, tags and "essentials" to introduce new users to apps.
As of now, there are over 1,500 applications with descriptions, screenshots, links, reviews, live Twitter commentary, tags and more.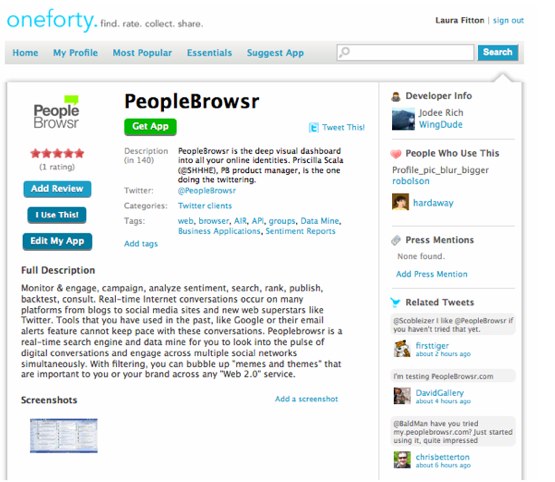 Laura Fitton is an expert in humanizing Twitter – she's also an author of Twitter for Dummies along with Michael Gruen and Leslie Poston.
In OneForty, people find, rate, collect and share the best Twitter services. The ratings, reviews, screenshots and toolkits surface the best products that specifically match apps with interests. And, OneForty guides new Twitter users towards the most popular apps and a handful of "best apps" in nine essential types of Twitter services.  Visitors can browse and search by keywords, tags and categories.
My Other Ventures

MicroPR – A resource for bloggers, reporters, analysts, and event organizers to connect with qualified PR pros for help on Twitter by simply tweeting @micropr. PR should follow @micropr.

MicroJobs – Employers seeking candidates can tweet @microjobs with new opportunities. Individuals seeking employment, follow @microjobs

FriendFilter – A more effective and intelligent resource for determining whether or not to friend someone who follows you on Twitter.

Collecta – Real-time search of the social Web and officially your replacement for search.twitter.com.

PitchEngine – A complete solution for the creation, distribution, and hosting of social media releases and social media newsrooms.

BuzzGain – An online service for discovering and engaging with new influencers, the people who will help your business thrive in today's social economy.
Connect with Brian Solis on:
Twitter, FriendFeed, LinkedIn, Tumblr, Plaxo, Plurk, Identi.ca, BackType, Posterous, or Facebook
—
Kindle users, subscribe to PR 2.0 here.
—
New book and Conversation Prism poster now available (click below to purchase):
—
pr pr+2.0 pr2.0 public+relations marketing advertising interactive social+media socialmedia brian+solis social media media2.0 media+2.0 2.0 smo social+media+optimization marcom communication publicity advertising expert interactive spin brand branding guru social+architect