As Twitter and Facebook compete for your attention and social status, there's another story that serves as the undercurrent for something much more important, a fully pervasive and functional social operating system (OS) that serves as a open platform to connect you, your content, updates, and activity to your friends, peers, and followers across your social graph, regardless of network, browser, or device.
Facebook and Twitter have effectively created immersible destinations and ecosystems that facilitate the development and deployment of applications that not only replicate capabilities currently available in traditional software and cloud computing, but also create a new dynamic for social collaboration, interactivity and engagement hosted in each respective network, desktops, and across the social web. Each network boasts a library of thousands of applications that only continues to burgeon.
Unlike the file interoperability between applications that run on Mac and Windows, Twitter and Facebook platforms are proprietary, although Facebook provides a bridge to automatically port tweets into your Facebook personal News Feed for example.
Twitter and the statusphere have become our attention dashboards that serve as our source of news and information as well as hub for communication – more so than email. We're just now beginning to recognize and acknowledge this shift in content consumption and production behavior. The new ecosystem for sharing, discovering, and publishing updates and micro-sized content reverberates throughout social networks and syndicated profiles, resulting in a formidable network effect of activity and interaction. It is the digital curation of relevant content that binds us contextually and through the statusphere we can connect directly to existing contacts, reach new people, and also forge new friendships through the friends of friends effect (FoFs) in the process.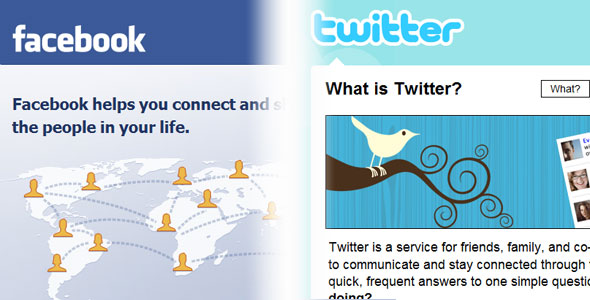 Source
Last year, Facebook rolled out its Connect program to extend the platform and also aggregate your disparate social activity by enabling you to login to participating sites and services using your Facebook credentials.

Facebook Connect is a technical bridge that links your Facebook profile with other online networks to feed your associated activity back to your personal Facebook News Feed. For example, if you're commenting on a blog hosted on the Moveable Type platform, you can now login with your Facebook details and not only will your comment and link to your Facebook profile appear on the blog, the activity of commenting is also linked back into your activity feed for your friends and colleagues to see. Digg allows Diggers to log on using their centralized Facebook ID and for each story they digg, the activity is documented back on their profile. The idea is to collect and present distributed activity in one focused stream to create a centralized hub for presentation and interactivity between you and those within your social graph. Examples and Facebook Connect partners already number in the hundreds if not thousands.
Twitter, at one point, was and maybe still is a Facebook Connect partner. However, the social platform is also going to connect your identity and distributed activity through its new "Sign in with Twitter" program.
Many networks currently facilitate connectivity between activities. You can send updates from participating communities directly back to Twitter, similar to the Facebook program. While many services related to Twitter require your username and password, your credentials were still guarded at the services level as well as in Twitter's network. Now, your identity is verified at Twitter's gates and will no longer need to reside in multiple locations.
Instead of creating and maintaining multiple identities, eventually you'll only have to manage two – Facebook and Twitter – until, perhaps someday, you only need one.
So, back to the Mac vs. Windows discussion. With its new login system, Twitter is attempting to extend its social OS by also aggregating identity and officially channeling outside activity back into the Twitter timeline, which could ultimately feed into Facebook.
After the failed attempt at acquiring the popular micro community and with mass public attention now on Twitter, Facebook now has an official and formidable competitor in the social OS category. It's userbase is 200 million strong compared to maybe 8 million. But current numbers aren't reflective of the outcome. This is a long and winding road that will traverse numerous grades and hurdles.
Many are focusing on the technical aspects and openness of Twitter's authentication system. I believe that the bigger story resides with the platform and the ability to lure developers, foster innovation, and seamlessly connect users and activity to friends, peers and followers to stimulate new registrations, adoption, consumption and interaction. Facebook and Twitter, and other emerging and existing networks on the periphery in the evolving social landscape, will eventually play host to much more that the proverbial "conversation." They will enable not only a new genre of communication, but also centralized professional and personal collaboration and management.
Helpful Posts on PR 2.0:
– The Race to 1,000,000 Followers Sends Twitter and Social Media into Relevance and Irrelevance
– The Domino's Effect
– The Conversation Index
– A New Search Engine for Twitter
– Social Media Influences Buying Decisions
– Can The Statusphere Save Journalism?
– Is Social Media Recession Proof?
– Facebook Now 200 Million Strong
– Twitter Traffic Surges to 10 Million
– The End of the Innocence
– The Social Effect
– Putting the Public Back in Public Relations is Now Available
– Twitter and Social Networks Usher in a New Era of Social CRM
– The Human Network = The Social Economy
– Humanizing Social Networks, Revealing the People Powering Social Media
– Are Blogs Losing Authority to the Statusphere?
– I Like You The Emerging Culture of Micro Acts of Appreciation
– Make Tweet Love – Top Tips for Building Twitter Relationships
– Is Twitter a Viable Conversation Platform
Connect with me on:
Twitter, FriendFeed, LinkedIn,Tumblr, Plaxo, Plurk, Identi.ca, BackType, Social Median, or Facebook
—
Subscribe to the PR 2.0 RSS feed.


—
Now available:

—
pr pr+2.0 pr2.0 public+relations marketing advertising interactive social+media socialmedia brian+solis social media media2.0 media+2.0 2.0 smo social+media+optimization marcom communication publicity facebook twitter social+os os operating+system windows pc mac apple platform developer