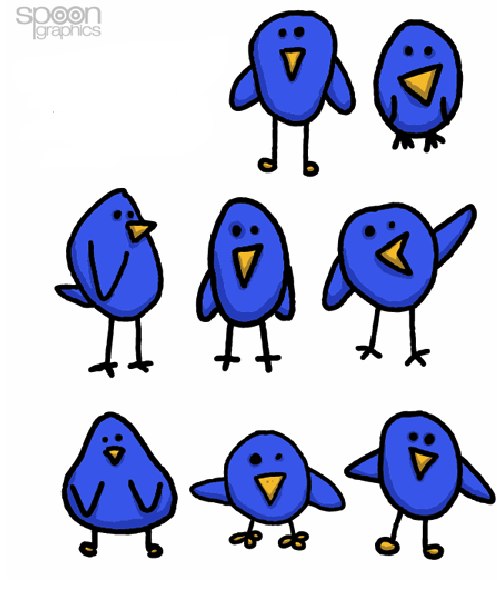 Source
As I was writing the report on Facebook and Twitter traffic growth, I had noticed that the engagement time at Twitter.com had dropped by 31 percent year-over-year.
September 2009: 18:07
September 2008: 26:12
Engagement Difference = -31%
I suspected that the shift in numbers stemed from the migration of those who previously interacted on Twitter.com and now engage via third-party clients such as TweetDeck, Seesmic, CoTweet, HootSuite, et al. As such, I thought it would be productive to review the numbers to get a closer look at what's truly transpiring at the engagement level.
I asked my good friend Dan Zarrella, author of The Social Media Marketing Book, if he could help me run the numbers to see exactly what the world of usage looks like at Twitter.com compared to the mobile and desktop clients that are becoming increasingly pervasive.
Using the HubSpot platform, he measured the publishing source of over 500,000 tweets in September 2009.
As such, I've complied the results into a list that ranks the top Twitter clients as well as Twitter applications that publish from one service to Twitter as part of a syndication model.
The Top 100 Twitter Publishing Tools and Services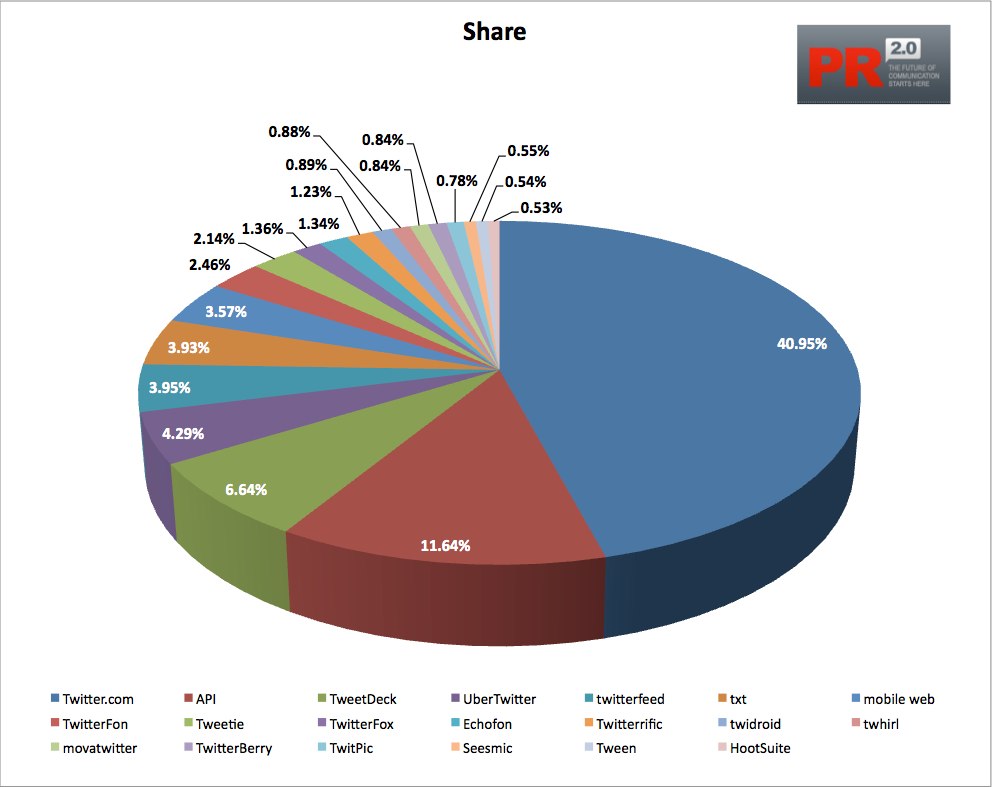 Twitter Client Market Share
Web,40.945%
API,11.6418% (custom applications, scripts or bots)
TweetDeck,6.635%
UberTwitter,4.288%
twitterfeed,3.9538%
txt,3.9254%
mobile web,3.567%
TwitterFon,2.4622%
Tweetie,2.1434%
TwitterFox,1.3588%
Echofon,1.3356%
Twitterrific,1.2322%
twidroid,0.886%
twhirl,0.8756%
movatwitter,0.8398%
TwitterBerry,0.835%
TwitPic,0.7806%
Seesmic,0.5524%
Tween,0.5414%
HootSuite,0.5258%
Power Twitter,0.3556%
Twit,0.3358%
gmedtwitpost,0.3188%
Snaptu,0.3018%
Twittelator,0.3%
POLLpigeon,0.2868%
FriendFeed,0.275%
P3:PeraPeraPrv,0.229%
DestroyTwitter,0.2188%
Perl Net::Twitter,0.2154%
Ping.fm,0.2128%
LOL quiz,0.1792%
TwitterGadget,0.1758%
Facebook,0.1722%
Twitter Tools,0.1558%
Tumblr,0.144%
RSS2Twitter,0.1412%
Sidekick,0.1386%
twitRobot,0.1338%
Google,0.1326%
dabr,0.1304%
CoTweet,0.129%
Blip.fm,0.1276%
Fun140,0.1274%
Gravity,0.1264%
SocialScope,0.1116%
Tweed,0.1074%
YoruFukurou,0.1064%
Mobile Tweete,0.106%
BlogTalkRadio,0.106%
WP to Twitter,0.1058%
bit.ly,0.0962%
iTweet,0.0914%
PockeTwit,0.091%
Tweetbots,0.0902%
PhotoShare,0.0862%
TwitterRide,0.0854%
NatsuLiphone,0.0794%
Mobster World,0.0784%
SimplyTweet,0.0672%
TinyTwitter,0.0664%
Digsby,0.0642%
Twitter4J,0.0614%
Reuters.com,0.0608%
Ustream,0.0606%
Tweets60,0.0584%
Movatter,0.0572%
MySpace,0.0568%
twibble,0.0562%
TwitZap,0.0526%
Twitter4R,0.0518%
Twaitter,0.0484%
Twitterizer,0.048%
Nambu,0.0464%
TwitterBar,0.0426%
Twikini,0.0412%
Epic Pet Wars,0.0386%
Twitme for WordPress,0.0368%
Photomemo,0.0356%
Mixero,0.0356%
yoono,0.0332%
Netvibes,0.0328%
TwitBin,0.0326%
Flock,0.0316%
Twidget,0.0312%
Spaz,0.031%
WordTwit,0.0308%
Twitterena,0.0304%
Post to Twitter,0.0298%
140 Mafia,0.0298%
TweetSG,0.0292%
Fantasy Sports,0.0292%
Gwibber,0.0276%
TwiXtreme,0.0276%
Posterous,0.0274%
m.slandr.net,0.0272%
TwitKit,0.0264%
Twitter Opera widget,0.0264%
Tweet-U-Later,0.0264%
Twibbon,0.026%
Splitweet,0.026%
schuelerVZ,0.026%
ShareThis.com,0.0258%
TwitterMail,0.0256%
twittai,0.0252%
Identica,0.0236%
Adium,0.0228%
Brightkite,0.0224%
モバツイッター,0.0224%
Stickam,0.0218%
HTC Peep,0.0218%
BeTwittered,0.021%
TweetLeads,0.021%
Adjix,0.0208%
Twitstat Mobile,0.02%
TwitterIrcGateway,0.0198%
Viigo,0.0188%
EventBox,0.0186%
TweetGenius,0.0184%
twitthat,0.0184%
blu,0.017%
TwInbox,0.0168%
Matt,0.0166%
TweetPhoto,0.0166%
buzztap,0.0166%
TweetGrid,0.016%
Bird Feeder,0.0158%
JTwitter,0.0158%
LiveTweeter,0.0156%
TwitThis,0.0152%
TypePad,0.0152%
Spymaster,0.0152%
Flickr,0.0152%
Connect with Brian Solis on:
Twitter, FriendFeed, LinkedIn, Tumblr, Plaxo, Plurk, Identi.ca, BackType, Posterous, or Facebook
—
Click below on the image to purchase the new book and the poster: