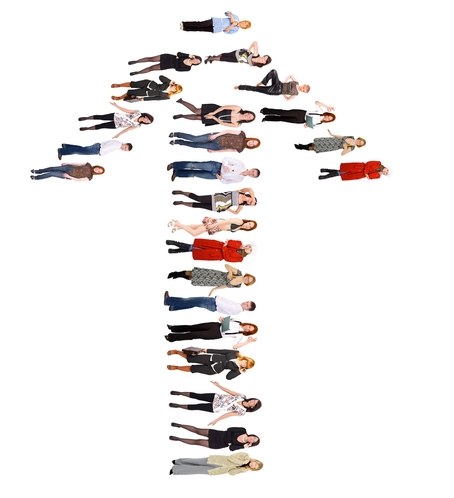 Source: Shutterstock
Recently, Facebook announced that it had surpassed the 300 million user mark. According to Experian HitWise, Facebook accounted for 58.59 percent of all U.S. visits among a custom category of 155 social networking Web sites in September 2009. This is an interesting stat and I would love for Experian HitWise to send the full list over, so that I can also analyze the playing field for new, emerging, and declining players across the board.
The report noted that Facebook's growth was the highest among all social networks, with U.S. visits increasing 194 percent between September 2008 and September 2009.
Market Share of U.S. Internet Visits to Top Five Social Networking Web Sites
Rank

Name
Domain

Sept
2009

Aug
2009

Sept
2008

Yearly
Change %

1

Facebook
www.facebook.com

58.59%

55.15%

19.94%

194%

2

MySpace
www.myspace.com

30.26%

33.00%

66.84%

-55%

3

Tagged
www.tagged.com

2.38%

2.36%

1.62%

47%

4

Twitter
www.twitter.com

1.84%

1.95%

0.15%

1170%

5

myYearbook
www.myyearbook.com

1.05%

1.16%

1.76%

-40%
But then, there's our "social" darling…Twitter. Twitter had the largest percentage gain in market share of visits among the top five visited Web sites, increasing 1,170 percent compared to the previous year. In fact, 2009 is "The Year of Twitter" as documented by the traffic and reach of Twitter.com at Alexa and Compete.
According to the report, U.S. visits to all social networks was up by 62 percent from September 2008 to 2009. Except of course, at Myspace and myYearbook. From 2008 to 2009 each experienced a significant erosion in visits by -55 percent and -40 percent respectively. The good news for MySpace however, is that the network topped the charts for average time spent in the network. And, as engagement is a key metric for social media, this data is critical to the future of MySpace engineering, innovation, and the ecosystem it creates moving forward.  But, that engagement level is slipping, as it reflects a 12 percent loss of attention year-over-year.
As you'll see in a report I will soon publish, Twitter is starting to appeal to the youth who have powered MySpace in the past and still do today. Fusion and integration are key at the once dominant social network.
Average U.S. Time Spent Among Top Five Social Networking Web Sites (in minutes and seconds)
Rank

Name
Domain

Sept
2009

Sept
2008

Yearly
Change %

1

Facebook
www.facebook.com

23:00

18:38

23%

2

MySpace
www.myspace.com

25:56

29:37

-12%

3

Tagged
www.tagged.com

25:17

23:31

8%

4

Twitter
www.twitter.com

15:52

36:27

-56%

5

myYearbook
www.myyearbook.com

18:07

26:12

-31%

Note: Data is based on the average U.S. time spent from the Experian Hitwise sample of 10 million U.S. Internet users. Experian Hitwise measures more than 1 million unique Web sites daily, including subdomains of larger Web sites. Experian Hitwise categorizes Web sites into industries on the basis of subject matter and content, as well as market orientation and competitive context.
Looking at the data, you'll notice that Twitter also experienced a loss in engagement time among visitors. From September 2008 – 2009, Twitter actually lost a whopping 31 percent of visitor attention span. I believe that many will say that the shift in numbers stems from the migration of those who previously interacted on Twitter.com and now engage via third-party clients such as TweetDeck, Seesmic, CoTweet, HootSuite, et al. I will have these numbers available for you shortly…
Nielsen also released interesting numbers that corroborated with my recent findings that emanated from my research into the demographics behind the most popular social networks. As a result, CNN postulated as to whether or not your social class determined your online social network.
Breeanna Hare of CNN asked if a class divide exists online.
Research suggests yes.
Nielsen Claritas conducted an online panel of more than 200,000 social media users in the United States in August. The study found that people in more affluent demographics are 25 percent more likely use Facebook, while the less affluent, 37 percent, are more likely to connect on MySpace.
Users with household income above $75,000
Facebook — 41.74 percent
MySpace — 32.38 percent
LinkedIn — 58.35 percent
Twitter — 43.34 percent
Users with household income under $50,000
Facebook — 28.42 percent
MySpace — 37.13 percent
LinkedIn — 17.34 percent
Twitter — 28.36 percent
Female users
Facebook — 56.33 percent
MySpace — 56.69 percent
LinkedIn — 48.11percent
Twitter — 53.59 percent
Users aged 18 to 24
Facebook — 10.27 percent
MySpace — 15.46 percent
LinkedIn — 3.99 percent
Twitter — 9.51percent
Users aged 35 to 49
Facebook — 31.54 percent
MySpace — 29.09 percent
LinkedIn — 43.64 percent
Twitter — 34.02 percent
According to Mike Mancini, vice president of data product management for Nielsen, "MySpace, users tend to be in middle-class, blue-collar neighborhoods. They're on their way up, or perhaps not college educated. Facebook goes off the charts in the upscale suburbs."
Nielsen also found a strong overlap between those who use Facebook and those who use LinkedIn.
Honestly, categorizing human behavior and activities in social networks by financial status appears incomplete and almost insular. If we are learning anything in the study of and participation in social networks, it's that individuals are forming networks that traverse across multiple social networks – and, they will continue to do so, forming one larger, expansive human network in the process. We're bound by context and interests and it's why psychographic data overcomes demographics when assessing how to best reach, engage, and galvanize the people who define our communities online.
This is why, in social media, digital anthropology, sociology, ethnography, and psychology prevail…
Please also read the psychology of Twitter with Dr. Drew and in Social Media, Women Rule
Connect with Brian Solis on:
Twitter, FriendFeed, LinkedIn, Tumblr, Plaxo, Plurk, Identi.ca, BackType, Posterous, or Facebook
—
Have you bought the book or the poster yet? (click below to purchase):